Local Tallahassee Trainers Share Their Keys to Success
Different Workout Styles, Same Healthy Results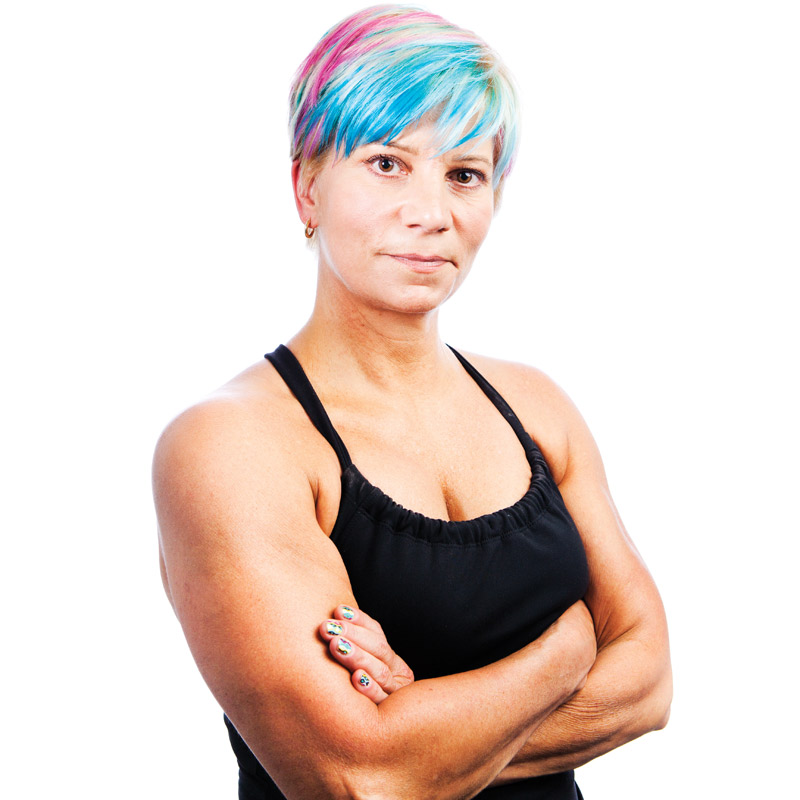 Being healthy and fit is a lifetime goal, but some people choose to make it their lifetime career. Personal trainers make a living by helping people achieve their potential and live healthier lives. The adage that "Those who can't do, teach" has no place in the personal fitness world — these trainers not only master what they do, but also have a strong passion for it. Just as no body is the same, no training regimen should be identical. Misconceptions regarding exercise are slowly receding as the value placed on individual fitness rises, but it never hurts to get a little expert advice no matter what your goal might be. Here, local personal trainers share their training methods, workout motivation and passion for fitness.
Matt Burke
Shannon Colavecchio
Trainer (owner)
Shannon Colavecchio
Gym: Badass Fitness
Shannon blends a mix of intense workouts with a family-friendly atmosphere, seeing herself as part drill sergeant, part maternal figure for her students. "Even when I'm pushing someone, I'm doing that because I genuinely care about them. Our No. 1 rule is that no matter what, we always laugh." Her passion for what she does is obvious, whether it's through the extensive blog she keeps on her website or just hearing her speak about the Schwinn bikes she's adding to the studio.
Workout music
"I am all over the map. The only thing you won't hear at Badass Fitness is country music. That's not happening. But we do everything here from hip-hop, to funk, to Top 40, to dance music. It really is everything."
Matt Burke
Laurel Blackburn
Trainer (owner)
Laurel Blackburn
Gyms: Boot Camp Fitness and Training/Tallahassee Kettlebells
Laurel's training plan is based on a mixture of strength training and conditioning for a total body workout. "You can never go wrong with full-body weight training for any goal. The key is doing it right for your goals. In our classes, we combine full body strength training with conditioning work, and the results are pretty amazing. People lose fat, tone up and the guys put on muscle mass."
Workout Music
"Depends on the day, but if I had to pick one song I would go with 'City of Blinding Lights' by U2."
Matt Burke
Kim Bibeau
Trainer (owner)
Kim Bibeau
Gym: Sweat Therapy
Kim aims for Sweat Therapy to be a person's "third place" after home and work and tries to create a neighborhood-like atmosphere while helping people move a little more. "We know your name when you walk in the door. We are expecting you. We know things about you. We want to laugh with you." Trainers aren't there to work out, but rather to help clients reach their goals. More than just a trainer who's there for her clients when they come into the studio, Kim reaches out to them via email and text to check up on them, give them advice or just simply because she's thinking about them.
Workout music
"One Way Out" by The Allman Brothers
Matt Burke
Sherman Rosier
Trainer
Sherman Rosier
Gym: Fit & Functional, Inc./GroupFit Studio
"When it comes to weight loss, the first thing I address is nutrition. It does not matter what type of exercise program you are on if your nutritional intake is not a part of the equation." He offers a specific plan of action for every level of weight loss. "For someone who has a significant amount to lose, the goal would be to increase his or her cardio and muscle endurance through light-weight exercises with high reps. For someone with a small amount of stubborn weight, the culprit is usually nutrition. They are not taking in enough calories to meet their activity level." But not everyone's goal is weight loss. "For those who just want to tone or build muscle, once their nutrition intake is planned, we would do a moderate/high full-body resistance workout two to three times a week. A factor with muscle development is also rest and recovery."
Work out music
"Anything the clients want to hear."