Local Talent Sean G Makes His Mark on the National Comedy Scene
A Real 'Stand-Up' Guy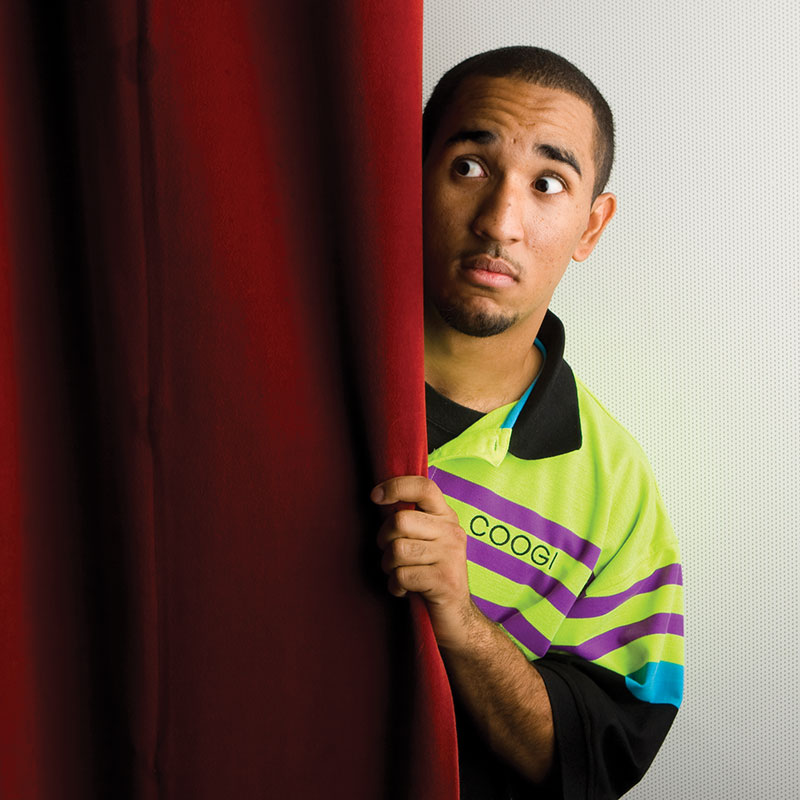 Florida State University student by day and comedian by night "Sean G" (born Sean Antonio Grant) has performed onstage at Harlem's Apollo Theater and the Comic Strip Live in New York City … and he's barely old enough to drink.
Hailing from Miami, the 21-year-old jokester knew he wanted to be a comedian after fracturing his toe during a basketball game. When the pain became so severe he audibly passed gas, the crowd's laughter made him "feel better than scoring points ever did."
Today he scores major points with audiences around the country – including several appearances at The Comedy Zone in Tallahassee – and has gained Internet popularity on social networking Web sites such as MySpace and Facebook.
In fact, a Facebook message led him to his latest endeavor, the "Jimmy Kimmel Live!" College Comedy Championship. Sean G was selected as a finalist and flown to Los Angeles in January, where he showcased his comedic chops in front of a live audience – and won. In addition to a network television credit, a trophy and $1,000 prize, he now holds the title of "Funniest College Kid in America."
"G" recently sat down with Tallahassee Magazine writer Ashley Kahn to share his thoughts on pain, pre-show rituals and presidential candidate Barack Obama.
TM: How did you get into comedy?
SG: My first time doing stand-up, I snuck off to a local club in the dead of night and recited jokes I had been writing for six months. I bombed like the Taliban, but I knew from that point on I was addicted to this craft.
TM: How do you come up with new material?
SG: I sit on campus and wait for people to fall off their bicycles. Just playing … My comedy does derive from pain but usually my pain. I take something like growing up with roaches or being racially mixed and turn it into something that makes others laugh, which I feel empowers me.
TM: What is your dream job?
SG: I can't imagine anything being more gratifying than making perfect strangers laugh at my imperfections.
TM: Are comedians offended when people call them "comics"?
SG: No "comic" or "comedian" should take themselves so seriously. No matter how famous you become or how much money you acquire, you are nothing more than a jester for the public. You were put here to share a gift that everyday people can enjoy at your expense.
TM: How do you prepare for a show?
SG: I write on an index card to remember how to begin and end a specific joke, but you can only work out new stuff on stage. Just because a joke works one night doesn't mean it is gold. You have to try a joke over and over again in front of new faces before you can retire it into the "hee-hee" hall of fame.
TM: What's going through your head the moment before you step on stage?
SG: Right before I go on I'm saying, "I wish my heartbeat would quiet down so I can remember my first joke." I used to think this was a bad thing, but now I use my pulse irregularity as momentum.
TM: How does the audience affect your routine?
SG: My job is to entertain, and sometimes crowds will be rowdy and want to talk over my set-ups or converse with me. I do my best not to be too rude to my audience, because once a crowd has turned on you there is no getting them back.
TM: What city or venue would you most like to play?
SG: I'd like to play every major venue on all seven continents – even Antarctica. I'll do the halftime show during the next "March of the Penguins." But the venue I am always most excited about playing is whichever one I get to go to next.
TM: Do you have a joke that never falls flat?
SG: I have a Barack Obama joke that seems relevant and gets them almost every time. Barack is part black and part white so if he messes up, white people will blame the black side, black people will blame the white side, both sides will disown him, and he'll become Puerto Rican by default.