Local 'Extreme Weight Loss' Star Shares His Journey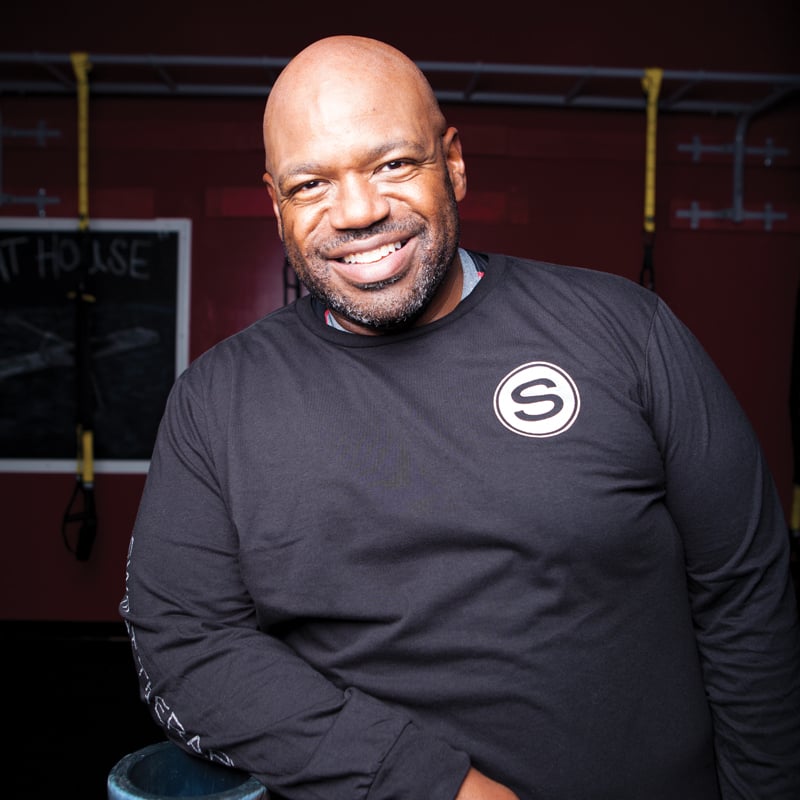 You know the drill: It's the beginning of a new year, time for clean slates and fresh approaches to those weight-loss goals you never quite met in 2014. Or 2013. Or … .
Stop. There's no need to pile on the guilt. For one thing, it just makes matters worse. For another, you need to realize that you're not alone.
According to a 2014 study conducted at the University of Scranton, more people make New Year's resolutions to lose weight than to achieve any other goal. At the end of two weeks, 71 percent of them are still on track, the study found. But by the end of one month, the percentage drops to 64 percent, and by the end of six months, less than half — 48 percent — are still actively pursuing their weight loss goals. Only 8 percent actually achieved their resolutions' goals, the study found.
Sound vaguely familiar? Before you use these disheartening statistics as justification to discard your resolution and dive into that package of Oreos, think about Rod Durham and be inspired. His story played out over the course of a year in front of a national television audience, and it had its share of ups and downs. He was the only participant in Season 4 of the "Extreme Weight Loss" television show not to reach his goal. But he didn't fail.
American Broadcasting Companies
Rod Durham's new look is revealed during the "Extreme Weight Loss" show. Since his return, Durham has been certified in TRX training and now encourages others to lose weight and get fit.
"My goal was to lose 232 to 260 pounds, and I lost 188 pounds," Durham said. "I had to wrap my head around the fact that it wasn't a failure, that I can't be disappointed in that. It was the experience of my 50 years so far. I'm still trying to get used to the new normal."
Durham weighed about 450 pounds when he fought for one of the 14 spots on "Extreme Weight Loss." The ABC reality show is aptly named because it encourages people to shed half their body weight over the course of a year, starting with an intense three-month boot camp and then continuing with trainers in their home communities. The contestants got back together every three months, and each had a reveal segment at the end of the year.
Seven thousand people across the country had wanted to be a part of it; Durham was relieved as he kept getting called back for the next phase of interviews. When the field had been narrowed to 32, the semifinalists were taken to Denver for a week of intensive workouts and interviews.
An English and drama teacher at Leon High School, he was, by his own admission, perceived as "that jolly fat guy" who laughed all the time. He wasn't worried about telling his own story; after all, he coaches students in performance and storytelling. So he told the producers and the trainers about how he wanted to be able to tie his own shoes again. And how he wanted to be able to stand up without sweating. But something made him decide to go deep, to share his fears, as well.
Matt Burke
"I told them about how it will be a quarter to 1 and I'll be sitting in my chair, getting ready to eat some crap and thinking, 'Is this all I get? Is this all there is?' " Durham recalled. "And at that point, J.D. Roth, the show's producer, began to clap his hands and he said, 'That's the first f-ing real thing you've said."
It wasn't that Durham didn't mean everything he'd said earlier. He did want to tie his own shoes. He did want to water ski, something he had attempted but never been able to do because of his weight. When he was younger, and thinner, he'd loved to dance, and he wanted to dance again. But Roth wasn't looking for a list of tasks that Durham wanted to accomplish. Roth was looking for a window into Durham's soul, to see how badly the man with the "jolly fat guy" mask wanted his life to change.
Your self-esteem can take a real hit when you're extremely overweight. There's a wealth of research into the relationship between food and comfort and between obesity and self-loathing, as well as depression. A 2008 study published by the College of Family Physicians of Canada urged doctors to find a way to increase their obese patients' sense of self-worth "in order to give them sufficient faith in themselves to make healthier choices about their weight." For Durham, it literally was mind over matter. He had to change the way he thought about himself before he could change his physical body.
"I had to learn to put myself first," he said. "As the middle kid, I was always trying to take care of everyone else. As a teacher, I was doing the same thing. And as a son. Both my parents are in wheelchairs, and I was constantly doing for them. I'm happy to do anything I can to help them, but I had to put them on a schedule and say, 'Tuesdays and Thursdays, I'm at your disposal. Let's schedule what we need to do on those days.' This experience kind of rewired my way of thinking."
It also meant accepting the good and the bad, and being realistic about his shortcomings.
"I'm a food addict. Food is not a bad thing — I just didn't know when to stop," he said. "I feel better when I get up and move my body, so I keep promises to myself about working out. If you don't keep your promises, your integrity takes a hit. I am a good man. I had to learn to say that. But I also know that it's OK to be in a pissy mood sometimes."
Telling his father he was gay has also had a liberating effect.
"Coming out to my father at 49 was huge," he said. "My father was a military man, and I thought it would cause him pain and disappointment, but it really was just me, afraid of rejection. He said, 'Son, that's another piece of information I know about you.' I realized that your parents are your parents, and they love you unconditionally."
Durham credits his Tallahassee trainer, Kim Bibeau of Sweat Therapy Fitness, with keeping him motivated and accountable.
"I don't do so well by myself," he acknowledged. "Group support is essential for me."
He has been hitting the lecture circuit since his "Extreme Weight Loss" experience, sharing what he learned about weight loss, motivation and self-acceptance. He knows that teaching is his calling, whether he's educating a classroom of kids at Leon High or a roomful of business owners at the YMCA. He particularly wants to help overweight kids — even though his own weight problems started in adulthood.
"We don't want to lose these kids to a death too young because of childhood obesity," he said. "We've got to intervene in that downward spiral."
A study published in 2000 in Pediatrics, the journal of the American Academy of Pediatrics, supports Durham's belief that self-worth and weight-loss success are related. It found that obese adolescents have significantly lower levels of self-esteem than their non-obese counterparts, and the obese kids had higher rates of sadness, loneliness and nervousness and were more likely to indulge in risky behaviors such as smoking and drinking alcohol.
"That whole experience with 'Extreme Weight Loss' gave me back my life," Durham said. "Yes, I lost a lot of weight, but this transformation really has very little do with my weight loss. The transformation was in my head and in my heart."