Local Designers Offer Advice for Creating Romantic Retreats at Home
In the Mood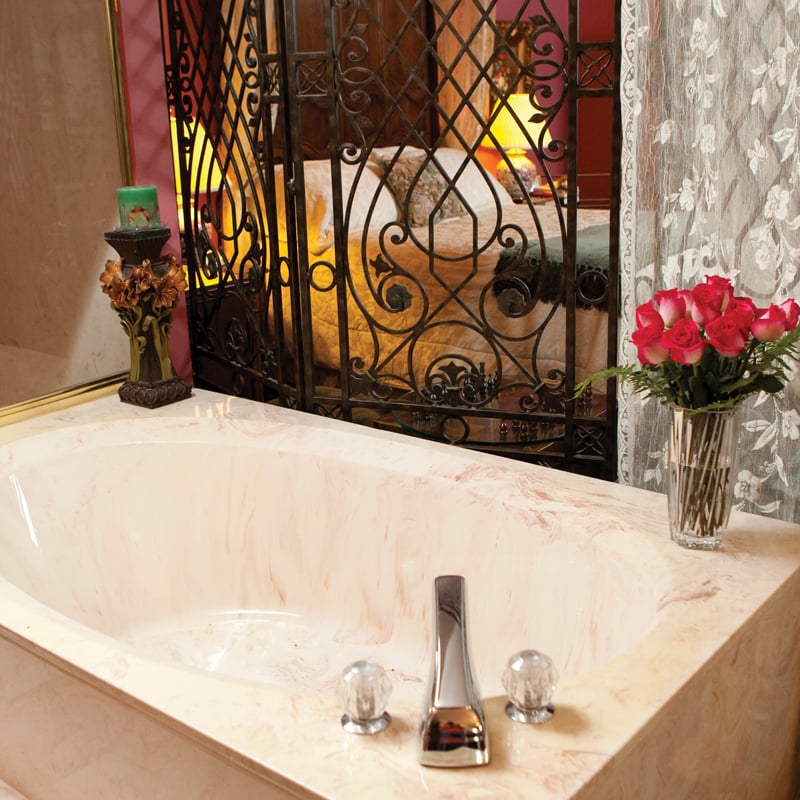 There is just one day each year — Valentine's Day — dedicated to celebrating couples. We all know the well-worn rituals: Snag a good dinner reservation, order flowers, buy a box of chocolate and hope that you've done enough.
But what if your plans fall through or, in the aftermath of an exuberant Christmas, you're looking to save a little money without sacrificing romance?
You don't have to look any further than your own home.
A house can be more of a romantic retreat than a fancy restaurant or resort spa, say interior decorators. And it's not just the obvious places, such as the bedroom, that can help set the stage for romance. Unlikely spots such as the living room, dining room, outdoor patio and even bathrooms can easily, and inexpensively, become love nests.
"Overwhelmingly yet subtly indulging all of the senses and setting a mood — that's the essence behind creating the enhancing experience of a romantic space or retreat," says Tamera Massey, an architect and interior decorator with offices in Seaside and Tallahassee. These spaces must be crafted with intimate attention to detail, Massey says, mixing the mystery and excitement of romance with a warm and tranquil atmosphere.
Rose petals on the bed are for amateurs, these decorators say. To really transform a room into the ultimate romantic retreat, you must indulge all five of your senses: taste, smell, sight, hearing and sound.
"It's really pretty simple," says Tallahassee-based interior designer Julian Mathis.
"Stop and think about your senses, and go with that."
First, think about what puts you at ease, says interior designer Jackie McHaffie of Tallahassee-based Designs Unlimited.
"For some people, romantic is a very clean look because it's uncluttered," McHaffie says. "For other people, it's a very fussy look."
When McHaffie was hired to help Jim and Maureen Daughton transform their 3,000-square-foot Tallahassee home from a traditional red brick residence into a glamorous sanctuary, she says the busy couple, who have two children, wanted a spot where they could focus on each other. The master bedroom, with its double doors, crystal teardrop-studded chandeliers, expansive marble-floored bathroom and walk-in closet with custom cabinetry became the romantic haven they were looking for.
"We want somewhere we can come and relax at the end of the day," says Maureen Daughton, an attorney. The Daughtons point to the muted blue color of the wall, the thick white crown molding along the ceiling and doorframes, and the doorknob's silver back plate as small details that helped contribute to an overall atmosphere of luxury and warmth.
"It's very inviting," Daughton says. "It's a place where we can unwind." Their bedroom is a no-television, cell phone and computer zone.
"It's a soothing room," agrees Jim Daughton, a lobbyist.
Stella and Raymond Cottrell also aimed for a romantic master bedroom when they built a custom home in SouthWood in 2008. The walls are painted "roasted red pepper-red," Stella says, and there is a coffee bar and crackling fireplace steps away from the bed.
Their home, and especially their master bedroom has the warmth of a cozy ski lodge, with wood furniture used throughout the home and framed photos of winter landscapes.
French doors from their master bedroom open to a patio with views of the SouthWood golf course's green rolling hills. Stella says there's "nothing better than coming out here and watching the sunset," though she also finds the occasional golf ball in her backyard.
At Florence and James Brainerd's 2,600-square-foot custom-built home in Tallahassee, special care was given to the master bedroom. Florence Brainerd decided the best way to make it a romantic retreat was to not have a wall separating the bathroom from the bedroom.
"I was going for something Romanesque," Florence Brainerd said. Her dark wood bed is draped in white lace and a fireplace offers flickers of light. Her bathtub is mere steps away from her bed, only separated by a wrought-iron screen with a another bit of white lace dangling off its edge.
"My wife is very romantic," James Brainerd said with a chuckle. The couple built the home in 1987 and have been married for 30 years.
But if you don't want have the time or money for a take-it-down-to-the studs renovation or custom-built home there are simple, inexpensive tricks that homeowners can use to achieve a romantic atmosphere. Adjusting the lighting, adding a few decorative touches, and focusing on sentimental themes are some of the recommendations decorators have for heightening romance.
The Right Light
Just as Realtors preach "location, location, location," interior decorators tout "lighting, lighting, lighting." When designing a room for couples, decorators say using soft lighting is important.
"If you have a dimmer, use it," says Susette Crosby of Affinity Design. "If you don't have one, then there are other options, one of which is throwing a scarf over a lampshade. You can pull one out of your closet, and it romanticizes the light in the room."
Then there is the obvious choice: candles. If it's for a special day, drape the room with candles, using different sizes and shapes in order to achieve a staggered look.
"If you have a mirror in the room, sitting candles in front of the mirror doubles the effect," Crosby says. Chandeliers are ideal, and if one isn't available, string candles from a ceiling fan. "It creates the effect of a chandelier even if you don't have one," Crosby said.
McHaffie calls it "mood lighting." Lighting the corners of a room, or putting accent lights on art, is a less expensive way to set the mood. A more expensive option for homeowners is installing dimmers so the mood can be instantly changed with a single button. Make sure any lighting changes also add convenience, she says. For instance, don't install lighting that requires crawling out of bed to flick off a switch; instead, use remote controls or have a switch near the bed.
Harsh overhead lighting should be avoided, Mathis says.
"You really don't want to see the light source if possible," he says. He suggests putting a light on the floor behind a plant, allowing the leaves to cast soft shadows.
Arranging a room around a theme helps, Mathis says. For couples, celebrate your love by taking a walk down memory lane, with photos, mementos, music and art that evokes a favorite vacation or honeymoon locale.
"It could be a trip to Italy," he says. It will invoke "those wonderful feelings you had by doing a room around that."
On the wall could be art or a photo of Venice and its abundant gondolas gliding down a canal. On a table could be photos from the trip of you and a loved one kissing at a piazza, posing in front of the Coliseum in Rome, or twirling spaghetti in Florence.
"You want to capitalize on all of your senses," Mathis says. Scented candles, soft music, candies or chocolates on a nearby table — all can add a splash of romance to a room. Depending on how far the theme is taken, wine could be offered from an Italian vineyard, the music could be Pavarotti, and the candles could be hand-dipped from Florence.
If you're after a more permanent transformation, go for the glamour by hanging a Venetian chandelier, which is more conventionally seen in dining rooms but can be placed in a bedroom for a romantic effect. To invoke the luxurious lifestyle of European royalty, shop for an ornate four-poster bed draped in Italian silk, with matching dressers with solid bronze or gold handles.
"That is where I'm coming from with taking a room and making the design that more from that location in the world where you brought back fond memories," Mathis says. With the workday pressure gone, it puts you in the mood for romance because you're in vacation mode, relaxed and comfortable.
Try translating what made a good hotel or resort experience into your own home, decorators say. Hotels are excellent resources for romantic settings because they don't contain the typical clutter one finds in a bedroom. There are no books, no messy nightstand and no misplaced furniture. Hotels offer simplicity, and many are designed to emphasize romance over other practical needs, with bigger beds, whirlpool baths and hammocks on balconies.
Soft Touch
Don't forget about one of the most important senses — touch. Decorators say soft, inviting fabrics are key to setting the stage for romance. This extends from the window treatments down to the type of rug or carpeting, sofa, bedding, and tables and chairs.
While modern furniture might appeal to you aesthetically, designers say to watch out for sharp corners and stiff furniture that may look great but not feel so good.
If a homeowner has wood floors, McHaffie suggests placing a soft rug on top of it to add warmth. Or choose carpeting such as a long-haired California Berber.
"It's the old version of a shag carpet but with longer fibers," she says. "It has movement to it, versus something tightly woven. It can be a nice romantic touch."
In the bedroom, go with sheets or comforters that are soft to the touch.
"In the bedroom, you can be more sensuous," Mathis says. "In the summertime, use linen, and in the winter, throw in silks and satin." In the dining room, just using linen napkins, or having chairs with a smooth texture such as suede, can help soften the room. Use a table centerpiece that is inviting to the eyes, nose and fingers, such as roses, an orchid or lilies.
Beyond the Bedroom
Bedrooms aren't the only place in a home that can be transformed into a romantic retreat. With the right decorative touch, practically any room can have a seductive appeal.
Backyards are sometimes overlooked but can be the perfect spot for a romantic evening. If you have a pool or whirlpool, use floating candles with waterproof candleholders. Tiki torches along the perimeter of your backyard provide a gentle glow. The Daughtons, for instance, installed a covered back patio with ceiling fans and chaise lounges that overlook the pool and can be used for a romantic evening or a backyard barbecue. And if your backyard offers some privacy, try setting up massage tables with aromatic oils.
"Front porches are another great spot," Crosby says. "Treat it as an indoor space with portable items, such as throw pillows and candles." She also says garden tubs, which are becoming a common amenity in most master bathrooms, offer opportunities for romance, with scented candles lining the tub. "To me, that is very romantic," Crosby says.
Living rooms or family rooms can also be transformed into a romantic hideaway. Many of these rooms have televisions, which offer the opportunity to settle into a cozy couch and watch a romantic movie.
Mathis encourages homeowners to program lighting and sound systems through a remote control.
"You can lower the lights, turn on the soft music and be close to the dining room where you've had a romantic meal," he says.
These transformations need not be temporary, decorators say. The best part about turning your home into a romantic retreat is that you don't need the excuse of Feb. 14 or the pressure of the right dinner reservation to achieve the spirit of Valentine's Day any day of the year.