Living Large in Small Spaces
The Tiny Life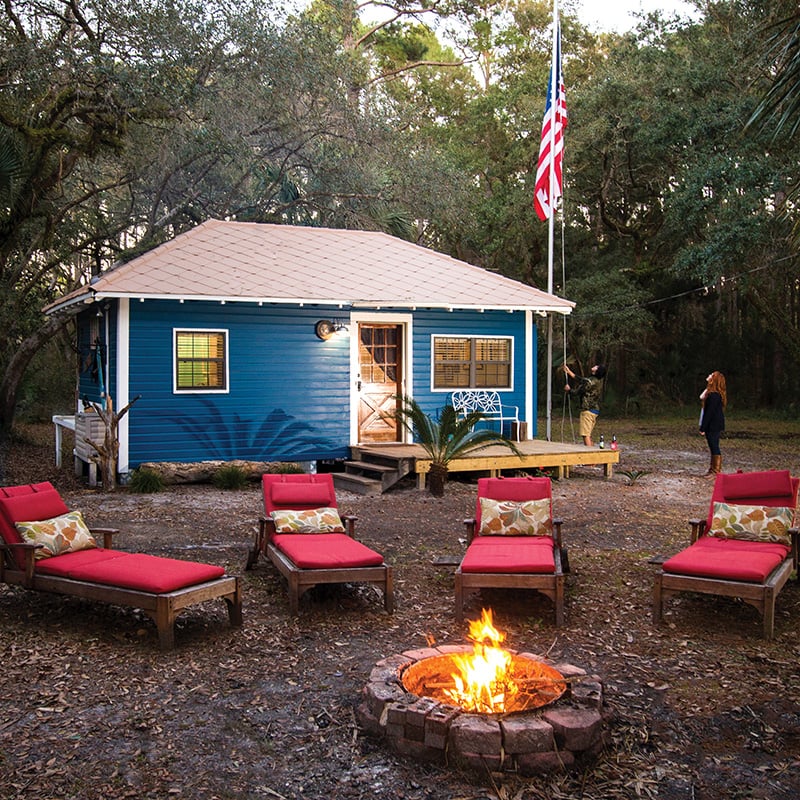 HGTV has no less than five shows dedicated to the Tiny House phenomenon (Tiny House Builders, Tiny House Hunters, Tiny House Arrest, Tiny Luxury and Tiny House, Big Living).
And we watch, mesmerized, as singletons, couples and even families pledge to radically downsize their lives, moving into homes that are only 250, 200 … all the way down to 100-something square feet.
For the vast, vast majority of Tallahasseeans, those itsy-bitsy houses are just a curiosity, worthy of a daydream or two — "Could I do it? What would I keep? What would I have to get rid of?" But once the reverie is over, most of us will stay happily ensconced in our suburban 3/2's on a half-acre, thankyouverymuch.
In fact, the National Association of Homebuilders reports there's been an uptick in both the average size of a newly constructed home (nearly 2,700 square feet in 2015) and the number of homes larger than 5,000 square feet being built. But a lot of that is an aberration, with first-time homebuyers returning to the market after a near-decade of recession and those on the high end returning in proportionally greater numbers because they can readily access credit.
But locally and anecdotally, there is a subset of buyers of all ages looking to save money and/or make life simpler by committing to live small — maybe not microscopically so, but in the size house that hearkens back to the the mid-20th century.
Feathering Her Nest
One tiny pioneer is Katie Schardl, who for the past five years has dwelled in a 600-square-foot house. It was originally built in Frenchtown, then relocated to the Levy Park area and extensively rehabbed by her landlord and next-door neighbor, Liz Sparks.
It has a small living room and kitchen, one bedroom and a respectably sized bathroom. There's even a little bit of space luxury: a good-sized collection of clothing hangs in a long, skinny (what she calls "sidle-in") closet and her laundry room is big enough to a hold a full-size washer and dryer, and serve as a utility room.
Her home is full of items that please the 59-year-old, including an impressive array of artwork from local artists she met over years of covering the art and music scene for the Tallahassee Democrat.
"Because I'm a collector, I have to really resist the urge to fill every surface with little things. I've got a lot of things. I'm not a Spartan living kind of person … It's not my style. This is my nest and I've feathered it," Schardl says. "I think it's the perfect size for one person."
Before she moved, Schardl lived in an 1,100-square-foot house.
"The hardest thing was giving up my record collection. I had hundreds of albums from when I worked at Vinyl Fever," she says. A record collector friend gave them a good home, "but I miss playing the records."
Other items ended up in a storage unit. But after about a year, she realized "I never went and looked at that stuff … and it was like 'I don't need this,'" she recalls. She sorted out family heirlooms and gave them to friends and passed on the rest, including furniture, dishes for 12 and "boxes and boxes and boxes of books."
She still has four sets of bookshelves but, as with other items in her household, she follows a strict one-in, one-out rule.
"And that's pretty much the case for anything … furniture, books … anything new that comes into the house, something has to go out to make room for it," Schardl says.  
Occasionally, she wishes for a second bedroom to accommodate guests or a work space that's bigger and more permanent than a collapsible tray table, but otherwise declares herself perfectly content.
"I've always been the kind of person that (loves) my own refuge, my own thing, my own nest — and now I've got it."
Backwood Paradise
It took almost a year of weekends to renovate and plenty of sweat equity, but Nick Baglione and Christie Green are finally living the tiny house dream in a 312-square-foot cottage within shouting distance of Ochlockonee Bay in Panacea.
That's about an hour and 15-minute commute to their jobs in Tallahassee, but Green says the proximity to the water and laid-back, low-cost living make it worthwhile. 
Baglione's family owned two small houses on the coast, and his grandparents sold the twentysomethings a lot that included an old building that was mainly used as a shed. Green says she thinks its original purpose might have been as a fishing camp. The couple gutted the building and began fixing it up, paying as they went along.
Now it's a sweet little home, painted in shades of blue and aqua, with just enough room for two. A queen-sized bed takes up much of the living space, but it also includes a complete kitchen with full-sized appliances, an office nook and a stacked washer and dryer. While many tiny houses have teensy bathrooms to match, they purposely made theirs a good size, to accommodate Baglione's 6-foot-4 frame in the shower.
Even though she moved into her new home from a student apartment, Green still had to go through a purge process. "It was therapeutic in a way to get rid of stuff. 'OK, do I really need this many pairs of wedges?'," she would ask herself. "The bathroom seems big, but do I really need that many bottles of shampoo right now? No."   
Another adjustment: In their little world, tiny equals tidy.
"It's been a real challenge to keep the office organized," she admits. "One thing about living so small is if you leave things out, it can start to look cluttered really quick."
The trick to living in such a small space, says Green, is taking advantage of nooks and crannies.
Tiny Tallahassee
Fans of tiny living say surrounding oneself with a community is critical to enjoying the constrained spaces. A plan is afoot now to create The Dwellings, a community of 130 houses to be built on 30 acres off Blountstown Highway in southwest Tallahassee. 
Each home would be 190 to 400 square feet big with rents of an affordable $400 per month. Its designers anticipate a place where people with limited incomes or who are in financial distress can live, although not in the governmentally supported model of "public housing." 
The Dwellings is not without controversy, however. Residents of an existing nearby subdivision balked at the county's approval of the project, questioning whether its residents would be properly vetted and whether the community would impact their property values.
Officially, city and county planners are onboard with the tiny house concept. It fits in well with their goal of encouraging development in already populated areas — known as "urban infill." 
So, how tiny can you go in Tallahassee? Planners say there's no minimum square footage required to build a house in the area, although there are requirements — cooking facilities, a bathroom and a bedroom of a minimum size.