Listen Up!
Audiobooks are not just for road trips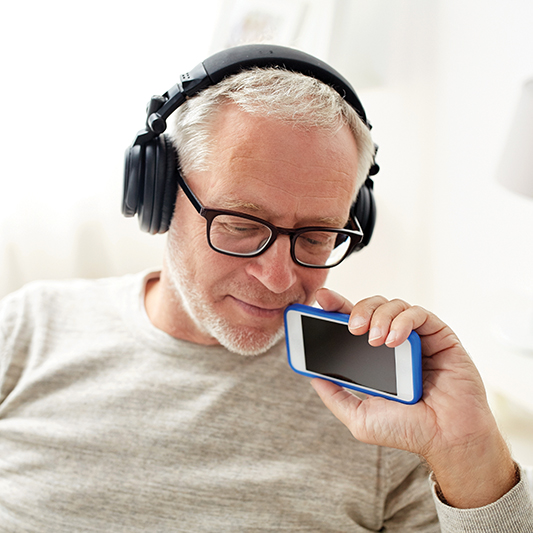 Take one look around a crowded mall, hospital waiting room or busy college campus, and you'll see plenty of smartphones. A recent study done by the Pew Research Center lends some numbers to this more-than-common sight: 77 percent of adults in the U.S. now own a smartphone. And while plenty of those smartphone users are ordering pizza or listening to Adele, others are waiting, breathlessly, to hear what happens to the main character in Chapter 2 of their most recent audiobook download.
More and more people are becoming more and more "plugged in" to technology. As a result, audiobooks have become the fastest growing book format in the publishing industry today. And with actors like James Earl Jones and Helen Mirren speaking to listeners, what book lover wouldn't consider putting aside the hefty tome and picking up the six-ounce phone?
If you're not a smartphone user, but you're interested in audiobooks, don't fret: You can get audiobooks on CD, too. They're great entertainment for long car rides with the kids and perfect to listen to on the home theater system while you work on a jigsaw puzzle as a family.
---
Locals who tune in speak up about their favorite audiobooks
Tallahassee native Chris Sundstrom, MD, says, "I love listening to audio books. I can't think of a better way to spend my time commuting back and forth from the hospital." One of his favorite resources for free audiobooks is LibriVox, which is an online collection of books in the public domain that are read by volunteers. "The quality of the readers varies," Sundstrom says, "but some of them are professional-level recordings." Another resource he likes is Lit2Go. "The recordings are excellent," he says.
Sundstrom recommends that visitors to the LibriVox website try out Arthur Conan Doyle's "The White Company" and "Sir Nigel," both read by Clive Catterall. Favorites from the Lit2Go website include "The Mysterious Island" by Jules Verne and "The County of Monte Cristo" by Alexandre Dumas.
Director of Leon County Libraries Cay Hohmeister says, "I like to listen to nonfiction books — the libraries have a lot of them — either when I'm traveling, working around the house or riding that infernal exercise bike! Listening to a nonfiction book helps me to 'read' the whole thing instead of skip around. And I think it helps me to listen more carefully and to pay attention to each section."
For nonfiction lovers, Hohmeister recommends "Salt: A World History" by Mark Kurlansky.
"I listen to a lot of audiobooks while I'm performing my chauffeuring duties," say Liz Byington, a busy mother of five who moved to Tallahassee with her family two years ago.
Her recommendations for fiction lovers include Ransom Riggs' "Miss Peregrine's Peculiar Children" series, read by Jesse Bernstein and Kirby Heyborne; and the HarperAudio versions of C.S. Lewis's "Chronicles of Narnia" series, which feature Michael York, Kenneth Branagh and many other celebrated actors as readers. For nonfiction enthusiasts, Byington recommends Laura Hillenbrand's "Unbroken," read by Edward Herrmann; and Steven D. Levitt and Stephen J. Dubner's "Freakonomics," read by Dubner.