Lisa Davis Gives Advice That's Not Skin Deep
Makeup artist of first lady Casey DeSantis, discusses motherhood, motivation and inspiration.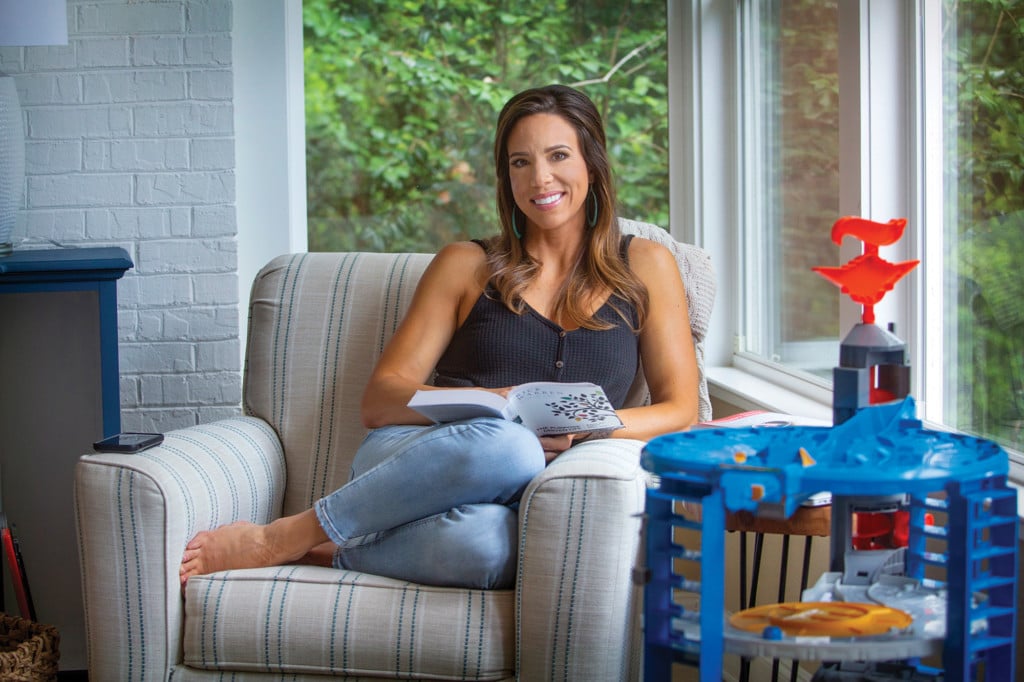 Stop telling yourself that you can't.
I think sometimes we look at everything and it seems so big, but you have to break it down into small chunks so it doesn't seem so overwhelming. "Oh, I can't do that." Well, yeah, you can.
You have to break it into small goals. So many of the times we just dismiss it. Whether that is makeup, workouts, reading books, devotions or even time alone. All of it.
You really have to show up for yourself, too, which is hard.
And I know that as a woman, because we have to take care of everyone else. Even this week, I looked at my calendar and I was like, "Where are the workouts going to go? Where's the alone time going to go?" And if you can just weave it in these little bite-size pieces, that's how it gets achieved. I just look at the calendar and make sure to get it in.
And then I break things down into smaller chunks. It's really hard for me to read a book, for instance. I'm up earlier than everybody else. Everybody's lunches have to be made. Everybody has to be to school. Every detail of everybody's life is something that Mom has to take care of.
So I go, "How can I read a book?" By tackling one chapter a morning. And that way by the end of the month, hopefully I finish a book instead of getting myself all stressed out that the book is still sitting there and I haven't touched it.
Bite-size chunks, strategic planning. Not being so hard on yourself. You can't be perfect. There's no perfect mom. There's no perfect entrepreneur. You just do the best you can.
I love to scrapbook.
I never ever get to do it. I love to do it because I can just be alone with my thoughts. I love to piddle around my house and clean. For hours on end. Lights, candles, put on some music.
I'm a hoarder of snacks.
I believe that healthy living means being prepared. That's something I talk about a lot in my videos and blogs. Having food with you at all times so that you don't make bad decisions.
You'll always find me with almonds, Kind bars, berries, something. My husband hates it because I always have food with me. But he's also learned to love it because he never goes hungry.
Rachel Hollis is quite an inspiration.
The whole message is about who you are and who God made you to be. That if you're a working mom, awesome. Be a working mom and rock it. And if you are a mom who is going to stay at home with your kids, awesome.
Stay home with your kids and rock that. But it's OK to have goals; it's OK to take care of yourself. It's OK to prioritize your marriage. Be who you are.
That's what I learn from Rachel Hollis. For a long time, I fit into this box of what I thought I was supposed to be based on what the world told me, what my church told me, what my friends told me.
And then you get to a point in life where you are just like, "I'm just going to live for who I know I'm supposed to be and not worry about what other people want."
There's no judgment in my position on things.
I just really want to love on women and serve them where they are.  Especially during a crisis. That's why I aligned myself with the Women's Pregnancy Center, just because I feel like there is very low visibility when it comes to ministries like that.
People feel like they are so trapped into maybe one option and really there are a lot of options.
There are people who want to come around you and support you and love you and provide for your needs physically and emotionally and spiritually in every single way. Half of my profits go back to the ministry. I just feel like it's a way to give back.
This is something that has had a lasting impact. Hopefully, as I grow, I want all of my profits to go to this. 
Lisa Davis is a beauty and skincare expert, the fun-loving founder of Image By Lisa (ImageByLisa.com) and the makeup artist of first lady Casey DeSantis.