Liquid Serenity
Water Features Transform a Garden to a Sanctuary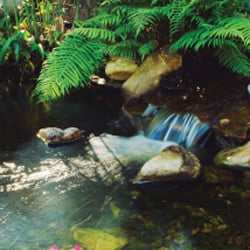 Scott Holstein
Buz Ireland's backyard is the best advertisement for his business, AquaFeatures of Tallahassee. His largest pond incorporates plants, running water, waterfalls and fish to create a quiet retreat.
There's something so soothing, so serene about the sound of water. It can transform a backyard into an urban retreat. It can bring a bit more of nature into a suburban setting, attracting birds and other wildlife. It can seemingly lower the temperature during a summer heat wave by 5 or 10 degrees.
Whether you're thinking of a small, burbling fountain or an elaborate pond with several levels of waterfalls, adding a water element to your landscape can make your yard more interesting, more beautiful and more fun for you to use. Water features, generally considered the more elaborate installations that include ponds and waterfalls, are a significant investment and are considered a property upgrade, so put as much thought and planning into it as you would a renovation inside your home.
Buz Ireland's backyard is the best advertisement for his business, AquaFeatures of Tallahassee. His largest pond incorporates plants, running water, waterfalls and fish to create a quiet retreat. Photo by Scott Holstein
"The first thing you need to do is ask yourself why you want to add a water feature," said William Dickerson of Dickerson Landscaping. "Most of the time, people want to attract nature to their backyards or they're looking for getaway place. Do you want it to drown out traffic? How big will it have to be to do that?
"Then you have to consider the maintenance," he continued. "Do you travel a lot? Do you have pets? Will your pets be getting in the pond?"
Most people tend to start out small, only to wish they'd made their pond a little bigger. Once you start adding stones and plants, the basins tend to fill up quickly, Dickerson said.
"You need at least an 11-by-16-foot pond in order to get your plants in and create a natural setting," he said.
A well-designed water feature also provides various points of discovery, said James Hughes, owner of James Hughes Landscaping. "Year to year, season to season, there's always something new to discover about a water feature."
That's definitely true for the multi-leveled water feature Hughes designed for Dr. Tim and Joyce Broeseker's Killearn Estates backyard. They asked Hughes to create a North Georgia or North Carolina feel for their steeply sloping backyard. In the process, he re-graded a slope and fixed a water runoff problem.
"Whether we're sitting on the patio or in the gazebo, it looks natural and it sounds natural," Joyce said. "We just love it."
Hughes used granite in the Broesekers' waterfall and pond, because limestone can alter the chemical composition of the water and turn it green, he said. He chose the plants in the pond to help filter pollutants and keep the water clear.
Two small waterfalls set farther up the hill feed the stream that cascades into the pool just off the patio. Pickerelweed, sweet flag and yellow iris — bog plants that thrive with wet feet — adorn the shallow edges. Lily pads float serenely on the pond's surface while tape grass dances just beneath it. Along the banks, ferns and junipers spill over the stones to soften the edges, as in nature. A Japanese maple set into the hillside creates a striking focal point.
"Some people are afraid that a water feature will attract mosquitoes," Hughes said, "but they don't. Mosquitoes need stagnant water and this water is always moving."
A water environment created by James Hughes Landscaping that brings a little bit of North Carolina to the sloping backyard of Dr. Tim and Joyce Broeseker. Hughes' waterfall on display at Killearn Ace Hardware (below left) doesn't fall into a pond, but "disappears" and the water is constantly recycled.
Buz Ireland of AquaFeatures of Tallahassee installs ponds, streams and waterfalls, as well as rainwater collection systems that incorporate water features with water storage. At his home, he collects water through a system of gutters, and a permeable-paver patio, into an underground cistern that holds 2,000 gallons. A beautiful pond sits above ground, as opposed to a utilitarian water tank.
"I use it to water a large vegetable garden, wash my car," said Ireland, who along with Hughes is an Aquascape Certified Pond Installer. "They're pricey. They start at $10,000 on up, but they're meant to last."
If you don't have the space or the money for an elaborate pond feature, pond-less waterfalls are another option. In these, the water spills over a waterfall and drops into a bed of stones instead of a pool. The water seeps through the rocks into a holding basin below, where it is pumped back to the top of the waterfall. It's a similar system to a burbling urn, in which the water flows down the sides of the vessel and seemingly disappears into the bed of stones below.
Scott Holstein
A water retreat by Dickerson Landscaping (above) includes a creek "bridge" and a swing to contemplate the waterfall and pond. Local nurseries incorporate water features into their landscapes.
With pond-less waterfall and urns, it's imperative that the water basin be large enough to account for evaporation, particularly in the hot summer months. Otherwise, your basin can run dry and burn up your pump's motor.
A properly built water feature will reduce the amount of maintenance required, but some maintenance is necessary. Both Hughes and Dickerson recommend giving your water feature a good cleaning once a year. Dickerson noted that site selection makes a big difference in the amount of maintenance a water feature needs. If you have oak trees, you'll be cleaning out leaves a lot in late February.
"You really need to think about how you're going to handle the maintenance," Ireland said. "Plants in water grow like crazy, and they'll need to be thinned out. The leaves can clog the pump. And you'll need to troubleshoot leaks. One of the main things to do is make sure your contractor is going to stand by the work, because ponds rarely work right the first time you turn on the pump. There has to be a lot of tweaking."
Whether to include fish in your pond is another consideration. Dickerson recommends buying inexpensive goldfish instead of pricier koi. Even deep ponds with ledges for fish to hide under lose a few fish to predators.
"Herons are problematic, and some clients have mentioned owls get their fish," he said. "You need to plan for it. You don't want to keep replacing $30 koi."
While feeding the fish in your backyard water feature might become a family ritual, overfeeding the fish can end up polluting your pond. If you plan to feed them, use a light hand.
"In a natural water feature, you don't feed the fish," Hughes said. "If you have the right amount of fish in relation to the size of your pond, the fish will eat the impurities and micro-organisms and the fish waste fertilizes the plants. Everything has a role to play."
A water retreat by Dickerson Landscaping includes a creek "bridge" and a swing to contemplate the waterfall and pond.