'Line Up Alphabetically by Height'
Celebrating Coach Pete's 50th Anniversary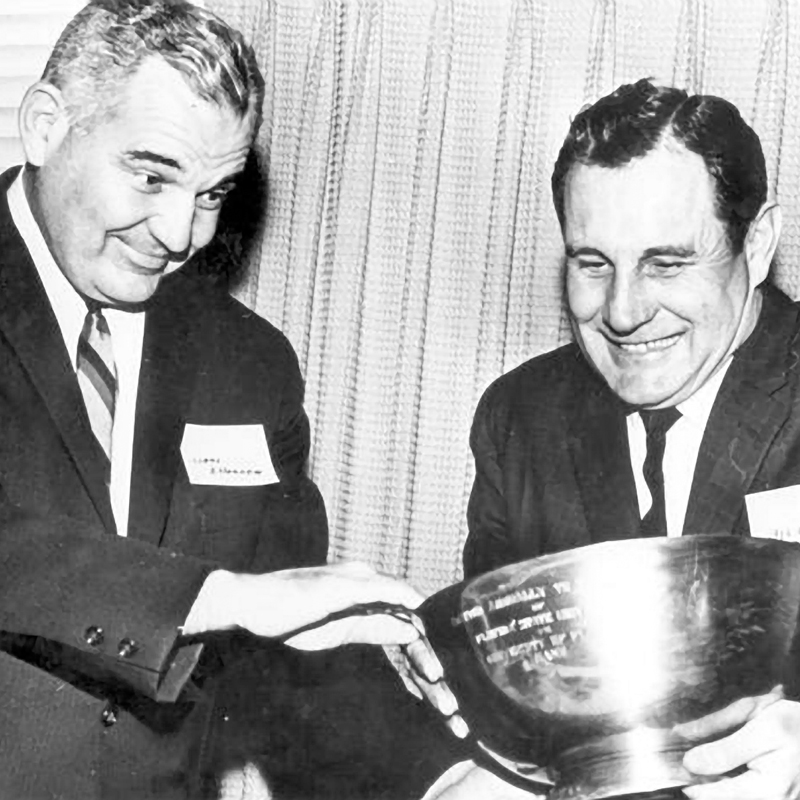 A tense, somber-looking group of football players sat quietly in the cramped visitors locker room, waiting for their head coach to speak. The unnatural silence before they jogged onto their opponent's field seemed to portray apprehension instead of confident determination.
This Florida State University team never knew what their unpredictable Coach Bill Peterson would say. Perhaps he would encourage them by saying they were a better team than their opponent, North Carolina State. Or maybe he would hit them with another of his "Petersonisms," such as, "Men, we can win this game. All we have to do is capitalize on our mistakes." Huh?
Coach Pete walked to the middle of the floor, looked at his players, and said, "Men, this is an important game, but we are not going to win it because you are scared." Then he headed for the door.
"What do you mean? I ain't scared of nothing!" shouted one player. Soon they were all yelling and saying to one another, "I'm not scared. Are you scared?" As the uproar continued, Coach Pete, wearing a sly smile, headed for the field, and his team stormed out after him. They proceeded to smash a good Wolfpack team 48-7. Peterson's scaredy-cats would score 132 points in the final three games of the 1968 season, putting them in the inaugural Peach Bowl game.
That was vintage Peterson. Coach Pete challenged, instructed, complimented and threatened his players to be better than anyone dreamed they could. In so doing, he took a little-known football program to national heights.
Along the way, he may have even confused a few folks with his malapropisms. Unable to break the habit of having his mind race to the next thing while still talking about the current one, Peterson's hilarious misstatements formed a new language known as Petersonese.
Dan Whitehurst, a linebacker and one of the most highly recruited players in Georgia high school history, remembers: "My first year, on Picture Day, he told us to 'pair up in threes and line up in a circle.'"
In December 1959, Peterson signed a contract to coach Seminole football the next year. That began an unforgettable
11-year journey that would reshape the program and affect the university in unimagined ways. Under the brilliant strategist, Florida State University football gained national recognition while the foundation was being laid for a rise to the elite status enjoyed under Coach Bobby Bowden. Bowden, who retired with the second-most wins in college football, was a young assistant under Peterson. (Former FSU President T.K. Wetherell played for him from 1965 to 1967.)
Bowden remembers some of the confrontations in Peterson's staff meetings when his assistants proposed a new strategy that he disapproved of. Peterson would vehemently state, "We're not going to do that. You aren't going to deputize my job."
Peterson elevated the program by installing a wildly inventive, pass-happy offense that was ahead of its time.
"We could pick apart defenses and recognize blitzes. We knew how to get the ball to the right receiver," quarterback Kim Hammond said from his office in Bunnell, where he has been a circuit court judge for more than 30 years.
"Coach Pete would get into your mind. Change your thinking. Make you a little sharper. Play with your head a little bit," Hammond recalls. "But he would bring out your best."
After riding the bench for most of the 1966 season, Hammond finally got a chance to start on Sept. 23, 1967, in a game that many still call the greatest in Seminole history. Going against Paul "Bear" Bryant's University of Alabama team, which had a 21-game winning streak, FSU made believers out of the entire football world as the ABC-TV cameras rolled for a documentary on Bryant. What they thought would be footage of a rout instead captured the Bear roaming the sidelines yelling, "What the hell is going on out there?" in a wildly improbable 37-37 tie.
It was in his team meetings where many of the Petersonisms occurred. All-American quarterback Bill Cappleman, who threw 25 touchdown passes in 1968, says, "You had to pay close attention, or one of those classics would slip right by." For example, there was the time Peterson was upset with some of the game results. He told the players and coaches in a strategy session that "this week, we are going to change the floormat around here."
The 2010 season represents the 50th anniversary of his initial Florida State season, and FSU will honor the Peterson era with a reunion of his former players and coaches on Sept. 24–25, the weekend of the Wake Forest game. Seminole Varsity Club Director Betsy Hosey says more than 270 players have been invited to a welcoming reception planned that Friday evening, and that those in attendance will be recognized on the field before the game on Saturday.
One of those invited to attend the festivities is College Football Hall of Fame member Ron Sellers, Peterson's receiver who, 42 years later, still owns 16 Seminole records. Sellers recalls that despite all his success, when Peterson was introducing his players to the crowd at the Friday Night Pow Wow during 1968 Homecoming, he came to Sellers and couldn't remember his name. Peterson recalls him saying, "Here's uh, well it's No. 34, you all know him."
Despite being unable to remember names, Peterson was a friendly man who knew no strangers. He was as comfortable talking to the governor as he was the man on the street. His wife, Marge Peterson, who still lives in Tallahassee, says that "whenever Bill entered a room, he didn't leave until he had met everyone."
Even though he was a friendly guy, Peterson was also a demanding disciplinarian who vowed he would never lose a game because the opponents outworked him. He was always wired and ready for the next crisis. In fact, some of his assistant coaches felt that if a crisis didn't exist, he would create one.
Barry Smith, a fleet-footed wide receiver from the Miami area who was the last player to catch a touchdown pass during the Peterson era, also remembered his being paranoid.
"We'd be at practice and he would yell, 'Stop! I just saw a reflection over there in the bushes. Somebody's taking pictures,'" Smith said. "Or he would send a manager over to see if there was anyone up in a tree."
Despite the honors and recognition that his coaching career brought, his son Bill Peterson Jr. remembers his dad being proudest of being elected president of his Sunday school class at Trinity United Methodist Church. Peterson Sr. had strong beliefs and was driven to succeed. Even though he misspoke at times, he could also use humor to ease the tension and create an air of goodwill.
Peterson loved to kid around with sportswriters and once jokingly told a group of them: "The trouble with you sportswriters is you are always trying to make me look dumb, and you know I don't need any help." That caused them to stop and wonder: "Is he putting us on, or was that a slip of the lip?" Only Peterson knew.
Even though Peterson passed away in 1993, memories of him are still vivid for those whose "crosses he pathed." They all have their own personal Peterson favorite. All of those will be revived and shared once again as the 50th Anniversary Celebration of the Peterson Era is celebrated in Seminole Territory.
---
Jim Crosby has covered Florida State University sports for more than 30 years as a writer, ESPN radio reporter and television sports anchor. He has broadcast more than 700 Seminole baseball games on the radio. Many of the most famous Petersonisms have been captured in his new book "You Can't Become a Football Overnight," available in local bookstores and online for $19.95.