Linda Figg and Company Build Bridges that are Functional Works of Art
Spanning the Imagination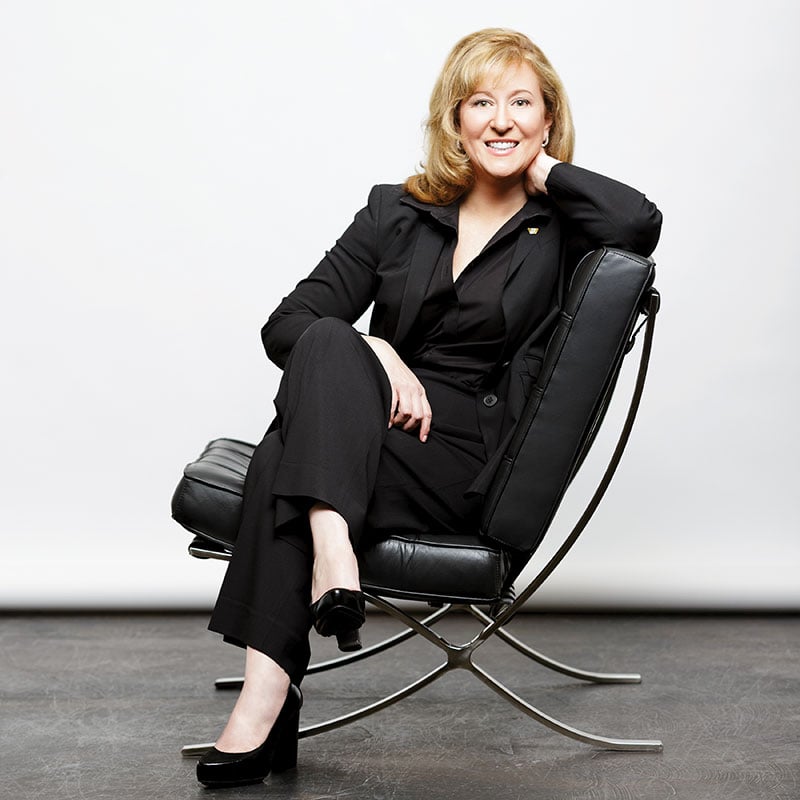 To Linda Figg, bridges aren't just a way to travel from one spot to another. She sees each structure as a work of art, a storyteller, a lasting symbol of a place and time.
"Bridges connect people to each other and their dreams," said Figg, president and chief executive officer of Tallahassee-based FIGG Bridge Group. "The beauty of a bridge tells the story of the quality of life in a community."
Figg's own connection with bridges began as a child who loved creating things, like sewing her own clothes and climbing trees, where she would sit for hours a day, "dreaming of building things high in the air."
Those dreams led to her life's work — building bridges that are considered works of art. At 55, Figg runs an international company with construction values totaling more than $14 billion.
Launched by her father, Eugene Figg Jr., four decades ago, FIGG has its headquarters in Tallahassee, but the firm also has regional offices in Alabama, Texas, Colorado, Minnesota and Philadelphia and currently has eight field offices.
The company has specialized in the design, inspection, management and construction of bridges in 42 states and six countries — Canada, Saudi Arabia, Colombia, Guyana, Brazil and Venezuela.
The Honolulu Rail Transit Project
Some of FIGG's bridges span emerald-green waters (Seven Mile Bridge in the Florida Keys), sweeping mountain vistas (Blue Ridge Mountain Parkway's Linn Cove Viaduct in North Carolina), red rock formations (U.S. 191's Colorado River Bridge in Moab, Utah) and busy city streets (AirTrain JFK at John F. Kennedy International Airport in New York City).
FIGG has created bridges with stunning views (Penobscot Narrows Bridge Observatory in Waldo and Hancock counties, Maine), wildlife mosaics (Broadway Bridge in Daytona Beach) and the artwork of American Indians (Four Bears Bridge in New Town, North Dakota).
The firm has more than 355 awards of excellence, including three Presidential Awards through the National Endowment for the Arts. One of those bridges is the I-275 Bob Graham Sunshine Skyway Bridge across Tampa Bay, with spans reminiscent of a sailboat. Sen. Graham called it a "state-of-the-art" design.
"What we are trying to do is create lasting impressions," said Figg, a Tallahassee native.
FIGG bridges have been on the covers of more than 300 books and magazines and featured on TV shows including "Modern Marvels," PBS programs and "National Geographic."
Chances are you've driven across FIGG structures somewhere in Florida or elsewhere in the country. If not, one of their latest projects is the first in Figg's hometown.
FIGG designed Tallahassee's new Capital Cascades Trail pedestrian connector bridge, which will be 100 feet south of the railroad bridge crossing South Monroe Street, connecting the park to South Adams Street.
Construction bids were received on March 3 for $5.4 million, and about half of this is for the bridge and the other half is for landscaping, trails, parking facilities, lighting and other amenities.
"The concept has always involved an iconic gateway element," said Wayne Tedder, director of Blueprint 2000, the agency created to build infrastructure projects using money from a penny sales tax passed by voters.
The bridge, expected to be completed by next spring, features poles angled "like trees you'd find in a forest" that are attached to eight canopies with solar fabric, Figg said. These panels provide enough electrical power to light the bridge at night — and the city can change the color for any event, even big home football games.
FIGG presented four bridge design options during a public charrette. Getting community input "was a big part of their process," said Gary Phillips, Blueprint 2000 project manager. The canopied concept received the highest ratings.
"We wanted to be sure it was specific to Tallahassee," Phillips said.
"In terms of communication, creativity, innovation and imagination — all the things that get people excited about these projects — FIGG is as good as I've ever seen," he said. And as for Linda Figg, "she's the one who makes it happen."
Figg calls the bridge a "tribute to our canopy trees and roads," adding that it "incorporates some strong ecological technology."
It seems fitting that she has a role in Cascades Park. It's a place where she and her husband, Richard Drew, a retired environmental engineer, like to walk — when she has time. Figg travels about three days a week on the firm's private plane, but her interests include health, nutrition, education and books — she keeps favorites in her office to give away to fellow book lovers.
"I love learning new things," said Figg, whose enthusiasm is catching.
But make no mistake. Bridges are her passion, her hobby as well as her work.
Large, colorful photos of bridges are proudly featured, as if museum pieces, on the stark white walls of the firm's three-story, historic downtown headquarters on Tallahassee's North Calhoun Street. Originally built in 1844 by contractor George Proctor, a freed slave, it was once the home of federal judge Thomas Randall and later banker George Lewis. But it's been the world headquarters for FIGG since her father founded the company in 1978.
Figg worked with him for 20 years before his death at age 65 in 2002. She then took over the company, remaining true to his lofty goals.
"My father used to encourage me by saying, 'You can do anything that you put your mind to,'" Figg said. "He had great optimism and believed that anything is possible if we dedicate our hearts and minds to it. There is great power and amazing results in teamwork."
She says the firm's name of FIGG is written in all capitals because "everything we do is about the team. I see it as an entity. It's not about my name."
Figg directs her teams from the same office her dad used, an expansive but understated space with a fireplace and 22-foot ceilings. Figg's massive mahogany library desk was her father's, brought from his hometown of Charleston, South Carolina.
Figg was born and raised in Tallahassee and her mother, Ann Ruth, and one of her three sisters still live in the city. Figg excelled in science and math during her years at Leon High School, and then she attended Auburn University's Samuel Ginn College of Engineering.
"She represents the very best of Auburn engineering," said Jim Killian, director of engineering communications and marketing at Auburn. Figg was one of three women in her civil engineering class when she graduated; today about 20 percent of graduates are women, Killian said.
"Her dad started the company, but she picked up the ball and moved it right along," Killian said. "It's hard to go from one generation to the next with continuity, and she's done that. FIGG Bridge has remained a solid competitor in the business primarily due to her efforts in leading the company forward."
Larry Benefield, dean emeritus of Auburn's engineering college, said he was one of two members of the board who nominated Linda Figg for the state of Alabama Engineering Hall of Fame. Inducted in 2010, she is one of seven women among the 163 individuals given that honor.
Colleagues call her personable, engaging and persuasive, especially when it comes to pitching her designs.
"She's been an extraordinary leader," Benefield said.
In 2011, she was inducted into the National Academy of Construction. In 2007, Concrete Construction magazine named her one of the 13 most influential people in the concrete industry, and she was named one of Engineering News Record's Top 22 Newsmakers in 1998.
Linda Figg was a student when her father, a structural engineer, started a firm with French engineer Jean Muller. Their idea was to incorporate a bridge system used in Europe to replace bridges destroyed by war in a "quick and efficient manner," she said.
They brought the technology to the United States "and advanced it to another level," she said. In 1988, Gene Figg became the sole owner of the firm, which expanded and became FIGG Bridge Group.
The company's method is to use precast, concrete segments "like big Lego blocks," Figg said. "This is like creating a kit of precast concrete parts from local materials and local labor to assemble quickly at a site."
FIGG also uses a system of cables that are pulled on tightly with hydraulic stressing equipment. Then the cables and concrete segments are locked into place together to permanently create a superstructure span.
To meet needs in the future, bridges may need to use vertical space to expand, rising out of highway medians, Figg said. And to get more bridges funded, it may be necessary to have more toll bridges in the country.
"The United States has a backlog of needs in infrastructure," Figg said. "About one in four bridges in the U.S. is structurally deficient or functionally obsolete.
"So our focused challenge is to bring the best solutions for getting more sustainable bridges built in communities to grow local economies and improve the quality of life," she said. Her firm's goal is to create "bridges that are cost-effective, have a longer life, respect the environment and are aesthetically pleasing. Bridges that are functional bridge sculpture."
Using its precast concrete method, the Seven Mile Bridge in the Keys was completed six months ahead of schedule, Figg said. She was on the Florida Keys Inspection Site Team, her first job working with her father's company after graduating from Auburn in 1982.
Since then, FIGG has taken on some formidable projects, including the $234 million replacement of a Minneapolis bridge across the Mississippi River after the original collapsed in 2007, killing 13 people and injuring 145.
Minnesota wanted the new I-35W Bridge in Minneapolis to last at least 100 years, and it had to be built in 11 months. The price of delay without a bridge took an economic toll of $400,000 to $1 million a day, Figg said.
Bridges reflect the latest technology, she said, and the new I-35W bridge incorporated many new advances, including 323 sensors to make the structure a "smart bridge."
Figg said she relishes her role in getting public input, especially at the beginning of a project to "capture a community's vision."
In Daytona Beach, public workshops led to the theme of "Timeless Ecology" on the Broadway Bridge. An artist created 18 wildlife mosaic tiles along the bridge's sidewalk and walkway. The mosaic at the highest point of the bridge features a pair of bald eagles and other birds.
In North Dakota, FIGG worked with local artists for the Four Bears Bridge at the Fort Berthold Reservation dedicated to the lives of three affiliated tribes who live there — the Mandan, the Hidatsa and the Arikara. The bridge's pedestrian walkway and railing resemble a linear art gallery celebrating the Indian community.
Figg's favorite older bridge is the Brooklyn Bridge, which she calls "remarkable."
"It was the largest thing on the landscape when it was built," she said.
Even after more than 30 years in the industry, she's still amazed by the "majesty" of a bridge.
"It can really take your breath away."