Life Before Wi-fi
Explore bygone ways at the Panhandle Pioneer Settlement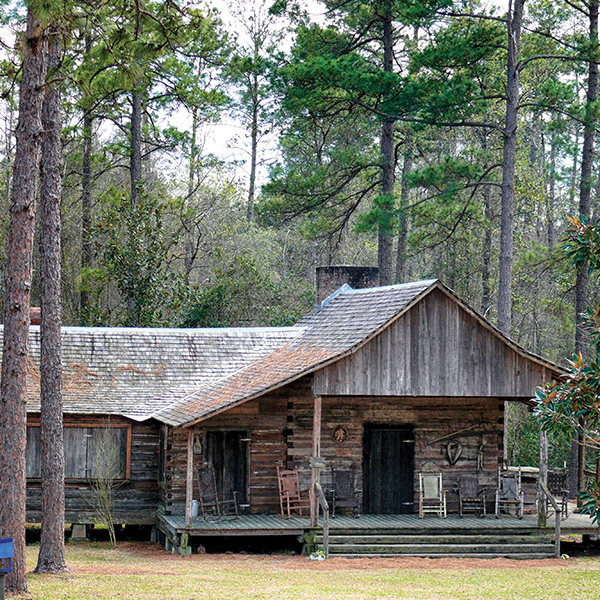 We take so much for granted in our 21st century lives, and we easily forget that survival was a constant struggle for our ancestors, even in the best of times. Times were tough for many generations of North Florida backwoods families, even into the early 20th century.
You had to put in a full day's work just to eat. If a metal part on the plow broke, you went to the blacksmith to have a new one fabricated. If you didn't have the money for something, you went without. If a hawk took your favorite laying hen, you went without eggs. If you had something that wore out, you patched it up and kept going. You saved and scrimped and squirreled away every penny and dime to make sure the kids had shoes for the winter or to have medicine. On Sundays, you went to church to pray for a good harvest. You might have even gone to a quilting party or helped your neighbor round up a stray cow.
These are just some of the possible scenes from the past evoked by the historic farmhouses and buildings of the Panhandle Pioneer ›› Settlement, a living history museum an hour's drive west of Tallahassee in Blountstown. Here, you can learn about the old days and the old ways. If you look close enough, you might even come to understand how your ancestors' values were molded through adversity, faith and community.
The "settlement" consists of 18 old buildings that were moved to the five-acre site in Sam Atkins Park from their original locations all across Calhoun County. The buildings range in vintage from the 1820s to the 1940s. All have been restored and are open to the public. Most have been kitted out with the appropriately vintage accessories and items common to the time in which they were in use. The collection includes log cabins, a blacksmith shop, Methodist church, firehouse, general store and a doctor's office.
If you want to get your hands dirty, the settlement offers some hands-on "pioneer" classes to give you a feel for the daily lives of your ancestors. You can choose to learn the art of blacksmithing or discover how your grandparents used to make jelly, jam and cane syrup. Check with the site for times, fees and other requirements.
Also, the site plays host to a variety of events and festivals during the year. Everything that goes on here is designed to pass along the knowledge and the history of pioneer life in Calhoun County and, by extension, the whole of Northwest Florida. For example, if you are interested in learning about how folks fed themselves back in the day, you might drop in on the annual hog butchering demonstration every January. Or you can investigate other pioneer ways during the springtime Panhandle Folk Life Days or the Pioneer Day event in the fall. Either way, you will find yourself taking mental notes on how things were done without modern conveniences. Because, hey, you never know when these old skills might come in handy.