Levy Park Is A Spot for Artists, Professionals, Even Farm Animals
The neighborhood offers a 'comfortable feeling' and a true sign of spirit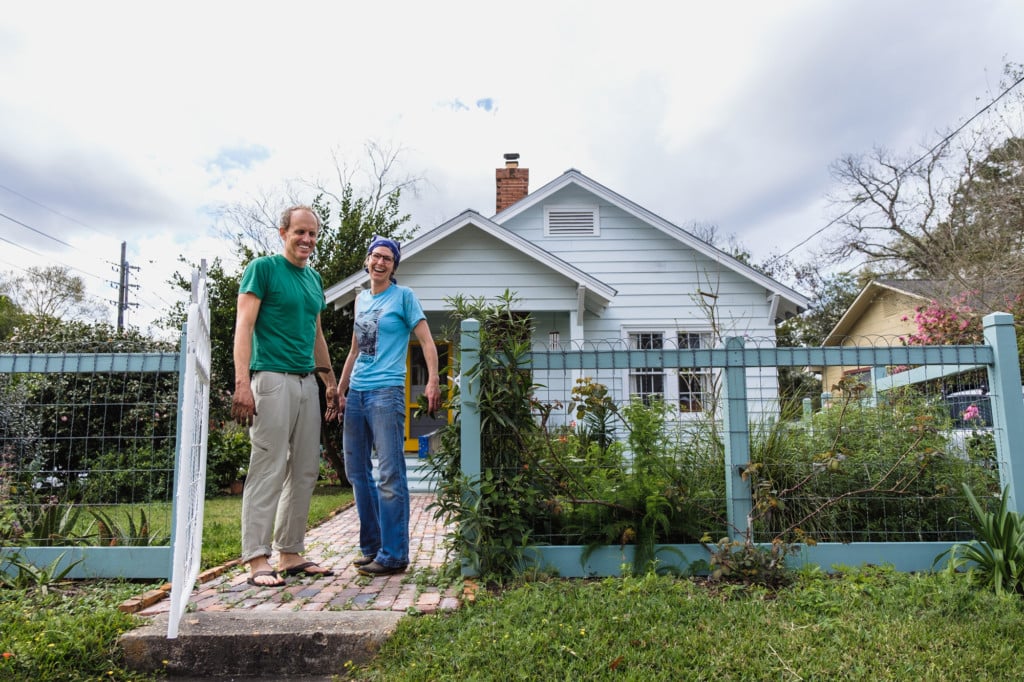 On the edge of Tallahassee's lively Midtown and lovely Lake Ella lies a self-described "Awesome Neighborhood." Behold historic Levy Park.
"I can't recall what brought me to Levy Park, but whatever it was, I love it … I think it's the trees," said Seamus Bruner, the neighborhood association treasurer, who moved to the neighborhood in 2010 as an undergraduate at Florida State University.
Sturdy oaks line many of the streets, and their roots can be traced back decades.
Levy Park has been a part of the Capital City since the early 1940s, when the neighborhood association says the land was donated to the city by the widows of the Levy brothers — successful owners of mercantile stores all over town.
When established, Levy Park fell outside the city limits, making it one of Tallahassee's first suburban neighborhoods, said John Turner, president of Levy Park's Neighborhood Association.
Even then, it was a "modest, working-class neighborhood," with most early structures about 1,000 square feet, said Turner, a 30-year resident of Levy Park.
He explained that the lots originally were intended to be double, but after the war, an effort to provide housing for servicemen returning home prompted the combining of many lots.
Bruner pointed out that "the property lines aren't uniform, so it's not cookie-cutter houses."
Levy Park has grown into a neighborhood that fosters a diverse community and a strong support system. You'll find students, professionals, young professionals, young families and older people who have lived there for more than 30 years.
You'll find musicians, lawyers, small business owners, writers, artists and government employees. You might even spot cats napping on cars or goats and chickens roaming in yards.
Above all, you'll find that Levy Park is home to families and friends who look out for each other.
"You almost feel like you're in your own family with that extended family model — the older, younger, middle-age people," said Meredith Dozier, a seven-year resident of the neighborhood.
"You could always call your neighbor and ask them to watch your house for a second. It's just a really nice comfortable feeling."
Recent townhouse developments have sparked mixed reactions, but residents seem unanimous in their appreciation for the neighborhood's historic charm.
"When you're walking down the street, you can see people sitting on their porches having a glass of wine, or just walking with their dogs or their kids are playing in the yard," Dozier said, "and it just feels like a place that you really get to see the people that you know and care about."
Residents get together year -round for all kinds of activities — potluck dinners, hiking trips, trash pickups, fire pit sessions, yard sales, holiday caroling and Fourth of July cookouts.
It has been nine years since Bruner fell in love with this "funky, eclectic and diverse" neighborhood, and now his family has, too.
He said he convinced his parents and sister to move into the neighborhood, and he hopes more will follow.
By the time he retires, Bruner, 28, says he just may know everyone in the neighborhood.
Levy Park embodies a village mentality that surfaces in times of hardship. During devastating storms that have hit northern Florida in recent years, residents and local businesses have come together to provide relief for those in need.
Residents helped clear roads and driveways of tree debris and brrought supplies to affected homes.
Residents say the Lake Ella Publix emerged as a major resource during power outages and that Lakeview Baptist, on West 7th Avenue, opened its doors to offer shelter.
Lakeview hosts neighborhood meetings and provides a setting for before- and after-school care for students from nearby schools, Ruediger Elementary and Raa Middle School.
Students with families struggling to cover costs for school supplies can find donated books in "Little Libraries" that add a splash of color and flair to Levy Park's streets.
They're old newspaper bins scattered throughout the neighborhood where residents can drop off and pick up books.
This was among the initiatives that Bruner took on during his two-year stint as neighborhood association president, helping Levy Park win Council of Neighborhood Affairs honors as a Leon County Neighborhood of the Year in 2017.
His initial focus was restoring Levy Park's sign, which holds a fun and spirited history.
For years, a brick facade at the neighborhood's Seventh Avenue entrance lacked a sign telling drivers that they were entering Levy Park.
Bruner said that several years ago, a resident and graphic designer, Jerrod Landon Porter, decided to do something about it.
Porter spent a month creating a design for a sign, using plywood as his canvas. He planned to put the sign up in the middle of the night, but his roommates had different ideas: They drilled the sign into the brick during rush-hour traffic instead.
"It was very organic," Porter told Tallahassee Magazine from his new home in Athens, Georgia.
"There was no strategy in any of this. We put it up thinking it was going to be taken down eventually. Every day that went by we couldn't believe the sign was still up there."
Bruner likened it to a "guerilla operation" that established Levy's Park's "most identifiable landmark."
The sign became vandalized in 2015, prompting Bruner to start, primarily through T-shirt sales, a fundraising drive to restore it in a way that maintained the integrity of Porter's work. So the sign endures.
Also still standing: a community garden, which helped the neighborhood become a finalist last year for CONA's Sustainable Neighborhood of the Year.
Bruner said people just started gardening in the area until David Newman bought the land and established what would become Liberty Farms.
But it's not only the local residents who enjoy the garden.
Those who have eaten at Liberty Bar and Restaurant might have gotten a taste of Levy Park, as Liberty Farms supplies the eatery with fresh produce.
These things inspire a connection with residents, some of whom say they'll never leave.
"I'm a long-term, lifelong Levy Parker," Bruner says.