Let's Floor It
Ideas on how to update your home's most battered surface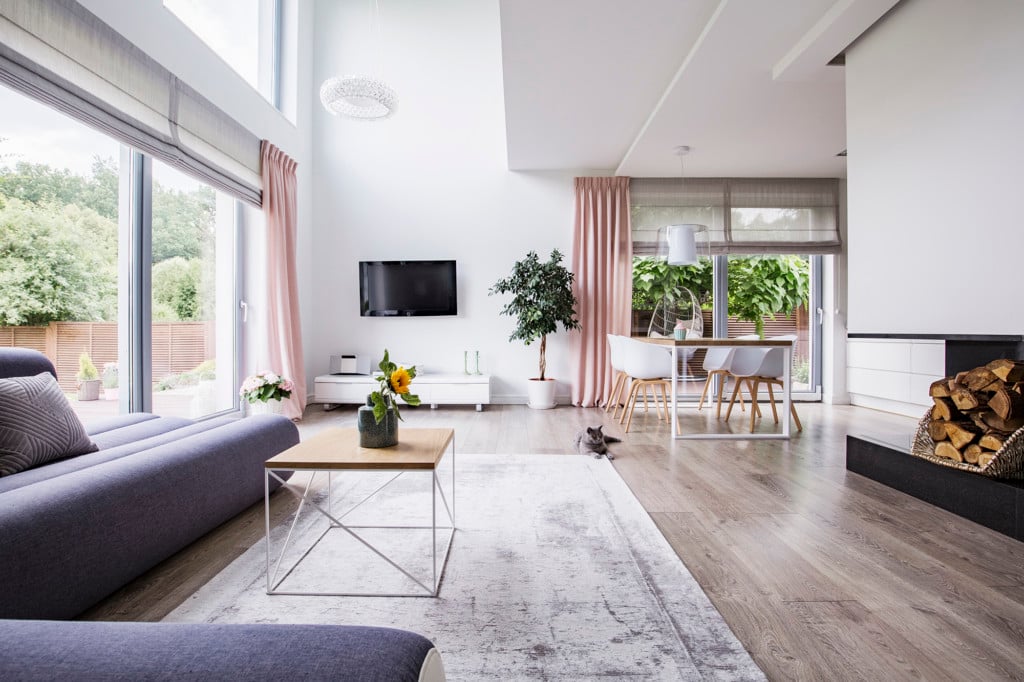 New floors require a massive undertaking, so we talked with local flooring companies and interior designers to weigh the trendy options and dependable styles from which to choose.
How many options? You'll be floored.
Types
Wood floors offer a reliable and classic look for any home. They provide an immediate association with nature, which makes them popular in Tallahassee, designers noted.
If constant cleaning is not your thing, consider blonde wood and whitewashed flooring options.
Many homeowners find that lighter tones conceal dirt and grime better than dark woods, making those options more in step with busier lifestyles.
Tiles remain a favorite for bathrooms. Laura Bryant, a Tallahassee-based interior designer, notes a yearning for nostalgia with an updated twist from her clients.
"They're wanting that classic, traditional checkerboard floor," Bryant said, "like a white marble tile checkered with grey marble, as opposed to black marble."
Flooring stores give vinyl options their due. Water-resistance allows homeowners to use vinyl in every type of space, even bathrooms.
Michelle Roberts, of ABC Flooring Center, highlighted vinyl's versatility in rental properties.
"If the square footage is less than in a larger home, they'll usually just use the same floor throughout," Roberts said.
"And the advantage of vinyl floor is you don't have to do tile in the bathroom and the kitchen. You can put vinyl planks there."
Stores notice more interest in such affordable low-maintenance flooring.
Marais Leon, owner of Floorida Floors, attributes the pull toward vinyl to busier lifestyles.
"Everybody's working," Leon said.
She notes versatility and durability as vinyl's strongest features. These qualities appeal to run-and-go schedules.
Large carpeted spaces draw less interest. Homeowners lean toward hardwood or vinyl planks for living rooms, layering rugs to invoke warmth in a space. Carpet still suits smaller spaces such as bedrooms.
Lifestyle
Interior designers and flooring companies first want to know how clients use their floors. The answer is different for every lifestyle.
For Bryant, it all comes down to foot traffic.
"Are there pets with long nails?" Bryant said. "Are kids rolling their little strollers? Where is your entertainment space? Those are the first questions I would ask as far as wear and tear."
The answers help clients determine what they need from a new floor.
Roberts, of ABC Flooring Center, uses a costumer's color preference to guide them.
"I like to let them look in the showroom to help them find colors that they want," she said.
Costs
The price of new flooring depends on your needs and wants, and a full remodel can cost "tens of thousands of dollars," said Jennifer Taylor, another Tallahassee interior designer.
In that situation, she cautions against loud trends in favor of time-tested styles such as deep hardwood floors to ensure lasting value.
Your budget is where it starts. Flooring experts point out that popular wide planks and tiles are more expensive than their thinner counterparts.
Natural stone and marble are more expensive and high-maintenance than synthetic options such as vinyl.
Roberts warns that floor installation is like "moving without moving." To get the job done, many flooring companies help move furniture.
They urge clients to think ahead, which helps the project get done on time.
"Some people don't think about the need to empty china cabinets," Roberts said. Minimize clutter in spaces and clear out rooms in advance, depending on the availability of contractors.
Contractors could need two to four weeks for installation.
Your patience and investment will pay off, because your feet and eyes will love it.