Lunch at St. John's Episcopal Church? Yes, Please!
Join us for a tasty tour of Tallahassee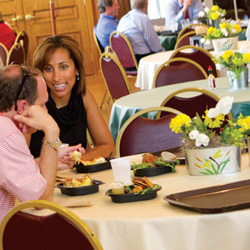 Scott Holstein
Lively Cafe brings the outdoors inside.
LUNCH
You'll feel quite virtuous eating lunch at the Lively Café. For starters, it's located in the community room of downtown's historic St. John's Episcopal Church — and the menu includes a great variety of healthful homemade soups, salads and sandwiches. There are a few deviations from your standard restaurant. They only serve lunch on weekdays from 11 a.m. to 1:30 p.m. and it's cash or check only — no credit cards. There's a rotating set of color-coded menus featuring four different collections of sandwiches and salads. The soup-and-half sandwich special costs $6.50, and pretty much any lunch you choose will come in at less than $10. You can just wing it and see what's on the menu board when you get there (lucky you if you make it on a day when they're serving She Crab Soup), or go to the St. John's website (saint-john.org), which lists the week's menu and specials. Regulars time their visits to avoid the rush of students who amble over from Leon High School.
ENTREE
Sometimes you're just craving a juicy slice of prime rib — but you go with the chicken because it's one of the most expensive things on the menu. at cody's original roadhouse, you can get your red meat fix with a full-on roasted prime rib of beef meal for just $10.98 on the lunch menu. The 7-ounce cut is a gracious plenty of meat and it comes with salad, a side and a basket of hot, fresh sweet rolls served with cinnamon butter.
SPECIAL TREAT
Masa's Asian take on fried cheesecake is far from ordinary. Cheesecake is rolled into a wonton skin and served over ice cream with fresh strawberries, chocolate syrup and whipped cream. Other syrups, including mango, strawberry and kiwi, can be added to this sinfully sweet $6 treat for an extra zesty flavor.
WHAT DO THE CHEFS EAT ON A HOT DAY?
Cypress Executive Chef David Gwynn dives into summer with grilled seafood. "A good hamburger or grilled seafood speaks summertime to me," the Best of Tallahassee winner said. "What's also interesting is that in the summer months we tend to eat spicy food in a tropical climate because it makes us sweat, creating a cooling effect."