Let the Seller Beware
When Selling Gold, it Pays to Play it Smart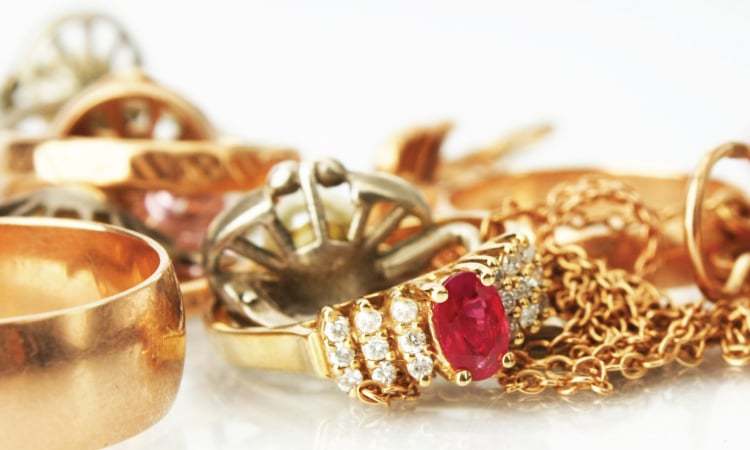 The economy is still in the tank, and folks are robbing Peter to Paypal. So what's one to do when funds are limited and there's too much month at the end of the money? One solution is to scrounge through all that old jewelry Aunt Bessie bequeathed you, cull the gold pieces, find a reputable dealer and sell them for cash.
With gold prices topping more than $1,700 an ounce, it may be worth it to sacrifice some gold rings or earrings. But to assure you get the best and fairest price, you have to do your homework.
"You need to find someone you are comfortable with and trust to get advice from," said Mike Bennett, owner of The Gold Mine in Tallahassee. "For me, the first step would be to find someone who has been in business for a good period of time and has a good reputation. Visit them and show them what you have and let them explain the process."
Not every dealer can be trusted. In 2011, the Better Business Bureau received more than 500 complaints against gold, silver and platinum dealers. So you have to not only appraise your gold items, but the people you want to do business with.
"Many of the complaints we receive stem from false advertising and delivery issues where the consumer ends up being appraised far less than what they thought their gold was worth," said Stephen A. Cox, president and CEO of the Council of Better Business Bureaus.
Once you've found the right firm, the actual transaction isn't exactly rocket science, Bennett said. "The metal prices are out there in the paper and online. That information is readily available," he said.
Sellers need to be aware the true price of gold may not be what they actually receive. An ounce quote is for pure, 24 karat gold only. The lower the karat, the less gold there is, and subsequently the lower your price. Bennett said each dealer or firm will determine the purity of your gold. But if there is a stone in it, you may just want to keep that. There isn't much of a market for rocks because "they eat up a lot of capital for buyers," he said.
The BBB advises not to let jewelry of different karat values be weighed together. A dealer may weigh all your jewelry together and then pay you for the lowest karat value. You should also separate your jewelry by karat value before going to a gold-selling party. (Bennett said he generally likes the idea of "gold parties," but uninvited guests could be tipped off and show up to rob everybody. He suggests gold parties should be invitation-only events held in safe and secure environments.)
Once you find a trusted dealer and determine just how much pure gold you have, the amount you receive will, naturally, be lessened by cuts for the dealer and the refinery that extracts the gold.
Although people are buying gold as a safe investment, selling can be a good idea too, Bennett said. Especially if you own castoff jewelry pieces you have no real use for.
"I've been in the business 32 years, and this is the highest gold has been in my entire career," he said. "People have always had broken stuff or stuff they don't use or wear, and this is the best time in the last 30 years to turn those items into useable cash money."
Tips for Selling Gold
» If you're mailing gold to a dealer, insure the items and get appraisals, so if lost you have proof of their value. Make a list of what's in the package and keep a copy for yourself. Take pictures of your things, especially any identifying marks.
» Gold coins might be more valuable to a collector than a typical gold dealer; the same goes for antique or unusual items made by well-known designers.
» When looking for a jewelry appraiser, look for an active, accredited member of a nationally recognized organization like the American Society of Appraisers.
» Get an appraisal done for a set fee, not one based on a percentage of the item's value.