Let the Eventing Begin
Organizers Roll Out the Red Hills Carpet for Olympic Hopefuls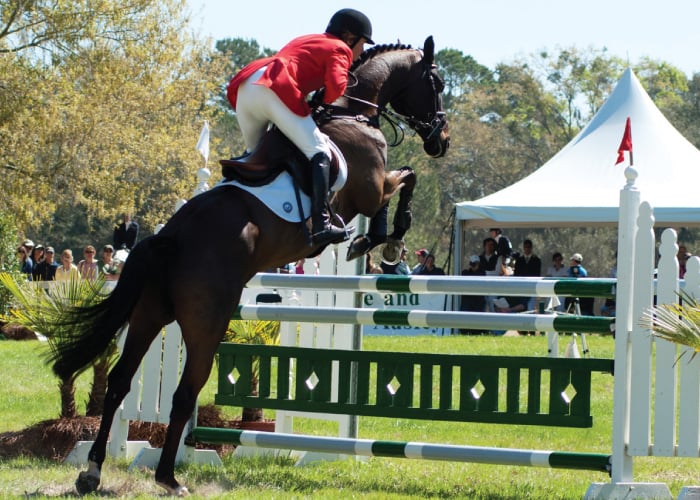 It may be too late to buy tickets for this summer's 2012 Olympics in Great Britain, but you may see future members of the U.S. Olympic Team at the 14th Red Hills International Horse Trials. Riders from at least 28 states and 10 other countries will be "auditioning" during the three-day event here March 9–11, held at Elinor Klapp-Phipps Park off Miller's Landing Road.
"Red Hills is the first stop on the road to London," said equestrian Phillip Dutton, a Red Hills crowd favorite and frequent winner at the local competition. Red Hills is an important run for the horses because it includes the element of spectators. In the U.S., it is second only to the renowned Rolex competition in Lexington, Ky., for Eventing attendance.
A native of Australia, Dutton represented his country in three Olympics and four World Championships before becoming an American citizen and changing his competition nationality in 2006. Prior to the 2010 Alltech FEI World Equestrian Games, he represented the United States on the Gold Medal team and was Individual Silver Medalist at the 2007 Pan American Games. In 2008 he made his debut on the U.S. Olympic Three-Day Team in Hong Kong where the team placed seventh. He is very active on the U.S. Eventing circuit, winning the U.S. Eventing Association's Leading Rider of the Year title 12 of the last 14 years.
THREE-DAY CHALLENGE
Karen O'Connor during stadium jumping. Only Olympians or riders who have represented their country in international competition have the honor of wearing the red coats during the stadium phase. Photos Shems Hamilton
A signature event for the North Florida area, last year's event attracted more than 24,000 spectators. Even greater numbers are expected this year since it is the first hurdle for competitors making their way toward the 2012 selection trials. In addition to Dutton, Olympic hopefuls expected include Buck Davidson, Michael Pollard, Boyd Martin, Sinead Halpin, Becky Holder, Alison Springer, Karen O'Connor and Will Coleman.
The number of top riders has grown over the years, but from the beginning, Red Hills has attracted outstanding equestrians like Karen and David O'Connor from Virginia, and Davidson and his father, Bruce Davidson Sr., who divide their time between Pennsylvania and Ocala.
Buck Davidson and his dad came for an early Red Hills when violent storms forced officials to cancel the competition and were impressed with what they saw. The older Davidson was overheard observing, "Hey, this looks like it has more signs than Rolex." Both were back the following spring.
Father Bruce Davidson was known as the king of three-day Eventing in the 1990s because of his impressive career over previous two decades. He won his first medal in 1972 as a member of the silver-medal-winning U.S. team at the Summer Olympics and went on to win Olympic gold medals in 1976 and 1984 and silver medals in 1996 and 1980.
Son Buck Davidson and Pollard rode on the U.S. Eventing Team that captured the gold medal at the Pan-American Games in Mexico last October. Buck was named the youngest Rider of the Year in 1996.
The O'Connors won the hearts of Tallahasseeans on their first visit with their unique partnership in excellence. What's more, he's handsome, she's beautiful and both exude congeniality. From the start, they participated in professional and social events, giving educational demonstrations to acquaint sponsors and other spectators with the finer points of equestrian disciplines and letting everyone know they loved being here.
In 1997 David O'Connor became only the second American in history to win the coveted Badminton CCI 4-star in England. He has been named Rider of the Year by the U.S. Equestrian Federation. Karen began competing internationally in 1979 when she was just 21 years old, finishing tenth at Badminton. In 1993, she ranked third in the world and was the No. 1-ranked lady rider. She has earned the U.S. Eventing Association's Female Equestrian Athlete of the Year a record 10 times since 1989 and was named Equestrian of the Year for 2007.
"Every athlete wants to promote his sport and compete in the public arena," David, U.S. gold medalist in 2000, said. "Red Hills has been able to get this town excited and give the riders that public arena."
Between them, Karen and David boast five Olympic medals. She's expected to ride in the 2012 competition although he has retired from international competition. David, current president and CEO of the United States Equestrian Federation Inc., and Chef d'Equipe of the U.S. Olympic Team beginning in 2013, says he definitely plans to attend this year's Red Hills. Of those early days at RHHT, he and Karen were prepared for a special Event, he said. "I had already heard that Red Hills could change the game because of its community involvement and their attention on quality for competitors."
Buck Davidson and Dutton both echoed O'Connor's comments about the competition. "It's a fantastic Event," said Davidson. "The horse owners love going to it because the sponsors, volunteers and spectators are all so enthusiastic."
"They try to get everything right," Dutton said of Red Hills' leaders. In addition to his own advanced horses, Dutton plans to bring a dozen young riders that he's coaching.
Co-founders Sallie Ausley and Sylvia Ochs had learned needs and desires of riders and their parents during years of accompanying their own children to Pony Club competitions. "Sallie and Sylvia put Red Hills on the map," said Hugh Lochore, cross country course designer. Jane Barron, a member of the organizing committee since its inception, has overseen the huge endeavor since their retirement four years ago.
While the atmosphere and the well-organized competition with volunteers catering to every whim of the riders have lured competitors to Tallahassee, it's the challenging cross country course that keeps them coming back.
From the outset it has been first class. Colin Phipps, Tallahassee ecologist and horse enthusiast invited his friend, British equestrian and Olympic gold-medalist Mark Phillips (and ex-husband of Princess Anne), to design the cross country course. It is set on land owned by Phipps adjacent to the Elinor Klapp-Phipps Park, which was named for his mother and is now owned by the Northwest Florida Water Management District. Capt. Phillips, current Chef d'Equipe and Technical Advisor of the U.S. Eventing Team, has so far led the team to 23 team and individual medals and has announced he will retire in 2012.
Scottish-born Hugh Lochore, Phipps' cousin from across the pond, built the original Red Hills course and has designed updates and renovations for the past three years. It features a variety of formidable obstacles, including water and banks. "You want to make sure you don't bring green horses," Buck Davidson warned fellow competitors. "You want experienced horses. This is a difficult course."
A former three-day Event competitor himself, Lochore hails from a family of equestrians and is familiar with design of cross country courses all over the world. "This is a daring sport that requires skill and courage," he said. Lochore is one of only four people in America qualified to design advanced cross country courses. Hugh's brother, Alec Lochore, is in charge of the Eventing phase of the London 2012 Olympics, and Hugh will travel there to assist him as a safety coordinator on the cross country course.
Hugh joined his brother this summer for a test Event in London's historic Greenwich Park, the setting for the Olympic Eventing competition. The park had been the private domain of King Henry VIII and, until last summer's preparation for the big run, no horses had galloped over the land since his death.
Equestrian sports are second only to soccer in popularity worldwide, and Eventing is one of the fastest growing venues, especially in the United States, during the past half century. Riders of all ages and abilities can compete, and Eventing is one of only two Olympic sports in which men and women compete against each other. Polly Lochore, mother of Hugh and Alec and member of the British equestrian team, was one of the first women competitors in the 1960s.
Developed from cavalry competitions during the early 1900s, it is the ultimate challenge for horse and rider. It tests their partnership and athletic prowess over three days in three disciplines: the grace and harmony of dressage; the rigors and thrills of cross country jumping; and the power and pageantry of show jumping.
Dressage, which rhymes with massage, is considered the ballet of equestrian sport. Horse and rider are called upon to muster the strength and precision of gymnastics and the artistry of dance.
Cross-country jumping provides the heart-stopping element of the three days. It is designed to measure the endurance and degree of control and timing of the horse and rider.
Stadium jumping is the final phase of Red Hills Horse Trials and ends the weekend on a proper note of pageantry. The sole purpose of stadium jumping is to prove that on the day after the endurance test of cross country jumping, the horse is sound and can continue with strength and grace. It is the final test of a rider's development of the horse's stamina, excellence and faith.