Leon High Sophomores Share What's Fashion Forward in Formal Wear
These girls know what's hot and what's not and they're here to tell you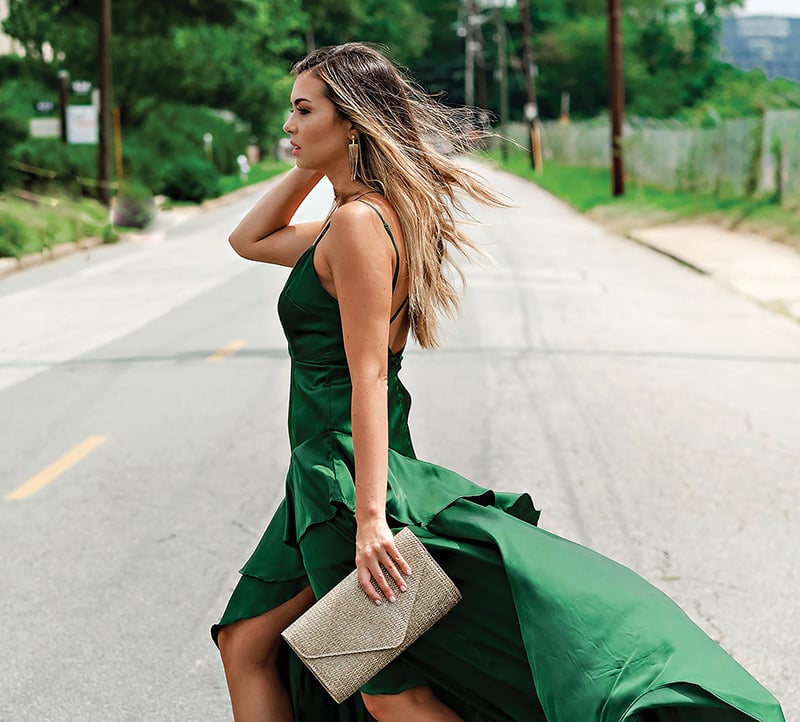 Jewel tones, floral prints, appliqués and crop tops are just a few of the fashion trends among young ladies today — and they're not just for everyday wear: These fashion trends cross over to formal wear, too. With spring here and the end of the school year right around the corner, it's time to start thinking about developing a "look" for prom. These Tallahassee teenagers are ready to share their know-how to help their peers look great and, more importantly, feel confident as the big dance rolls around.
Straight from the Lip-sticked Mouths
Elizabeth Brooks and Franchesca Lagos are sophomores at Leon High School who love fashion and follow trends.
Tallahassee Magazine: In general, when it comes to formal wear, what's in fashion among high school students these days?
Elizabeth Brooks: Usually, for formal wear, girls will try and find a dress or romper that fits their body type well. Personally, I am a size 0 with a small chest and narrow shoulders.
It is hard for me to find formal attire that fits correctly. I usually end up going with a dress or romper that I can feel confident and comfortable in.
TM: What are some important considerations to think about when choosing formal attire?
EB: I'm a dancer with the Tallahassee Ballet, so my first thought is, "Can I dance in my outfit?" If you can, and you're not too hot or too cold, then you have chosen the perfect outfit. It's also important that you choose an outfit that is age appropriate and not too revealing.
TM: If you are in the dating scene in Tallahassee, do you want to match with your date or not?
EB: I have been in and out of the dating scene, and personally, I think that dates should match.

Franchesca Lagos: I would definitely say skirts, dresses and rompers. The dresses can be really simple, but you can absolutely style them up with some layered jewelry or just a simple choker.Tallahassee Magazine: How about formal wear, specifically? What are the trends?
As for skirts — jean, corduroy, embroidered, plaid, you name it — they all can be dressed up with some lace-up flats, tights, heels or even the perfect sweater. I am such a skirt girl; I have the cutest blush-pink corduroy skirt. I like to match with a cream sweater, a jean jacket and a black wrap necklace with some lace-up black flats.
Rompers are the best thing created to this day! They can be worn with flats, sandals or heels depending on how fancy you want to be.
TM: Let's talk accessories, shoes, hairstyles and makeup.
FL: Big, bold or even small, beautiful accessories can really take a look from drab to fab. Adding that perfect wrap necklace or small pearl necklace can totally change the look and make it look like you put more effort and time into it.
I am a totally an accessories girl. Even if I am just in a T-shirt and leggings at school, I will still be wearing my favorite Kendra Scott necklace — maybe layered with other dainty necklaces. I am all about wrap necklaces, layered necklaces and chokers. They can totally turn an outfit upside down.
As for earrings, I am all about this new, big earrings trend. They make your outfit so much sassier.  As for shoes, I love them! My feet are flat, and I can't wear heels for too long, but I still push through it! Can't let something like that ruin your outfit!
For Homecoming, I wore the sassiest heels ever. They were yellow and embroidered with flowers, and I was obsessed with them. I bought them before even purchasing a dress. Luckily, I found a gorgeous open-back white dress that worked perfectly! I am all about a funky colored shoe. Be bold.
As for hair, I am the designated hairstylist for my friend group. I braid everyone's hair constantly. I think hair is a supper fundamental part to the outfit. I am all about some light beach waves with a Dutch half-up-half-down braid, or even a Kardashian-inspired middle part. It can really change the whole outfit's vibe.
Makeup is another thing that can totally change the outfit. My friend group is sooo into makeup. It's so much fun to apply, and if done right, it makes you look bomb. A sassy smoky eye or a gold, or even a neutral look can really brighten up the face.
As for lipstick, dark, bold, sassy lipstick is my everything. It can make you go from looking good to looking great.
TM: Should a couple match?
FL: I am not in the dating scene, but I have had some dates to dances. I think they should totally match if it's for a dance or a special event.
TM: What about flowers? Are they in style?
FL: Yes! I am all about nice corsages and boutonnieres. They make for the cutest pictures and funny memories. They look great on the boy's tux and provide the girls automatic arm candy.