Out of Ethiopia
Leon County Judge Nina Ashenafi-Richardson discovered similarities among all people as a child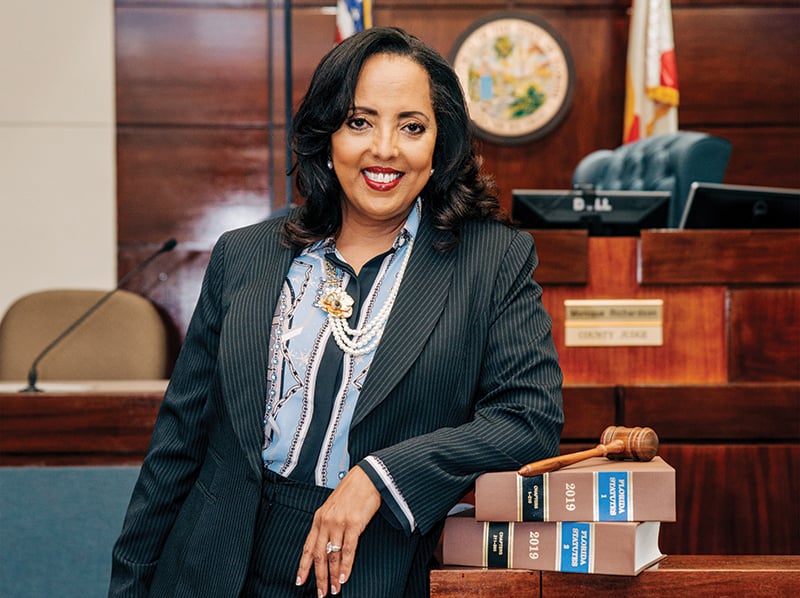 "Style" is defined as the quality that sets one apart from others. It is particular to that person, making them distinctive. Oftentimes, it can be a spontaneous melding of personality and worldview, life's work on display and a lens through which to view their personal relationships.
In the case of Leon County Judge Nina Ashenafi-Richardson's style, she is a woman who displays a briefcase full of titles and responsibilities. Through the representation of who she is, she manages to be warmly serene, elegant, engaged and committed to positive outcomes for others even as she often holds their futures in her hands.
"Many people don't even know where Ethiopia is," Ashenafi-Richardson laughs, speaking of her African homeland. The flash of ebony eyes, rimmed by black lashes and the pale sienna of her skin provide an exotic context to a demeanor that is very much all-American. "I came here when I was 4 years old when my father, a composer and ethnomusicologist, became a professor at Florida State University," she said. "It was a wonderful childhood, a time when the house was filled with graduate students from different countries playing their instruments, cooking their national dishes. I learned then that we are really all the same, sharing so much in common." And though Richardson learned to play the Japanese koto, her interests would develop elsewhere.
Fascinated with the law, Ashenafi-Richardson would go on to graduate from FSU Law School, and in 2008, she ran for county judge, a position which seems ideally suited to her interest in people and their stories. It is the court where monetary disputes, misdemeanors and traffic offenses get hashed out, and the place where a judge's decision can assist or hamper a defendant's entire future.
"I love serving Tallahassee in this role," she says of the job which takes up to 50 or 60 hours a week. "I wouldn't run for any other office but hope to continue in this one for the foreseeable future." That commitment to public service has won her roles heading the Tallahassee Bar Association, the Tallahassee Women Lawyers Association and becoming the recipient of the 2019 Distinguished Judicial Service Award for her support of pro bono services.
But Ashenafi-Richardson does have a life away from the bench, and as with her ability to expedite judicial matters, she is practical in attention to her personal life priorities as well.
"I am the wife of City Commissioner Curtis Richardson, and the mother of two daughters, one of whom recently graduated from the Naval Academy in Annapolis," Ashenafi-Richardson said. "So, yes, there are many public settings where my husband and I appear together."
And if one does catch her out of her judicial robes, Ashenafi-Richardson will have chosen from a closet filled with elegantly tailored suits, color-block sheaths in ocean colors and the occasional floral print. "Because of my 'ethnic' look, I like to wear big, chunky necklaces, though professionally, I usually choose pieces that would not be distracting," she said about her personal style. And she insists on shopping local. From Chico's to Talbots, to Hearth & Soul, and even a boutique consignment shop near Lake Ella, the judge supports local purveyors.
"The pandemic shifted a lot of things for many of us," she said. She's begun wearing her hair longer — "not so Oprah" as before. Having avoided her old indoor gym during COVID, she and her husband now favor long bike rides on the St. Mark's trail and walks at Cascades and Tom Brown parks. And even her makeup regimen has altered slightly.
"Yes, I usually wear MAC products," she said, "and I do love trying out different lotions from say, Sephora, or the occasional facial at Millennium," but Ashenafi-Richardson also likes a little do-it-yourself. "A bit of warmed coconut oil and a drop or two of lavender that I mix in a repurposed cake decorating bag is a wonderful moisturizer and so good for the skin." It's also a busy judge's clever formula for sussing out a practical solution to a problem.
It is that mix of gentle practicality, professional dedication and the ability to be both elegant and compassionate from the bench, as well as stunning when speaking at a gala dinner, that makes Nina Ashenafi-Richardson a unique and exemplary Tallahassee Citizen of Style.
---