Leave It All Behind You
Is it time for a great getaway?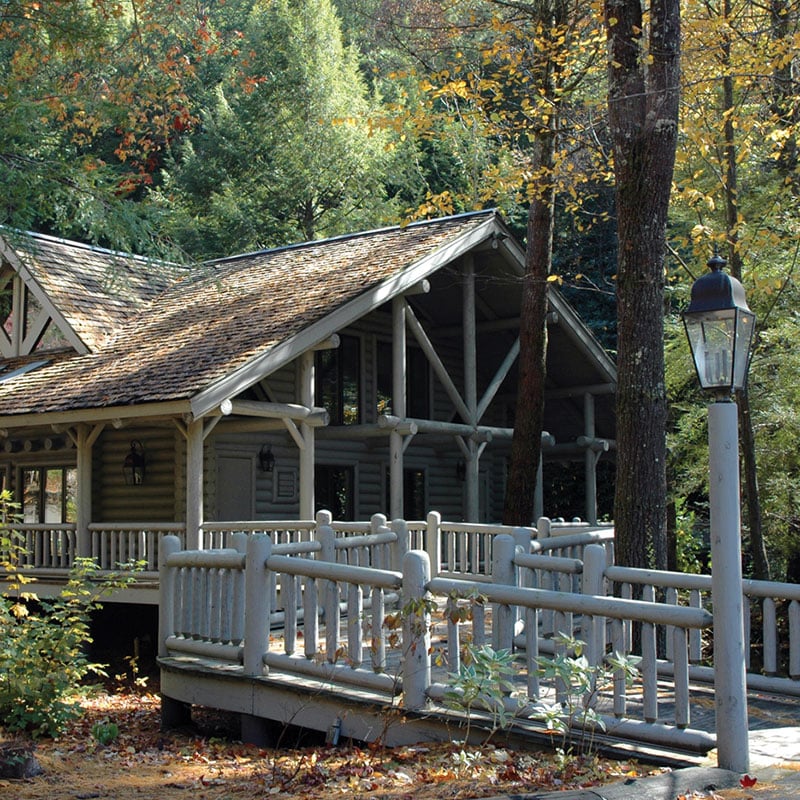 If you've got a long weekend and a car full of gas, we've got five quick ways to get away – so you can enjoy being there without a lot of hassle getting there. Offerings include city tours of Tampa and Atlanta, an eco-friendly retreat in Charlotte County, a rustic but luxurious visit to the Lodge at Smithgall Woods and a Gulf getaway at Rosemary BeachIs It Time for a Great Getaway
---
Ever have one of those days where your BlackBerry never seems to stop ringing? Or a week in which the boss has a million projects for you to handle? Just the thought of a sweet escape from reality for a few days is enough to make you want to scream with excitement. Unfortunately, the act of planning a vacation can be enough to cause an anxiety-induced meltdown – especially when all you want to do is unwind for a few days after a busy week. Don't fret any longer, because there are a plethora of easy and relaxing getaways you can take advantage of, all only a car ride away. Whether your preference is shopping through hip, downtown Atlanta or canoodling with your significant other in the sand and waves of Rosemary Beach, there is a place close by that can ease that stressful work week away and rejuvenate the soul.
Georgia's Smithgall Woods Mountain-Style Recreation is Closer Than You Think
[ Distance: 362 miles Travel Time: about 5.5 hours ]
By Greg Springs
Halfway up the trail to Dukes Creek Falls in the Appalachian foothills, hiking under the cool pines and native rhododendron and the sound of the waterfall not yet the roar that it would become, it became pretty obvious: We were not in Florida anymore.
You can be forgiven for imagining the mountains are out of reach for the residents of sun-drenched, beach-focused Northwest Florida, at least without an airline ticket. But northern Georgia's Smithgall Woods and the surrounding Blue Ridge offer the best of a mountain respite, and all just a five-and-a-half-hour drive away.
The area, just outside the popular tourist destination of Helen, Ga., has something for everyone. For the nature lover, there are the quiet, shady forests of the 5,600-acre Smithgall Woods-Dukes Creek Conservation Area, which offers hunting, fly fishing, hiking and biking. For the gourmand, there are the culinary pleasures of the Lodge at Smithgall Woods and the vintages of Georgia's very own wine country. And for the aficionado of that unique brand of American tourist hustle and bustle, there is the Alpine-styled chaos of Helen itself.
This part of northeast Georgia long has been a draw to outsiders, from the British who moved troops through the area during the Revolutionary War to the gold miners and lumberjacks who thronged to the vicinity in the early 1900s. The landscape is dotted with reminders of this rich history, from the Sautee-Nacoochee Indian Mound just outside Helen to the abandoned mines that dot the back country.
The conservation area was donated to the state of Georgia by media entrepreneur Charles Smithgall in 1994. Under his ownership, the land, much of which was laid waste by gold-mining techniques in the 1850s, was transformed into a beautiful nature preserve.
The woods feature three miles of hiking paths and 18 miles of bicycling and walking paths. The park's Dukes Creek has been cited as one of the best trout streams in the country. The streams at Smithgall are open to the public for catch-and-release fishing, but be sure to get there early, as the park limits the number of anglers per day. In addition to these activities, the park offers birding and other wildlife observation, as well as naturalist programs such as wildflower walks.
The woods also are close to the southern trailhead of the Appalachian Trail, which terminates at nearby Springer Mountain, so more ambitious hikers are at no loss for a challenge. Unicoi State Park, also nearby, offers even more activities for the enthusiast for whom no amount of outdoor fun is too much.
But Smithgall Woods is not all work and no play. Hidden among the park's hills is the Lodge at Smithgall Woods, which hosts what may arguably be one of the best dining experiences in the state outside Atlanta and Savannah. The lodge can accommodate up to 28 people in five different mountain cottages, which also makes it ideal for corporate retreats, weddings and small group gatherings. Individual rooms can be reserved only on Friday and Saturday nights; during the week, the lodge limits its reservations to groups.
Gourmet fare is served under the watchful eye of Chef Mac Parks at Smithgall House, Charles Smithgall's original creek-side family cabin. The lodge's cuisine, described as Blue Ridge "High Country," features fresh, regional ingredients. The house specialty is fresh mountain trout, prepared in a variety of styles, and many of the vegetables and herbs served are grown on the premises. On a recent visit, Parks served up a five-course dinner, complete with wine pairings for each course, and topped off with Black Angus Smoked Beef Tenderloin with Vidalia onion confit and grilled vegetables. Meals are included in the lodge's room rates.
The gastronomic fest doesn't end at the lodge gate, for the surrounding area is blessed with topography, climate and soil that together make for very good wine. In the last five years, according to the Winegrowers Association of Georgia, vineyard acreage in the state has more than tripled with the addition of at least seven new vineyards.
There are no fewer than five vineyards within a short drive of Smithgall Woods: BlackStock Vineyards; Wolf Mountain Vineyards & Winery and Frogtown Cellars, both in Dahlonega; Crane Creek Vineyards in Young Harris; and Habersham Vineyards and Winery in Helen. Most are open to the public for drop-in tastings. BlackStock Vineyards, founded by formally trained winemaker David Harris, features a warm Appalachian-style lodge with a unique three-sided "stovepipe" fireplace and expansive window views of the surrounding vine-covered hills that make a perfect setting for a tasting.
No trip to the area is complete without a visit to Helen itself. Love it or hate it, there is no question that you will always remember it. Once a sleepy town in need of revitalization and nestled next to the Chattahoochee River, Helen reinvented itself in the late 1960s as a Bavarian-style Alpine village. All the buildings in town were renovated to feature the red roofs, gingerbread trim, details and colors that reflect the German mountain burg of the town fathers' imaginations.
Today, the town is a testament to tourist consumerism. More than 200 shops offer everything from candle making to cuckoo clocks. Visitors can gorge on German schnitzel, sauerbraten or wurst with an imported beer or a traditional Georgian meal of grits, country ham and homemade biscuits with gravy. The town also boasts one of the country's longest Oktoberfests, running from Sept. 11 to Nov. 2 this year.
To get there:
From Tallahassee, take U.S. Highway 319 north to Tifton, Ga. Take Interstate 75 north to Interstate 675. Take I-675 north to Interstate 285. Take I-285 east to Interstate 85. Take I-85 north to Interstate 985 North. Continue on U.S. Highway 23 North. Turn left at Duncan Bridge Road/Georgia State Route 384. Turn right at Georgia State Route 75 and go three miles to Helen, Ga.
For reservations or more information:
The Lodge at Smithgall Woods State Park
61 Tsalaki Trail
Helen, GA 30545
Individual reservations:
(800) 318-5248
Group reservations:
Vickie Slack (770) 975-4291
General phone inquiries:
(706) 878-3087
Fax: (706) 878-0301
The Lodge at Smithgall Woods
smithgallwoods.com/georgia/lodges/smithgall
Alpine Helen
Winegrowers Association of Georgia
BlackStock Vineyards and Winery
Atlanta Midtown, Downtown, All Around A-Town
[ Distance: 274 miles Travel Time: about 4.5 hours ]
By Rosanne Dunkelberger
The vast majority of the time, Tallahassee is a great place to be. It's tree-full, has enough people to attract a nice variety of shoprotunities, and the universities and state government tend to up the ante for highbrow pursuits in a place that otherwise would be considered out in the boonies.
But sometimes, you just have to bust loose from the canopy roads, Governor's Square and the shadow of the Capitol and head for the bright lights of the big city.
And that means pointing the family vehicle northward for a four-and-a-half-hour pilgrimage to Atlanta. It's a doable drive for a long weekend, and there are pro sports, attractions, shopping, dining and an abundance of other amusements to keep you coming back again and again.
The bustling business districts of Downtown and Midtown Atlanta can be particularly hospitable on the weekends. It makes sense. During the week, they usually are chockfull of conventioneers and businesspeople. But when the weekend rolls around and those execs and salespersons have jetted back to Peoria, many of the luxury hotels drop their rates and offer package deals to attract us "social" visitors.
One of the newest – and the oldest – is The Ellis Hotel, located in the heart of downtown on Peachtree Street Northwest. The 127-room hotel opened its doors in October, but it is in fact the new, "SoCo" (that's Southern Contemporary) incarnation of the historic Winecoff Hotel, originally constructed in 1917.
The building has an infamous history, the site of the deadliest hotel fire in U.S. history. In December 1946, with no fire escapes and a faulty design, 119 people died in a tragic blaze that ultimately led to national fire and safety reforms.
The Ellis retains an antique look on the outside, but after standing vacant and blighted for the past 25 years, the building's innards were stripped to the bricks and given a $27-million renovation. Now, inside it has a modern, European look with a couple of Southern-style touches – including the fragrance of "Sea Island Cotton" wafting through the lobby, and Sugar Daddies and Southern Comfort in each room's minibar.
The rooms, decorated in shades of warm white and espresso, feature clean, contemporary lines and all the modern conveniences – high-speed Internet, 32-inch LCD televisions, Kohler rainshower heads and iPod docks. But there also is a warm, cozy welcome in the high pillowtop mattresses, thick robes and a "Choose Your Snooze" option that lets you pick your favorite from a pillow menu – feather, foam, hypoallergenic or Tempur-Pedic.
One particularly pleasing feature is a second-floor balcony that lets you view the street action as you sip on a Frosted Coke (adults only – this one mixes the iconic Atlanta beverage with vodka, dark crème de cacao, Starbucks coffee liqueur and half-and-half). It also is a perfect perch to enjoy Southern cuisine from the hotel's e Street Grill. Here's a sample: a corn cake appetizer followed by shrimp and grits and a dessert of fried peach pie.
Nightly rates on the weekend are in the low $100s, but during the 2007 holiday season they dropped to a bargain price of $89, so it pays to check the Web site for special pricing.
There is a MARTA station right next door to the Ellis, where you're just four stops away from the next stop on my Atlanta agenda, the High Museum of Art.
The High is one of the Southeast's premier art museums, with more than 11,000 works in its permanent collection. But it is the constantly changing special exhibitions that will keep you coming back again and again to see what's new and interesting. The High is in the midst of a three-year collaboration with the Louvre, bringing art and artifacts from Paris for the edification of museumgoers.
The most recent installations to hop the pond are "The Louvre and the Ancient World," a collection featuring Egyptian, Near Eastern and Greco-Roman antiquities, and "The Eye of Josephine," more antiquities collected by Empress Josephine.
The ancient-world collection, which will be on display through Sept. 7, features more than 70 works, including "Tiber." This colossal sculpture, an allegorical depiction of Rome's Tiber River, was unearthed there in 1512 and placed on display in the Louvre in 1811. Its trip to Atlanta is the first time the piece has been seen outside the Paris museum.
A great admirer of antiquities, Josephine acquired fresco fragments, bronzes, marbles, vases and sculptures from her husband, Napoleon Bonaparte. They were displayed at Malmaison, her residence on the outskirts of Paris, but the collection was broken up with the fall of Bonaparte's empire. The Louvre sought to reassemble the collection (finding some of the pieces in its own vaults), and the result is on display at the High Museum through May 18.
Two exhibitions worth penciling in on the calendar for 2008 are "Road to Freedom: Photographs of the Civil Rights Movement, 1956-1958" and "The First Emperor: China's Terracotta Army."
The civil rights exhibit, set for June 7-Oct. 12, coincides with the 40th anniversary of the assassination of the Rev. Martin Luther King Jr. and includes many never-before-displayed photos from the High's permanent collection.
The exhibit of 120 works relating to the First Emperor, rarely seen outside China, will include about a dozen complete terracotta warrior figures. It will run from Nov. 15 to April 26, 2009.
Here's a thought for a fun way to end the day: Take a drive down the Freedom Parkway and grab some dinner at Two Urban Licks. It takes a little winding around through a rehabbed warehouse area to find it (just follow the signs), but the experience is well worth the search. The interior is a bit on the hellish side, with a color palette heavy on red and black and featuring lots of gaslit flames. There's a lot of heat – both from the live blues playing Wednesday through Saturday nights and the spicy food on a menu that changes daily.
But for all that, it also is a cozy place, with a wonderful view of the Atlanta skyline and booths lined with squooshy pillows you can sink into. The restaurant features wine "by the barrel" – with 41 varieties on tap. You can order everything from a half-glass to a 32-ounce "thief"-size serving.
The open kitchen is in the heart of the restaurant. One memorable evening's menu included an appetizer of salmon chips (giant fried potato chips topped with a generous serving of smoked salmon, chipotle cream cheese, capers and red onions) and a main plate of bronzed scallops with gouda grits. But most charming was the dessert presentation of three cupcakes – chocolate, pistachio and spiced carrot – with a "Happy Anniversary" message inscribed in chocolate syrup on the oversized plate.
Now, shopping in Atlanta is worth a story or two – or 10 – of its own. Be sure to carve out a morning or afternoon to visit IKEA, one of the highlights of Atlanta's new Atlantic Station living/shopping area. You've probably heard of and perhaps seen this Swedish import's catalog. But you haven't really experienced IKEA until you've been through the monster-sized (move over Super Wal-Mart, this behemoth has 366,000 square feet of space) blue box store. Do it right, and the trip will take hours.
You start on the top floor, which features inspirational room setups completely furnished with IKEA's products – everything from beds to wall units to salt shakers to, literally, the kitchen sink. The overriding theme of the products is modern European, stylish and cheap, cheap, cheap.
After goggling over the vignettes, it's time to travel to the lower level for a bit of grab-and-go shopping. You will never have seen so much stuff in one place in your life. It's quite possible to fill one of IKEA's capacious shopping bags and still come out with change from a fifty. When you've made it though this section, it's on to the warehouse, where just about every bit of furniture you've seen in the store is broken down and boxed, ready to be hauled home and assembled.
If you're in need of revivification during this shopping sojourn, IKEA has a 350-seat restaurant that serves, among other things, Swedish meatballs. There are kid-friendly spots throughout the store, or parents can opt to drop the young'uns off at a supervised children's play area.
Don't know about you, but after an agenda like this, I'm ready to rest my weary head. What'll it be? Feather pillow or Tempur-Pedic?
To get there:
Take U.S. 319 north to Thomasville (take the 319 bypass rather than driving through downtown). Turn left on the Florida/Georgia Parkway (also known as U.S. 19 North and GA 300). In Albany, take Exit 3 toward Cordele/Atlanta, and pick up GA 300 north (you will need to turn left onto Clark Avenue at one point). Take GA 300 to Interstate 75 and head north until you get to Atlanta (take the U.S. 475 bypass around Macon). As an alternative route, after you get to Thomasville, continue north on U.S. 319 through Coolidge and Moultrie and take a left on the Tifton Highway until it intersects with Interstate 75.
For reservations or more information:
The Ellis Hotel
176 Peachtree St. Northwest
(404) 523-5155
theellishotel.com
High Museum of Art
Open every day except Monday. Adult admission, $15; senior citizens and college students, $12; children ages 6-17, $10; children under 6 and members free
1280 Peachtree St. Northeast
(404) 733-4437
high.org
Two Urban Licks
820 Ralph McGill Blvd.
Reservations:
Online at twourbanlicks.com
or call (404) 522-4622
IKEA
Open daily, 10 a.m.- 9 p.m.
441 16th St. Northwest
(404) 745-4532
ikea.com
Rosemary Beach Wake Up and Smell the Rosemary
[ Distance: 104 miles Travel Time: about 2.5 hours ]
By Ashley Kahn
Next time you're trapped in the 5 o'clock gridlock on Thomasville Road, imagine yourself lounging on pristine, sugar-white sand, enjoying the sunset over the Gulf of Mexico with the one you love … while your children make sandcastles on the seashore (or PB&Js with the babysitter back in Tallahassee).
With the promise of tranquility less than three hours away, you may be tempted to hop on Interstate 10 right then and there. After all, once you make your way from the interstate to scenic Highway 30-A, you're just a handful of traffic lights from the charming seaside community of Rosemary Beach.
Every community in the Beaches of South Walton has a distinct personality. Seaside, the pioneer of beachside simplicity, promotes artistic creativity inspired by its location. WaterColor blends nature and architecture with the slow ease of the Southern lifestyle. Sandestin offers vacation homes or hotel rooms, nightlife, recreation and dining on one sprawling property.
At Rosemary Beach, the atmosphere is entirely relaxed. The muted colors and lush landscape provide an unparalleled sense of calm. Every detail of the community was designed with the utmost in taste and refinement, and the neighborhoods were planned with the environment in mind. Painted in organic shades found in coastal rocks and plants, the buildings are linked by footpaths and walkovers that allow the natural habitat to flourish.
Park the car once, and you won't have to drive again until you're ready to leave. Because Rosemary Beach was designed in the New Urbanist tradition, everything you could ever need – or want – is within walking distance.
Since the 107-acre town was founded in 1995, it has welcomed popular restaurants, merchants and a calendar of seasonal and annual events to please residents and visitors alike. The town center is the business and social hub of the community, boasting the largest indoor venue on 30-A for destination celebrations such as weddings, birthdays or anniversaries.
When it comes to accommodations, there is an option to suit every lifestyle. Vacation rentals range from stately cottages large enough for several families to share to carriage homes built for two. For executives seeking luxury and convenience, The Pensione Bed & Breakfast is the place to be. Scheduled to open this year, the Hotel Saba will feature 53 guest rooms, a conference center, a spa and a signature fine-dining restaurant.
It would be easy enough to spend your days lounging on the beach or alongside one of Rosemary Beach's four swimming pools. But you also could spend them discovering the community's many unique features.
For a truly refreshing experience, rent a bike in the town center and cruise around for a morning. You'll feel like a kid again as you wobble and coast your way through town. Be sure to navigate to the butterfly garden on West Kingston Road, where fragrant plants and vibrant flowers attract swarms of the delicate winged creatures.
Or pedal over to one of the town's green spaces. You will be surprised by the lush, grassy parks that adorn the beachside property. Play bocce ball with the little ones. Indulge in the romance novel that has been languishing on your nightstand, pages yet unturned because of an early bedtime imposed by your overloaded schedule. Splash around in the fountain at St. Augustine Park or pack a picnic and take in an outdoor concert.
Speaking of picnics, there is no better place to fill your basket than Cowgirl Kitchen. Let the chefs do the down-home cooking for you … after all, you're on vacation, and you wouldn't want to mess up your rental home's beautiful kitchen. Dine in for breakfast or lunch or take soups, salads, sandwiches – and daiquiris – with you to the beach.
Before dinner, head to Courtyard Wine & Cheese to sample wines from around the world and gourmet cheeses that complement your selections. Next stop: Onano Neighborhood Café, where fresh seafood and choice beef are served up Northern Italian-style in a cozy, intimate atmosphere. The Sugar Shak on Main Street is sure to satisfy your sweet tooth with fresh-squeezed lemonade, assorted candies and heaping scoops of ice cream.
Take your handmade waffle cone on a tour of the shopping district, where you will find brands from Juicy Couture to Dolce & Gabbana. Shoe lovers will flip their flip-flops for Moonpize boutique. Dunes offers fun and casual island wear, while Tropez features the fashions of the south of France.
Shop until you drop … right into a hammock or beach chair rental from Sea Oats Beach Service, located at the Eastern Green walkover. Kayak and sailboats also are available from March to October.
If the crashing waves and the scent of salty air aren't enough to melt the stress away, take comfort in Solace. The full-service Aveda salon and spa offers hair and nail services, waxing, massages and facials. There even is a "sunburn cooler" add-on if you soak up too many rays.
The summertime is packed with signature Rosemary Beach events. On Thursday nights from May to August, head to the West Green for "Moonlight & Movies." Arrive early (with blankets) to guarantee a good seat. Your children will delight in telling all their school friends about watching the big screen under the stars.
On the second weekend of the month from May to July, the West Indies Market comes to North Barrett Square. This all-day outdoor market provides the best in vacation souvenirs, from art and photography to handmade jewelry and pottery.
During the fall, "Tunes by the Dunes" takes over St. Augustine Green. Take an evening stroll after dinner and stop by the park to enjoy talented local musicians. Throughout the year, sidewalk sales, kids' activities, runs, tennis tournaments and holiday festivities fill Rosemary Beach's events calendar. The town quiets down in the cooler months, so book your stay in the fall or winter if you prefer to avoid crowds.
No matter when you choose to visit Rosemary Beach, its stunning architecture, fine dining and shopping, relaxed atmosphere and signature events will make it a vacation to remember and, quite possibly, a yearly tradition … not to mention fodder for those rush-hour daydreams on Thomasville Road.
To get there:
From Interstate 10, exit at Highway 79 and follow the signs South to Panama City, Highway 98. Turn right on Highway 98, continue approximately 7 miles to Inlet Beach and turn right at the intersection of County Road 30A and Highway 98. Rosemary Beach is located 1/4 mile West of the intersection of Highway 98 and County Road 30A.
For reservations or more information:
Rosemary Beach Cottage Rental Company
P.O. Box 611040
Rosemary Beach, FL 32461
Reservations:
(888) 855-1551
rentals@rosemarybeach.com
The Pensione Bed & Breakfast
78 Main Street
Rosemary Beach, FL 32461
(850) 231-1790
Bamboo Bicycle Company
(850) 231-0770
Sea Oats Beach Service
(877) 207-0460
Solace Day Spa & Salon
(850) 231-6801
Tampa
Enjoy a Big-City Experience Without the Big-City Hassles
[ Distance: 279 miles Travel Time: about 4.5 hours ]
By Jack Macaleavy
You're ready for a big city experience – entertainment, fine food, shopping, museums, nightclubs and the general high-octane life that a metropolis can offer. Look south about four and a half hours to historic Tampa.
If you haven't been there in the past five years, you're in for a surprise. Now, this town has it all. The easiest, most laid-back way to get there is to stay off the interstates. Take U.S. Highway 19 to Brooksville and pick up the Suncoast Parkway. One of Florida's newest toll roads, you won't see a tractor-trailer or very many cars on its 42-mile length. It hooks up with another limited-access highway, the Veteran's Expressway, which serves almost as a private road that drops you right at the entrance to Tampa International Airport.
And that terminus is just a quick jump to The InterContinental Tampa hotel. With a recently completed $18-million makeover, the hotel's Westshore business district location is convenient to downtown and some great shopping. Just across the street is the WestShore Plaza, with Macy's, Dillard's and more than 100 boutique stores. But less than two miles away is Tampa's newest shopping mecca – the International Plaza. It's a vibrant two-in-one experience, combining a two-story enclosed mall with Bay Street, an adjacent lifestyle/outdoor entertainment center. Anchor stores include familiar but not-in-Tallahassee names such as Nordstrom, Saks Fifth Avenue, Robb & Stuckey Interiors and Neiman Marcus. The mall also includes 200 other stores, including luxury brands such as Tiffany & Co., Burberry, Gucci and Louis Vuitton and popular names like J.Jill, Cole Haan, Lucky Brand and Sigrid Olsen.
The InterContinental is five-star all the way from check-in to departure. This brand knows how to treat the sophisticated traveler, with such personal touches as finding out your favorite snacks and having them in your room upon arrival. Take advantage of the hotel's "In the Know" service. Concierges are on hand to provide guests with all sorts of information – from "insiders only" restaurants to the best spots to view the sunset over Tampa Bay.
Rooms, with floor-to-ceiling windows, are oversized and impeccably decorated in a contemporary style in calming coastal shades of blue and white. Beds are dressed with luxe linens and feather-top mattresses. There is a private rooftop pool with spectacular views of the bay and city, and a completely outfitted exercise room.
To find a fine dining experience, walk no farther than the lobby. Shula's Steak House is renowned for its fine steaks, fresh seafood and heavenly desserts. (Yes, it's that guy, Don Shula, Hall of Famer and the winningest coach in pro football.) The Certified Angus Steaks are the star of the menu, including a whopping 48-ounce porterhouse. If you can work your way through one of these, your name will be immortalized on the restaurant's Web site.
But what really sets Shula's apart from other steakhouses is the knowledgeable and well-trained staff. You'll find dedicated service with the welcoming feel to make a full evening of the experience. Sports fans will drool over the memorabilia (the menu is painted onto a football) and, if you'd like to take something home, a personally signed football presented to your table can be purchased.
Once you've settled in and done some shopping, Tampa has plenty to keep you on the go – no matter what you prefer to do in your leisure time. There is professional football, baseball and Yankees spring training for the sports fan, and Ybor City, with a vibe that reflects the area's ethnic history, for those looking for some nightlife. Families can enjoy the Florida Aquarium and Busch Gardens, while those in search of culture will find several museums and opportunities to enjoy performing arts. Golf centers can be found on both sides of the bay.
If you want to keep it simple, take a stroll down Bayshore Boulevard. Known as the "World's Longest Sidewalk," the wide promenade features seven miles of waterfront walking, running, rollerblading and exercise stations – as well as an up-close look at some of Tampa Bay's most spectacular homes.
Try it once, stay at the InterContinental, shop, dine and enjoy the entertainment. Go and I know you will have discovered a new, easy weekend getaway that you can explore again and again.
To get there:
Take U.S. Highway 27 (Apalachee Parkway) south. Continue on the road, which will turn into U.S. Highway 19. Turn onto State Road 589 (a toll road also known as the Suncoast Parkway) and follow it to its end near the Tampa International Airport.
For reservations or more information:
InterContinental Tampa
4860 W. Kennedy Blvd.
Tampa, FL 33609
Reservations:
(866) 402-0758
intercontampa.com
International Plaza & Bay Street
West Shore & Boy Scout
Boulevard
2223 N. West Shore Blvd.
Tampa, FL 33607
(813) 342-3790
shopinternationalplaza.com
Charlotte Harbor
Offering Pleasure on the Waterfront and in the Wild
[ Distance: 373 miles Travel Time: about 5.5 hours ]
By Jason Dehart
Charlotte County took a beating when Hurricane Charley pounded ashore in Punta Gorda just a few minutes after 4 p.m. on Aug. 13, 2004. But after three and a half years, it's hard to tell that a hurricane was anywhere near the place. Marinas, boutiques, restaurants and waterfront parks are open for business with a sense of rebirth. And locals are encouraging their fellow Floridians to come on down and see what the region has to offer.
"We want people to try our coast," said Rebecca Allen, public relations manager of the Charlotte County Visitor's Bureau. "The drive market is what we're after."
Charlotte Harbor has much to offer, so I drove down there recently to see for myself.
Following the "green" trend, attractions in Charlotte County are mostly nature-based and include some 200 miles of water trails. Kayaking is big and so is pier fishing from one of the many municipal parks. Not into either? Despite the angling name, Fisherman's Village is a waterfront mall and marina in Punta Gorda that offers 33 shops, five restaurants and 47 vacation villa rentals with a beautiful view of the harbor. For a slice of the area's history, take a two-mile walking tour of historic murals painted on selected buildings in downtown Punta Gorda. Or, if you have a taste for fine music, the Charlotte Symphony Orchestra conducts weekend performances.
"Charlotte Harbor is the gem of the area," said Becky Bovell, director of the visitor's bureau. "On Florida's west coast there's more of a laid-back feeling. It's not rushed, not crowded. You can take your time. A completely different experience from the theme parks."
Allen said the area's "big season" falls between Thanksgiving and Easter. The off-season falls during the rainy summer months; a great time to go is early November, when the weather turns cooler, and the skies are clear.
Accommodations can be had at beach getaways such as the Palm Island Resort on Palm Island. Interestingly, the island actually has three names, because at one time it used to be three different islands – Palm Island, Don Pedro Island and Little Gasparilla Island. Allen said a hurricane in the 1940s filled in the gaps to the point where they became virtually one.
"The islands are now connected, but they maintained the three names," she said.
Palm Island Resort is accessed via a ferry located at the end of Panama Boulevard on the mainland. Day-trippers on bikes or on foot pay $5 roundtrip. But if you're a "drive market" visitor and take your car across, be prepared in advance to cough up $50. Another important consideration: The ferry isn't available all day long. It operates from 6:30 a.m. to 10 p.m. Sunday through Thursday; it closes at 11 p.m. on Friday and midnight on Saturday. This only really affects visitors and tourists. I was told that most of the islanders who live there have their own boats.
Upon arrival at the resort, though, you don't really need your car – golf carts are the official mode of transportation. Fully furnished Florida-style villas are available, and there's not a bad beach view at any of them. From my screened-in back porch I could see miles of beautiful green Gulf water and white sandy beach.
Once settled in, it's time to get to know the local wildlife. Careful, you might learn something.
"Used to be that people wanted to be entertained while on vacation," Bovell said. "Now, they just want to relax and have a learning experience."
"It's really a neat island," said Al Squires, a security guard and part-time naturalist at the resort. Squires said he enjoys talking to visitors about the bird and animal life that can be found living among the condos. The critters range from white pelicans and bald eagles to indigo snakes and gopher tortoises.
"There are also 'coons, cottontail rabbits, bobcats, armadillos and great horned owls," he said. "In summer we get manatees, plus dolphin on both sides of the island, of course."
Another great place to see Florida wildlife is the 79,000-acre Fred Babcock-Cecil M. Webb Wildlife Management Area, site of the former Babcock Ranch, located east of Punta Gorda.
There you can take an hour-long swamp buggy tour of cypress swamp and open range, home to sandhill cranes, alligators, wild pigs and thousands of Cracker cattle. I have to confess that after having grown up around gators, cows and cranes, the experience of seeing them here wasn't all that "fresh" to me as it was to others in the tour group. For me, the big thrill was the land itself. The lowlands and swamps were dark and mysterious, with the ghosts of Seminole warriors lurking behind every cypress stump.
This is how Florida used to look, before the lumbermen came, back when cow hunters roamed the woods and drove their herds to the pens on the coast. It reminded me of Patrick Smith's "A Land Remembered," a classic novel about a pioneering family who cut their way across South Florida to found a cattle empire. Modern-day cowboys still work and live at the ranch. But instead of cattle, ecotourism is king. For the out-of-town visitor, hiking and biking can be done on 37 miles of trails, and primitive camping is available during hunting season, weekends and some holidays.
While in Punta Gorda, swing by Fishermen's Village for a relaxing afternoon of shopping and browsing. You don't have to go far to have a relaxing time, and there is something for every interest. A World War II memorabilia museum greets you at the entrance, which is gravy to history buffs such as myself.
"What's neat about the village? Finding everything in one place," said Kathy Burnam, marketing director. "We have shopping, eating; you can stay here and boat in. It's a very relaxed setting."
When the hiking and shopping tours are over, you might be hungry for something upscale and cozy. The Palmetto Grill in Cape Haze offers a fine menu prepared using only the freshest ingredients. Gene Marra, proprietor/owner, takes great pride in creating dishes such as cedar-planked salmon – a mouth-watering, flavorful and tender offering that will leave you wanting to eat the wood.
"We pay attention to presentation, blends, spices and use four or five different types of wood on the grill," said Marra, a graduate of the Culinary Institute of America with 37 years in the industry. "We make everything from scratch right here, in-house. We make our own desserts, and all our seafood is fresh. We're the busiest restaurant around."
Bovell, of the Charlotte County Visitor's Bureau, said the communities around Charlotte Harbor are taking steps not only to reinvent themselves but to preserve their unique place in Florida's tourism fabric. New hotels are likely to come, including a Sheraton, but height restrictions mean there won't be any obnoxiously tall high-rise buildings. A new convention center also is coming, and the local marina recently was renovated to accept vessels large and small.
To get there:
To get to Punta Gorda from Tallahassee,
take Interstate 10 east to I-75 and drive south on I-75 to U.S. 17-S/Exit 164. Turn left onto U.S. 17-S/Florida 35-S/Duncan Road. Follow Florida 35-S and it becomes West Marion Avenue. Turn left onto Taylor Road/County Road 765A. This will take you into downtown Punta Gorda. Port Charlotte is just north of Punta Gorda on Tamiami Trail.
For reservations or more information:
Charlotte County Visitor's Bureau
Rebecca Allen, public relations manager
(941) 743-1900
charlotteharbortravel.com
Palm Island Resort
7092 Placida Road
Cape Haze, FL 33946
Reservations:
(941) 697-4800 or (800) 824-5412
palmisland.com
Babcock Wilderness Adventures
8000 State Road 31
Punta Gorda, FL 33982
Tours by reservations only
(800) 500-5583
adventures@babcockwilderness.com
Fishermen's Village
1200 W. Retta Esplanade No. 57
Punta Gorda, FL 33950
(800) 639-0020 fishville.com
Palmetto Grill
8501 Placida Road
Cape Haze, FL 33946
(941) 697-6465 palmettogrillfl.com