Leader of Leaders
A Boone upon the Tallahassee community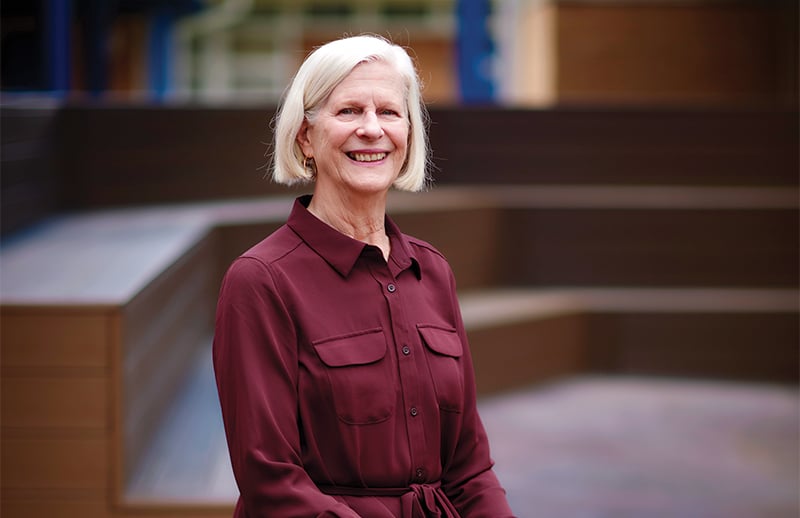 Barbara Boone is widely known as the rock behind Leadership Tallahassee, the guiding force for a year-long program that brings together achievers who want to make a difference in the city.
For 24 years, Boone has been at the helm, helping those achievers strengthen bonds with the community and with each other.
"The idea is to build on whatever attributes or leadership abilities participants already have, abilities they may not even be aware they possess," said Boone, vice president of the Greater Tallahassee Chamber of Commerce, where she directs Leadership Tallahassee.
Leadership Tallahassee is celebrating its 40th anniversary this year. About 1,800 people have gone through the program since its inception in 1983, and around 960 have participated since Boone arrived, starting with Class 17.
Each class is a group of about 40 local people from a cross-section of society, such as teachers, judges, CEOs, bankers, doctors, architects and journalists. Classes learn about the varied facets of city life, including business, government, law enforcement, the arts, health care and education. Participants go behind the scenes, encountering hidden gems and heartbreaks, too.
Boone calls the year-long program "a transformation of your heart and mind."
"Can you create leaders or foster leadership?" she questioned. "I think it's both."
It's Boone who sets the tone, said Barby Moro, who is on the Leadership Tallahassee board and is a member of Class 28.
"Barbara is amazing," said Moro, owner of three RedEye Coffee shops. "She's one of those rare humans who can simultaneously see your potential, celebrate your strengths and then discuss your opportunity for improvement, and you feel validated the entire time."
But Boone isn't one to tout her own skills.
"When people ask me what my superpower is, for me, my superpower is empowerment," Boone said. "I'd much rather work with you and talk about what you want to accomplish and then you go do it."
Boone's sense of community is rooted in her youth. One of seven children, she grew up as part of a tight-knit family in Neptune Beach.
"I have a thing in my DNA for community service," Boone said. "My parents were really committed to raising us to be grateful for what we had. We were a family of readers, and we discussed things at the dinner table. We knew that if you wanted to change things, you got involved."
Boone stayed involved. She was a singer, swimmer and later, a social worker. A graduate of Florida State University, she worked in the Duval County school system, connecting parents with programs for children with physical or learning disabilities.
She and her husband, Forrest, were immersed in the world of politics when, at age 27, he became a Jacksonville city councilman.
Boone stayed home with her three sons for a few years and later became associate director of Leadership Jacksonville. When she and her family moved to Leon County, Leadership Tallahassee was a perfect fit.
Since her arrival, one of Boone's achievements has been launching Youth Leadership Tallahassee. The program is open to students in public, private, home or virtual schools who have a 2.0 grade average.
"We wanted the program to be more representative of the student body," said Boone. "Our philosophy is that you can be a leader wherever you are."
The same philosophy works for adults, she said. Classes quickly learn that effective leadership is not running a meeting or forming a quorum.
"To me, cultivating a community leader is so much more than that," she said. "After a year, you look at your community with fresh eyes."
That's the case for Britt Kent, a member of the current Class 40.
"Leadership Tallahassee taught me to be a new man," said Kent, owner of Kent's Property Preservation LLC. "It opened my eyes to a spectrum of Tallahassee I didn't know existed, from the elite to the poor. It taught me to try to be proactive to change what needs to be changed."
Boone has been a motivator, he said.
"She gives her heart and soul to Tallahassee," Kent said. "She's a loving, caring person."
That affection is mutual.
When Boone's eldest son, Michael, died of a sudden cardiac arrest in 2020, members were quick to show their support.
"We're like a big family," said Anna-Kay Hutchison of Class 36.
Her class donated a prayer desk to St. Peter's Anglican Church on Thomasville Road in Michael's name. It was especially meaningful because Boone's son was an Anglican priest.
"This was during COVID, and I couldn't meet with them," Boone said of Class 36. "They were so protective of me.
"Anna-Kay is right. Each class is like a family unto itself and to me. They couldn't have made a more loving and generous gesture."
---
Members of each Leadership Tallahassee class work together on a project that benefits the community. Among those projects:
» Class 22 raised money for playground equipment, which they helped install, for Hope Community, an emergency shelter for homeless families and women.
» Class 15 funded scholarships for students at Lively Technical Center to be used for books
and supplies.
» Class 36 adopted Sabal Palm Elementary School. The project transformed an unused space into an outdoor classroom with gardening boxes where students grow herbs and plants. The group spent two years on the project, long after their graduation from Leadership Tallahassee. "We had to see it to its conclusion," said Anna-Kay Hutchison, Class 36 participant and community school partnership director for Sabal Palm.
---