Laying the Perfect Foundation
Make Your Skin Gorgeous With the Right Regimen and Makeup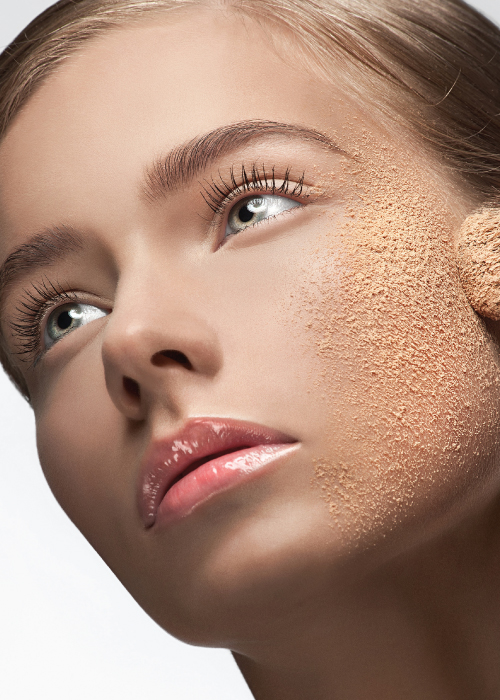 No doubt, makeup can work miracles to transform the appearance of our skin. It's come a long way from the cakey mess our grandmothers remember, and even further from the lead-based makeup that rumors say killed Queen Elizabeth I. But it's still no replacement for a good skincare routine. Taking good care of your skin will brighten your face and make your makeup look even more fabulous.
Before you step out to buy a cleanser or get a prescription, Sherry Reese, a licensed aesthetician and owner of Skin Therapy, advises you to take a step back and examine your lifestyle. "The first thing that skin problems usually have in common is inflammation," she explains. While there is no permanent cure for many skin problems, they can be kept under control by finding ways to reduce inflammation in the body. "Some things that are general would be to avoid excess sugar, excess alcohol or anything that converts to sugar."
Another way to reduce inflammatory skin conditions is to exercise, says Reese.
Sunscreen is another universal key to healthy skin. An SPF of 30 should be worn at all times. Smoking, she notes, is also extremely damaging to skin since it is, after all, an organ of respiration. Quitting can bring extraordinary results for your skin.
ON THE SURFACE Local experts say
facial beauty is enhanced by the right makeup, but it begins with clean, healthy skin.
Leslie Reinhard, licensed medical aesthetician and permanent makeup artist with Plastic Surgery of North Florida, suggests using a product like Retin-A, which stimulates collagen production to help fill in wrinkles. Retinol should be used carefully, however, because it is light sensitive. Using it at night and in combination with powerful sunscreen is advisable. She also says alternating a glycolic cleanser with a gentle cleanser can eliminate dead skin buildup.
For a more drastic change, many facial treatments are available to rejuvenate skin and reduce the appearance of fine lines and wrinkles. Plastic Surgery of North Florida offers many options, including microcurrent machine facials, which stimulate muscles to provide facelift-like benefits without surgery.
There are also facials using ultrasonic technology to infuse products into the skin and smooth wrinkles. To continue these results at home, Reinhard suggests using peptides or apple stem cells, both available in lotion form. Peptides stimulate collagen production and inhibit muscle contraction, while apple stem cells extend life of skin cells, keeping skin looking younger and smoother.
Following these adjustments to your daily routine, exfoliation is the next important step. "Many times, if we don't exfoliate effectively, the skincare products that we use just sit there and don't penetrate," Reese notes. There are various products available for exfoliation, including gentle scrubs, glycolic cleansers and retinol. Reese advises that one of these be used once or twice a week, in combination with a gentle cleanser for the rest of the week.
For those with acne, Reese suggests reducing intake of cow dairy products, because of high levels of hormones used in milk production, and switching to organic milk or goat's milk. In addition, a stronger cleanser might be in order. Reinhard suggests a salicylic cleanser, which is stronger than a glycolic acid cleanser. Washing the face twice a day, once with the salicylic cleanser and once with a gentle cleanser, can be helpful in combating acne.
Blackheads — pores congested with oil, dirt and bacteria — are an enemy of
a different kind. Reese notes they are
easily extracted when the patient follows a proper skincare regimen. Dehydration and buildup of dead skin can severely impede a professional's ability to extract blackheads. Reinhard recommends a facial followed by a salicylic peel to remove as many blackheads as possible and leave skin looking healthier.
Regardless of your skin type, Reese and Reinhard strongly suggest working with a professional to determine your goals and the best methods and products to help you achieve them. While over-the-counter products make many claims, they are limited in what they can actually do to your skin.
"Over-the-counter products are great for some things … but if you actually want to change how your skin is, as far as … pigmentation or wrinkles, then you need a cosmoceutical." An over-the-counter only treats the dead layer of skin, and then a cosmoceutical actually goes to the live layer, Reinhard explains.
Whether a drugstore, department store or high-end cosmetic chain, if it is not sold by a licensed professional it is only working on the dead layer of skin, even if the title "Dr." is in the brand name. Cosmoceuticals can only be purchased from such venues as dermatologist offices, aesthetic centers and plastic surgery clinics. A cleanser can cost anywhere from $25 to $75.
With your skin looking clean and healthy, the next question becomes how to properly accentuate it with makeup without undoing all of the cleaning. "You can have the right skin care products, but if you put makeup on that clogs your pores it's just gonna put you back at square one," Reese says.
Reese and Reinhard recommend using mineral makeup that is as pure as possible. Both suggested Jane Iredale, a brand whose line includes powder and liquid foundations, tinted moisturizers and more.
The first step for everyone is to find the right color, avoiding the dreaded mask effect that a poor match can produce. Reinhard offers a unique technique for finding your perfect shade: "I actually match it to right in front of the ear, going down the side of the neck," she says, adding, "Some people might actually need two different colors because of pigmentation."
For severely dry skin, Reinhard suggests starting with a tinted moisturizer followed by a liquid foundation. Lisa Mergel, licensed esthetician and makeup artist and owner of Kanvas, instructs that in applying liquid foundation it's best to use a synthetic foundation brush to apply and then a makeup sponge to blend. Using a sponge for application wastes a lot of foundation that gets absorbed by the sponge.
Tinted moisturizer is a newer trend. Mergel explains it can be used by those who do not need as much coverage as a liquid foundation to give the skin some even color, or it can be used in preparation for a liquid foundation, providing more coverage than a clear moisturizer. Whether you want a lot of coverage or just a little, it is good to have a tinted moisturizer in your arsenal.
For oily skin, Reinhard recommends a mineral powder "because that would absorb some of their natural oil." Mergel agrees and advises applying powder foundation using a large brush which will allow for light, even coverage.
For those who want the extra coverage of concealer for under-eye circles or blemishes, Mergel has a few tips. "For a person trying to cover circles under their eyes, the rule is to go a shade lighter," she explains. "For blue or brown circles, use a salmon-colored concealer." The red salmon hue will counteract the color of the circle.
"When trying to cover blemishes," she continues, "go a shade darker." Concealer for under the eye should be a lighter liquid or cream, which can be applied with a brush and patted gently with fingers to blend. Concealer used on blemishes should be a little thicker.
Regardless of your makeup needs, Mergel stresses the importance of healthy skin. "If you're using a good skincare regimen, your makeup will look better."