Layers of History
The de Soto Site Offers a Profile in Time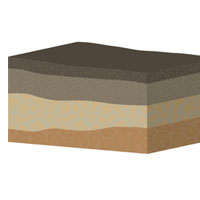 Artifact Images courtesy Florida Department of state, Division of Historical Resources, Illustration by Saige Roberts
Artifacts from Zone 2, from left to right: Fort Walton sherd, Pinellas Point, chevron beads, Maravedi coin, Apalache jars
Watch your step, Tallahassee! The ground at your feet could hold remarkable historical treasures. It has already yielded up artifacts dating back to the days when Hernando de Soto was a winter visitor here back in the day. Literally thousands of artifacts covering a span of some 2,000 years were found by archaeologists in 1987 during the search for de Soto's winter encampment. The site proved to be on and near the grounds of the Gov. John W. Martin House. "After analyzing the 80,000 artifacts recovered, it can truly be said that the history of the Tallahassee area can be read in the strata of the Martin site," wrote Charles R. Ewen in "Hernando de Soto among the Apalachee: The Archaeology of the First Winter Encampment," his 1998 book on the subject. "However, it is the de Soto component that led to the furor surrounding the site's discovery and excavation." The amazing thing is, an entire two millennia rests within the top foot of soil, Ewen wrote, and "teasing out" the various years of occupation was not an easy task. "The Governor Martin site is not a deeply stratified archaeological site. Although it was occupied intermittently for nearly 2,000 years, it was only in the last 500 years that more intensive occupation took place," he said. Here is a look at the soil's profile (which was excavated in arbitrary 10-centimeter increments), and what was found there.
1. Humic Layer Modern debris related to the Gov. John W. Martin house. "To the late-19th century and early-20th century antiquarian, the Governor Martin site offers an array of pharmaceutical bottles and reconstructable pearlware tablewares," Ewen wrote. Other relatively modern artifacts included marbles, doll parts, cap guns and 1940s-era metal condom containers. Gov. Martin's chauffeur's driver license (a small metal belt-buckle-like plaque) was also found, along with other items related to the World War II era.
2. Zone 1 This zone contained artifacts from the days of the Seminole, and some Spanish Mission relics at the bottom of it, according to archaeologist Dan Seinfeld. The most telling clue indicating a Seminole presence was Chattahoochee Brushed Pottery, Seinfeld said. The Mission presence was indicated by Leon Check Stamped Pottery.
3. Zone 2 This is where the Apalache Indian/de Soto encampment artifacts were found. This "layer" of the dig yielded evidence that the principal Apalache village, Anhaica, was located here, and that 16th-century Spanish conquistadors were here as well. Artifacts indicative of the Apalache presence included Fort Walton Incised Pottery, a Pinellas Point (a type of small projectile point), and Carrabelle Punctate Late Pottery. The most telling relics indicating de Soto's presence were chain mail, a crossbow bolt tip and chevron beads.
4. Zone 3 This zone featured items related to pre-Apalache occupation, and an Archaic-era projectile point was found here.