Lauren Book Combats The 'Terrible Awful' of Sexual Abuse
For the mom, state senator, author, child advocate and educator, the work never stops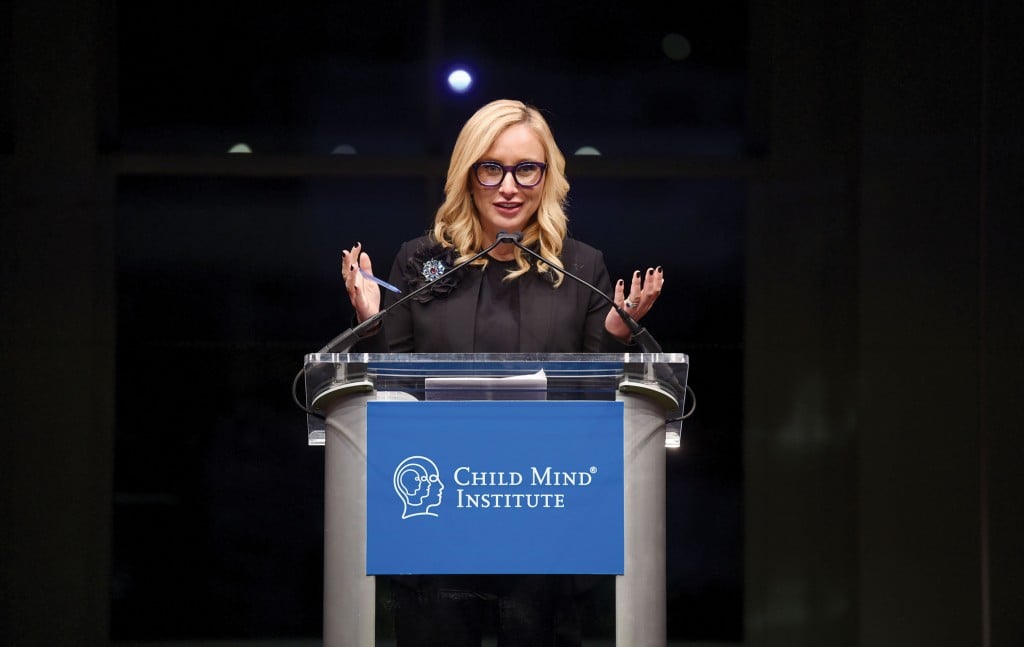 While Lauren Book is talking on the phone, a little girl giggles in the background. This is Book's 4-year-old Kennedy Grace, the twin of Hudson Lee, and they're clearly a joyful duo.
"They're so funny and cute," said Book, and you can hear the smile in her voice.
But this mom — a state senator, author, child advocate and educator — doesn't take the carefree giggles of her young children for granted.
Book is one of 42 million survivors of sexual abuse living in the United States.
"My greatest achievement is that I have two kids who feel safe and happy at home," she said. "They know they have a mom they can talk to about anything."
Book, 36, has become practically a household name, a champion for children, her dedication rooted in her own experiences. She suffered physical, sexual and emotional abuse for six years at the hands of a live-in nanny, starting at age 11.
That revelation, and the ensuing prosecution of her tormentor, didn't solve all her problems. She suffered from anorexia, insomnia and post-traumatic stress disorder and credits years of counseling with certified trauma therapists for helping her confront the "terrible awfuls" she had endured.
"Without them, I probably wouldn't be alive," Book said.
"Today, I am not a victim," she wrote in an online column in 2017. "I am a thriving survivor. But I know that I will be recovering for the rest of my life."
As part of her journey toward recovery, Book realized that she wasn't alone and wanted to help others in similar circumstances gain control "in a very out-of-control existence."
In 2007, during her senior year at the University of Miami, she formed the nonprofit organization Lauren's Kids with her father, prominent lobbyist Ron Book. Then, from 2010 to 2018, she led the annual 1,500-mile "Walk in My Shoes" trek from Key West to Tallahassee to promote awareness and education and empower survivors.
Now juggling a family as well as a career, Book has changed the statewide trek to a walk for 42-plus consecutive hours in the rotunda of the Florida Capitol, symbolic of the 42 million survivors of child sexual abuse.
"Lauren has put a face on an issue that for so long has lived in the shadows," said Claire VanSusteren, Book's communication director. "She has helped turn the tide to make it OK for people to talk about sexual abuse."
Book's openness has encouraged victims of abuse to approach her about their fears, the pain and the shame "that were kept bottled up all that time," said Michelle Ubben, president of Sachs Media, which collaborated with Lauren's Kids on several educational and advocacy projects plus award-winning public information campaigns.
"Before she created Lauren's Kids, I remember sitting in a conference room and being introduced to her for the first time, hearing her personal story and her personal vision for the foundation," said Ubben. "She was at the very beginning of her journey.
"To see how, over the course of years, her voice has grown, her strength and confidence have grown — she's inspirational," added Ubben, who worked with the Lauren Kids Foundation on the development and promotion of a sexual abuse prevention curriculum for students in kindergarten through high school.
The curriculum is now being used in 39 states and has helped educate more than 5 million children annually about a problem that's pervasive regardless of socio-economic status.
The Centers for Disease Control and Prevention reports that one in four girls and one in 13 boys experience child sexual abuse at some point in childhood and that 91 percent of child sexual abuse is perpetrated by someone the child or child's family knows.
To address the many issues facing victims of child sexual abuse, Book and her father successfully advocated for the passage of two dozen bills even before she became a state senator in 2016.
Those bills included the right to get 48-hour access to predators' HIV test results (prompted by her own frustrated efforts); a ban on molesters from ever contacting their victims or families; creating a statewide network of sexual assault treatment centers; and the controversial act that barred predators from living closer than 2,500 feet from public places where children gather, such as schools, parks and playgrounds.
"Life dealt her a pretty serious blow," said former Florida Sen. Bill Montford, who supported Book's bills before and after she took office. "But she got up, dusted herself off and with the support of her family, rose to the occasion. Thousands of people around the state have benefited from the fact that she rose to the occasion."
Savannah Parvu, a victim of human trafficking, is one of them. Parvu said she was "inspired by Lauren being a survivor, helping survivors. If I had known about Lauren earlier, I think the work she's doing would have helped me, kept me from being trafficked for so long."
Parvu was 11 years old when her mother, a drug addict, began prostituting her. She was being sold out of hotels in Central Florida. "People would be lined up to buy me and the staff at the hotel would end up letting people into the room while the trafficker was gone."
Parvu has been working with Book on a bill to crack down on hotels that ignore the signs of human and sex trafficking. "I think
if people realized what was happening and the trauma it does to somebody, they might be more likely to report it instead of turning a blind eye," she said.
Since Book began her legislative career, she "has really focused on legislation to help vulnerable populations," said VanSusteren.
Book also had to focus on her own family right from the get-go. She and her husband, Blair Byrnes, had their twins on Feb. 16, 2017, just weeks before session began. Book brought Kennedy and Hudson with her to the Capital, and they stayed with her in Tallahassee. In Book's new office, she made room for a changing table and cribs. An adjoining room had a sign that read: "Senate babies."
"Some of those days, I was a mess," said Book, a Democrat who represents District 32 in Broward County. "I had to pump between committee meetings."
Nevertheless, Book held steadfast to her determination to right injustices. Having children only intensified her ambitious agenda.
"When you have children, you have a different perspective in a thousand ways," said Book. "What I do now is more focused and driven. And I want to show my daughter, especially, that anything is possible."
Book is an example of that. Despite the challenges at the outset, being in the minority party in Florida, she has been named to several committees, including the Appropriations Committee, Rules Committee and Health Policy Committee, and she's the chair of the critical Committee on Children, Families and Elder Affairs, a post Montford said "is perfect for her."
"She's taken on a lot of different issues with grace and a lot of intelligence," noted Montford, who said he has known Lauren all her life. "If you look at this state, we need bright young people with the skills that she has. She has the characteristics and the commitment and the work effort that you need to survive the political arena."
As a senator, Book has ushered the passage of several bills, among them measures focusing on reproductive health; prohibiting a pelvic exam for a woman, even if under anesthesia, without prior consent; strengthening human trafficking laws; bolstering child welfare and Baker Act requirements.
Book was an active voice for students after the 2018 shooting at Parkland's Marjory Stoneman Douglas High School and sponsored the bill creating "Alyssa's Law," named after Alyssa Alhadeff, a 14-year-old student who was one of the 17 people killed during the attack. The bill requires schools to implement a mobile panic alert system.
After the shooting, Book ensured 100 Marjory Stoneman Douglas students could board a bus to Tallahassee so their voices could be heard in the legislature.
Mary Ellen Klas, Miami Herald Capital Bureau Chief, wrote that Book "had been a constant resource for the students, attending funerals in Parkland, meeting with parents, spending a sleepless night with them in the Tallahassee civic center and helping the angry survivors find a way to turn their tragedy into change."
It's the type of issue that hits Book personally and professionally.
She is aiming to pass legislation to prevent actions taken against students with disabilities.
"I've been working on it for many years," said Book. "Children are being secluded and restrained with straight jackets and different devices. They can't go home and tell their parents 'I was locked in a room by myself for four hours.'"
Among her efforts is legislation that strikes close to home. Book recently learned that her twins' pediatrician in South Florida was accused of taking pornographic photos of children. He was allowed to keep holding himself out as a doctor for months because Florida's law is slow to discipline medical workers accused of crimes.
For a woman who has suffered sexual abuse, who is dedicated to protecting her own children from harm, the news was horrifying.
"My children's pediatrician is a pedophile," said Book. "You're handing naked children to a pedophile. He had videos of young children, child porn. Immediately you're crazed, and you come to realize that there is not an automatic revocation of his license.
"I'm going to go to the statutes to make sure that this is a crime for which a pediatrician will lose his license," she said. "It's a problem that raises a lot of alarms for a parent.
"I'm very much aware that it can happen to anyone," Book said. "You can do all that you can to keep kids safe, but the danger is there. It's lurking, and you have to stay ahead of it."
To the outside world, a young Lauren Book lived an enviable life, the eldest of three children who appeared to have it all. But in her 2011 book, It's OK to Tell: A Story of Hope and Recovery, she details the story of how she came to be abused and why she never said anything. It started when the family's nanny, Waldina, put her tongue in Book's mouth, scolding her for chewing her gum too loudly. She froze. And the abuse worsened. She was beaten, sexually assaulted, violated with objects.
Book wrote she was caught between two opposing fears — "Fear one was that I was doing something perverted and dirty, for which I'd be heavily punished. Fear two was that if I stopped her, she'd leave me and I'd be really lonely again."
Jennifer Dritt, executive director of the Florida Council Against Sexual Violence, called "It's Ok to Tell "really the most authentic book, the most honest book by a survivor. It shows the attachment between the victim and offender. People we love can do bad things."
Book also published a colorful children's book called Lauren's Kingdom with the message that if something doesn't feel right to you, speak up and don't be ashamed.
"Lauren's impact has been tremendous," said Dritt. "She encourages people not to be afraid to talk, that recovery and healing are possible."
Book was a classroom teacher when her father suggested she might make a bigger impact by serving on the school board. But Book ended up aiming higher, running unopposed for the seat of former Sen. Eleanor Sobel.
"She grew up in a house that's very politically involved," said Dritt. "She understands politics can make good things happen. I don't think she's naive about the challenges. I think she's effective. She's up to it."
As for her political future, Book's been approached to run as a candidate for governor, but she said that right now she's focused on her re-election to the Senate. "If an opportunity would come my way, I would never close the door," she added.
While joking that she's an "open book," the senator acknowledges people know "a part of me, but not all of me."
So here are a few things you might not know about Lauren Book:
S

he loves Dave Matthews. "I know the words to all his songs. I go to all the concerts when he's in Florida."

"

I'm a homebody at heart."

"I'm very, very, very introverted, which I think people are surprised about."

"

I'm an avid crafter. I like to have an artistic way to express myself, so I have an art studio in the garage where I make picture frames with stones because otherwise, I'll go crazy."

And, she has a tattoo, the Serenity Prayer — God, grant me the serenity to accept the things I cannot change …— on her side.