Land of the White Squirrel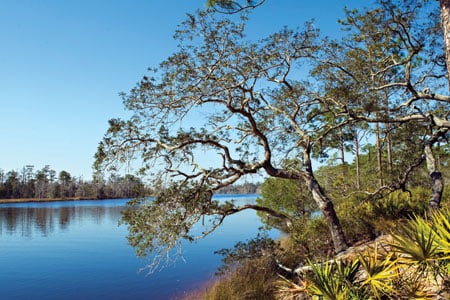 Ochlockonee River State Park provides visitors with a glimpse at what Florida used to look like – and the white squirrels are cute, too 
Photos by Scott Holstein
The river for which the park is named offers great fishing for species that thrive in its brackish water. 
Land of the White SquirrelOchlockonee River State Park is a Forgotten Coast Jewel
By Jason Dehart
Now, this is what Florida used to look like: open pine flatwoods, saw palmetto, whitetail deer, the occasional black bear and the drumming red-cockaded woodpeckers.
And in this region of the state, there is a unique little resident that draws no small amount of interest – the white squirrel.
"You would think that predators would pick them off, but they're able to reproduce," says Kevin Patton, manager of Ochlockonee River State Park, located about four miles south of Sopchoppy on U.S. Highway 319. "You think they wouldn't do so well being white, but you know, in this area there are quite a few of them. They're fairly common; you see them every day down here."
As Patton explains it, white squirrels are a genetic mutation of the common gray squirrel.
"Most people think they are albinos," Patton says. "You have to explain to them that they're not. Some of them have grey spots. Everybody thinks it's really neat, and people will travel from far away to see the white squirrels. It's not something you see (in other places) every day."
Sopchoppy isn't the only place in the United States where white squirrels can be found. Some have been sighted in Central Florida and parts of North Carolina. The critters also have been sighted near the Florida State University Reservation in Tallahassee, and you can see them every day at the Tallahassee Museum as well. Regardless of where they are, they evoke a sense of wonder. There even is a "Top 10 White Squirrel Locations" list on cryptomundo.com, a Web site devoted to mystery animals. (Unfortunately, Sopchoppy didn't make the cut.)
But white squirrels aren't the only star attraction at the 547-acre park, located at the junction of the Dead and Ochlockonee rivers. There is the red-cockaded woodpecker, an endangered species that has exacting habitat specifications.
"These woodpeckers need an open area to forage in, and they need the mature trees," Patton says. "A lot of those trees were cut in the early 1900s."
According to "Priceless Florida: Natural Ecosystems and Native Species," the red-cockaded woodpecker is the only woodpecker in the state that makes a nest cavity in a living pine tree.
The tree has to have heart rot in order for the bird to drill through. This means the tree has to be very old and, as a result, this species is found only in areas where the trees are older than 70 years or so. At Ochlockonee River State Park, rangers help the birds by placing artificial cavities in some trees because most trees aren't quite old enough to have a lot of nesting places.
Loss of habitat has threatened the red-cockaded woodpecker with extinction. Even the number of Florida state parks that have red-cockaded woodpeckers is low.
"We're only one of two state parks in Florida to have them," Patton says. "St. Sebastian (River Preserve State Park) is the other, down around Cocoa."
Ochlockonee River State Park was founded in 1970 and is one of the best examples of natural flatwoods environments left in Florida, because of its 30-year burn program.
"It creates a higher diversity of plant and animal life," Patton says.
It hasn't always been easy to convince people of the necessity for controlled burns, he adds.
"Fifty years ago, everybody thought fire was bad because they didn't understand the system," Patton says. "A lot of fire was suppressed around the state."
But 50 years of research conducted by Tall Timbers Research Station proved that a little fire every now and then is a good thing. Burning off excess combustible plant material proved to be beneficial in a number of ways.
"All our fuels are full of volatile oils," Patton says. "And when you don't burn for 20 or 30 years, you get this huge building of fuel loading and then you have a catastrophic fire that kills everything."
Not only are rare woodpeckers found there, the park also is home to some rare orchids and an endangered type of wiregrass. All of which make this a special place, but the park also is open to the public for camping, hiking, boating and fishing.
"The recreational opportunities here are phenomenal," Patton says. Fishing is especially outstanding because the brackish river water not only contains blue crab, feisty sea trout and redfish, but freshwater largemouth bass also congregate there. The park gets visitors from "all over the country," Patton says, and many Florida residents as well.
The park also recently introduced a special event new to the Forgotten Coast: the Stone Age and Primitive Arts Festival, which celebrates the tool-making talents of our Stone Age ancestors. Next year the event will be held Feb. 6-8.
For more information, call the park at (850) 962-2771.