Lake Ella Growers' Market
Growing a Community, Organically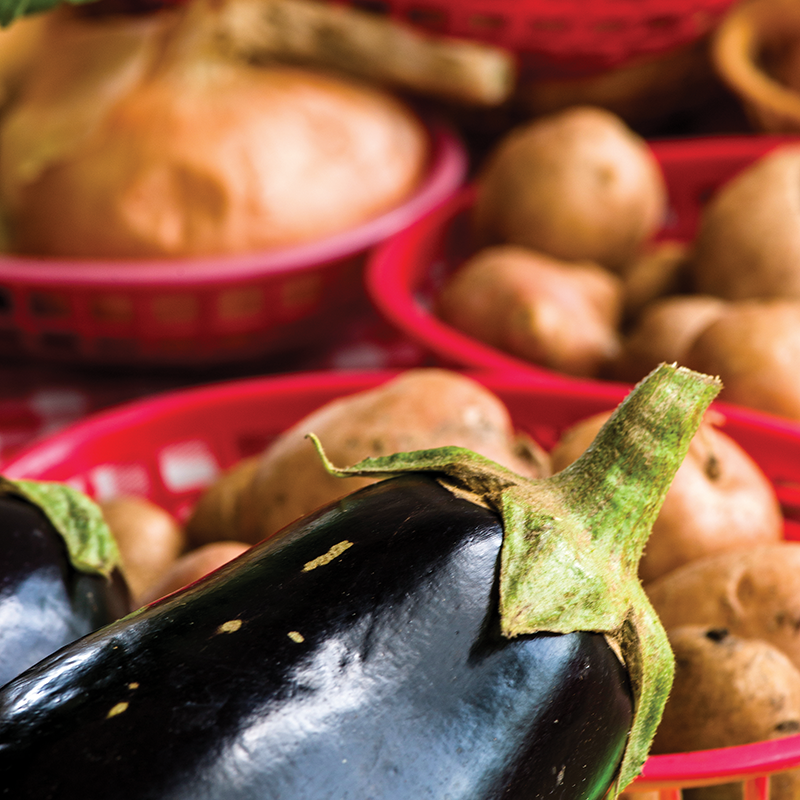 Almost every day in Tallahassee, shoppers can find a produce market where rows of vendors sell colorful vegetables, fruit, herbs and flowers. The offerings can include artisan cheeses and bread, local honey and fresh eggs. Some days, shoppers have multiple markets to choose from. On Saturdays, Market Square and Frenchtown have produce markets and, from March through November, the Downtown Marketplace also is open.
Most of the vendors who use natural and organic farming practices advertise it on their booths. It might be in the name of the farm or in a description of the fruits and vegetables available that day. But it's a "buyer beware" situation: At most markets, there's no guarantee the produce was organically grown, or even that the vendors grew it themselves. Buying wholesale produce and reselling it at local markets is common throughout the region. So shoppers who want organic produce get to know their farmers and shop at the same ones regularly, such as Turkey Hill Farm at Market Square.
But the Wednesday afternoon market at Lake Ella is like none of the others. Officially known as The Growers' Market, the Lake Ella market offers organically grown produce that was cultivated by the farmers who are selling it. Guaranteed. Why? Because The Growers' Market is selling much more than organically grown produce. It's also selling a concept, educating people to eat a diet of foods in season, to be good stewards of natural resources and to embrace a sustainable lifestyle. In short, to tread lightly upon Mother Earth, for our own health and for the benefit of future generations.
"We're the only seasonal market and the only all-organic produce market in the state," said Dr. Jennifer Taylor, an associate professor of agriculture at Florida A&M University and coordinator of the Small Farms Program in the College of Agriculture and Food Sciences. "If you're going to grow food, why not grow healthy food? Why put poisons and toxins in your body?"
A Growing Interest
LAWRENCE DAVIDSON
According to the U.S. Department of Agriculture, organic food sales have steadily increased since the organic food industry began tracking them more than three decades ago. Over the past 10 years, demand for organic food has risen by double digits each year, signaling a shift from a lifestyle choice for a small percentage of consumers to being the choice, at least occasionally, of a majority of Americans. A national survey by the Hartman Group and Food Marketing Institute in the early 2000s found that two-thirds of shoppers bought organically grown foods from time to time.
The Nutrition Business Journal reported that in 2012, produce accounted for 43 percent of U.S. organic food sales, followed by dairy (15 percent), packaged/prepared foods (11 percent), beverages (11 percent), bread/grains (9 percent), snack foods (5 percent), meat/fish/poultry (3 percent), and condiments (3 percent).
The Organic Trade Association estimates that 93 percent of organic food sales occur at conventional grocery stores, most of which have an organic or "green" section, and natural food stores and chains. The other 7 percent, OTA says, comes through farmers' markets and marketing channels other than retail stores, such as the Red Hills Online market. The growth in the number of markets locally selling organic produce reflects a national trend. In 1994, when the USDA began tracking direct sales of produce through farmers' markets, there were 1,755. By 2013, the USDA counted more than 8,100.
The interest in organic food and sustainable gardening and farming transcends age, gender, socio-economic status and stereotypes. Surveys show that consumers prefer organically produced food because of their concerns regarding health, the environment and animal welfare, and they show a willingness to pay the price premiums established in the marketplace.
LAWRENCE DAVIDSON
The crowd that shops at The Growers' Market, behind Lake Ella's Black Dog Community Coffee House and the American Legion, is no different: Birkenstocks and work boots, polo shirts and tie-dyed T-shirts, sundresses and office attire, college students and retirees. Often, a musician provides entertainment. Most of the customers are regulars, giving the gathering under the moss-draped oaks a family-reunion vibe.
"The location is absolutely gorgeous," retiree Dot Skofronick said. "I get to see my friends and there's a surprise in my bag every week."
Skofronick participates in a Community Sustainable Agriculture program. Customers pay in advance for a bag of groceries — whatever is in season. On this particular day, Jack Simmons of Crescent Moon Organic Farm in Sopchoppy had loaded her bag with kale, arugula, lettuce, new potatoes, sunflower microgreens, mung bean sprouts, green onions and green garlic.
"When I buy lettuce in the grocery store, I have to use it within two days," Skofronick said. "This lasts longer."
The "shelf life" of the market's produce tends to be longer than grocery store produce because it was picked that morning. When new potatoes are in season, Simmons tells customers to cook them that night for best flavor. "You don't have to eat them tonight, but you do need to cook them," he says.
In addition to selling to walk-up patrons, Simmons has 10 or 12 CSA customers such as Skofronick. He said that's as many as he can handle with his solo operation. He has help from time to time in form of "WWOOFers" — Willing Workers on Organic Farms — who come to learn organic gardening in exchange for room and board. Some stay a day or two, some a few weeks. He began baking different varieties of bread a few years ago, when a thunderstorm-filled summer prevented him from harvesting his crops. He also pickles vegetables and makes jams and jellies from his fruits. If the garden doesn't fill the CSA bags, the pantry does. Jams, jellies, pickles and dried fruits and vegetables have long been ways to preserve foods, and Simmons experiments with them regularly. But he shuns other preservation methods.
"I don't eat frozen food," he said.
Although the market caters to consumers who want organic, seasonal food, it was created to serve the people who grow it.
A mission needing a market
The FAMU Small Farms Program, which Taylor directs, focuses on organic living, which includes organic farming and animal production. It sponsors workshops and training sessions on various aspects of growing food and eating seasonally. Its mission is to help underserved agricultural populations, including farm families and laborers, and assist them in attaining sustainable lifestyles. At one such session in 2002, the idea of The Growers' Market emerged.
"The growers said to me, 'We really need a different kind of market,'" Taylor said. "So we began to try different things."
lawrence Davidson
At first it seemed Sunday would be the best day, but that was discarded because it was the only day off for most of the growers. Wednesday was the eventual choice. Then, finding a suitable location was a problem.
"We talked to several churches but they weren't interested. Today, I think they would be," she said.
Carla Reid, owner and proprietor of the Black Dog Community Coffee House, jumped at the chance to help the market find a home at Lake Ella. She put Taylor in touch with the leadership of the Sauls-Bridges American Legion Post 13, which owns the property, and a deal was struck.
"I love having the market here," Reid said. "These are our people."
Reid opened the Black Dog 19 years ago, while working on her doctorate in humanities at Florida State University. The market boosts her business on Wednesdays, she said, and lends it a personality that she likes. She recently became a vendor, too, selling Not Your Mama's Pops, a variety of frozen concoctions made at her second location, Black Dog on the Square, at Railroad Square.
She is also an adjunct professor at FSU, teaching a course in food ethics. Promoting sustainable living and seasonal eating is a logical extension of her teaching.
"People have a screwed up notion of seasons," she said. "It's kind of like the idea of a summer sweater. It doesn't exist here in Tallahassee."
Added value
LAWRENCE DAVIDSON
Originally open only in spring and summer, the market expanded to year-round as more farmers had products to sell, and demand grew. Simmons is one of the growers who sells at the market year-round. Winters in the Eastern Panhandle/Big Bend region are generally mild enough to grow many cool-season crops, including collards, kale, turnips, beets, lettuces, radishes and kohlrabi. Other growers who don't plant across the seasons come only when they have something to sell or when they have a surplus.
Bob and Lisa Burnham of Sycamore Gardens sell garlic, blueberries, pears and persimmons in season. They've been vendors at The Growers' Market for eight years, describing it as "friendly and fun in a beautiful setting."
"It's a nice way to participate in the community, to meet and support local growers and learn where your food comes from," Lisa Burnham said. "And we all love to talk."
Depending on the time of year, shoppers can find fresh eggs, candles, soap, freshly caught Gulf shrimp, cheeses and meat, in addition to seasonal vegetables, fruits and herbs. Mac Gates, of Mac's Honey and Bee Farm in Havana, is usually there with local raw honey, beeswax candles and an assortment of tie-dyed T-shirts. Ron and Annie Layton of Little Eden Heirloom Farm in Crawfordville sell eggs, bread and baked goods at Lake Ella and at the farm stand at their home. They, too, have CSA partners who get a bag of surprises each week. Owen River Farm has unusual vegetables such as Dragon Tongue Bean, technically a wax bean but more like a green bean. Ripe City Urban Farm, formerly known as Ten Speed Greens, sells vegetables and gives away advice.
"We want to educate people about sustainable farming in an urban environment," Ripe City's David Newman said.
LAWRENCE DAVIDSON
One of the most familiar features of the market sells vegetables, falafel and Middle Eastern baked goods. Artzi's Organic Veggies and Pita Queen Authentic Israeli Falafel, operated by Israel and Yocheved Artzi of Thomasville, Georgia, also supplies New Leaf and Whole Foods markets with Pita Queen products from its organically certified kitchen. While the prepared food isn't exactly local — the dates and halvah are imported from Israel — it is organic, and the produce is both organic and local.
Abby Vail, on her first trip to The Growers' Market, was persuaded by a sample to buy a falafel wrap.
"It's different than anything I've seen in Tallahassee," Vail said. "I like having a unique food option. I may have to make this my new Wednesday stop."
On occasion, area chefs present cooking demonstrations featuring produce available at the market, including the chefs from Kool Beanz, Cypress, the state Department of Agriculture, the UF/IFAS Leon County Extension Service and Kaiser University's culinary program.
In addition, The Growers' Market accepts SNAP benefits, formerly known as food stamps, as well as WIC benefits for Women, Infants and Children. Many of the other area produce markets also accept food benefits, an effort spearheaded by the state to make fresh food available to people of all income levels and to alleviate the problem of "fresh food deserts."
"As the only seasonal market and the only totally organic produce market, we feel we have added value," Taylor said. "A lot of people are looking for sustainably grown food that is locally grown, and they know they can find it here. If they go to another market in January and see tomatoes, they might not know that tomatoes don't grow in January here. They can trust what they find here to be seasonal."
To ensure the produce is both organic and seasonal, Taylor visits every farm that sells at The Growers' Market, verifying it was grown on the premises using organic methods.
"It's not certification but it is verification," Taylor said.
Focus on education
lawrence Davidson
Whether verification or certification is the goal, Taylor's qualifications to make the call are sterling. In 2012, she was appointed by U.S. Secretary of Agriculture Tom Vilsack to serve on the National Organic Standards Board. The board advises the secretary on issues related to the National Organic Program and the viewpoint of organic growers. Her work with small farmers across the state led to invitations to share her knowledge across the globe.
She attributes her passion for farming and education to her family. A native of Tallahassee, Taylor earned her bachelor's degree in agronomy at Florida A&M, where both her parents — Vernal L. Taylor and Ethel Taylor — are honored on the Perry-Page Hall "Wall of Distinction." She went on to earn a master's degree in agronomy at Iowa State University and a doctorate in teaching and learning at Virginia Tech.
"My grandmother, Lola Hampton, was a sharecropper in southeast Georgia who was given the opportunity to buy her 32-and-a-half-acre farm," Taylor said. "She only had a second-grade education, but she knew she'd been given an opportunity to change her life and the lives of her children."
The Small Farms Program is a vehicle to change the lives of farm families, as well as to build a sense of community among the farmers and their customers.
"With the Small Farms Program, whether it's organic is really not the issue," Taylor explained. "The issue is viability and sustainability. For many, the viable, sustainable path is the organic one."
lawrence Davidson
And the educational opportunities abound. In addition to "farmer wisdom" to be had at The Growers' Market at Lake Ella, Taylor arranged for a workshop on creating biodiesel fuel — converting waste vegetable oil into fuel for an alternative energy source. The workshop was held at Simmons' organic farm in Wakulla County.
"Jack is one of our partner-farmers," she said. "We've had several workshops at his farm."
An Earth Day program in April attracted many of the local organic growers, as well as several local businesses. Jim Gerritsen, a Maine potato farmer and pioneer in sustainable gardening and organic living, discussed organic integrity and growing the organic community in "A Conversation with an Agrarian Elder." Held at Indigo Bistro, the chefs prepared a dinner featuring produce from a dozen local farmers, including kale and collards, squash, corn and eggs. Trader Joe's donated organic potatoes, which weren't in season locally.
"It was a feast from the farmers," Taylor said.
The annual Farm Festival, held each June at FAMU's Research and Extension Farm near Quincy, showcases different growing systems. Open to the public, Farm Fest teaches sustainable practices and organic methods, such as integrated pest management, to backyard and community gardeners and celebrates the wealth of produce that can be grown.
"For us, the market is part of the education and training of our community," Taylor said. "If you live in a sustainable way, you will grow in a sustainable way."