Lady at the Mic
I'll never see her voice in the same way again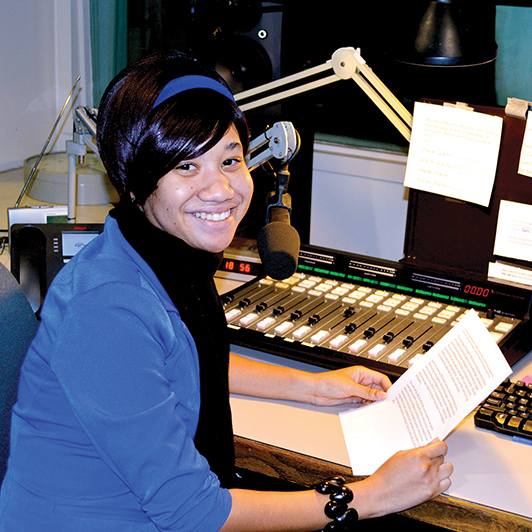 From televisions comes the voice of FBI director James Comey, testifying before the House Intelligence Committee and responding to questions with, mostly, "I can't answer that question." Here, in offices that lie beyond a lobby replete with antique radios, are reporters' desks unseen beneath sheaves of notes and news releases and foam clamshells that contained quick lunches. And there is Tom Flanigan, in the midst of a day in which he will write stories about an organizational meeting of the Florida Constitutional Revision Commission; Senate president Tom Negron's reservoir proposal, said to be taking on water; and a demonstration in Frenchtown organized by opponents of a student housing project. Regan McCarthy cradles a phone with her shoulder and puts pen to yellow legal pad.
 This is where Sascha Cordner, a woman I had long been curious about, works. Her intriguing on-air voice frequently is my drive-time music. It sounds, says WFSU news director Lynn Hatter, like it comes from a "woman who is 40 and white." But Cordner is assuredly neither. For me, that voice is a fascinating decision. It is genuine, not affected, but I think she may be channeling someone, maybe an ancestor. It commands attention and is authoritative, but smooooth.
No one extends a diphthong quite like Ms. Cordner. 
When I was a kid, my parents' radio, in the car and in the kitchen, always was trained to WCCO, whose signal was the largest in the Land of Sky Blue Waters. Few women held on-air positions, so Joyce Lamont stood out for me. I saw her as slender and attractive, this despite the niche she occupied at the station.
 Lamont shared recipes with listeners, information about community events and, late in her career, tips about travel. Nonetheless, Lamont was hugely popular and received, in the days before electronic mail, as many as 10,000 letters a month, according to a story published on the occasion of her death at age 98 in 2014. Back in the day, a fellow broadcaster would tease her by playing stripper music to introduce her segments. A different era, then.
When first I laid eyes on Lamont, I wasn't sure whether to believe them. She resembled not the woman I had pictured, but she was instead, well, blocky — the kind of woman who might exhibit a heifer or enter the pies competition at the state fair. In fact, that is where I encountered her, at WCCO's remote, glassed-in broadcast booth at the Minnesota State Fair.
I listened to Cordner for years and developed a Cordner impression before a colleague shared with me her photo as it appears on the WFSU website. While I anticipated a Lamontish woman, Cordner is, instead, slight and oh so young looking. One day, I resolved, I would do a story on her.
Cordner is a first-generation American whose parents are from Trinidad and Tobago. She is among those people who knew early on what she wanted to do. She attended the University of Florida and majored in broadcast journalism. In Gainesville, she volunteered at commercial and public radio stations before choosing the latter track.
When she accepted a job at WFSU as a reporter and the host of "All Things Considered," she considered that she had joined public radio's big leagues. She arrived in the middle of a legislative session, and the capitol was, for her, like a disorienting airport terminal.
"You can get lost in there," she said in a voice that is but a distant cousin to her on-air one.
Cordner would find her way and soon commence winning Florida Associated Press Broadcasters awards, including for a feature on "Male Breast Cancer: Lost in a Sea of Pink."       
"I try to find the human in all of the stories I do and to ask myself why the listener should care," Cordner said. "Rather than just reporting what legislators are saying, I try to capture the feelings of people who stand to be affected by what they are debating."
Presuming that she has been intimidated from time to time, I ask her who is the most challenging source she has met. I see a name leap to her mind immediately, but she is reluctant to share until, cajoled, she offers up "Marion Hammer," the National Rifle Association lobbyist and past NRA president.  
"She knows her stuff, and with her, you've got to be totally prepared; but, if you are, she is very respectful," Cordner said.
To you, Sascha, I say: Stand your ground. Never abandon your search for the human. And, by the way, I have figured out whom you're channeling. It's Joyce Lamont and all those pioneers who helped create for you your place on the air.