Lacrosse is Catching on in the Capital City
America's Oldest Sport Attracts Tallahassee's New Generation of Athletes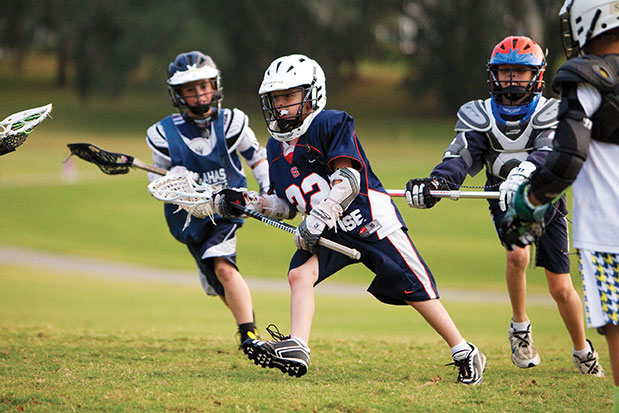 In this game, hard hits, flashy passes and evasive maneuvers are a guarantee. Give-and-goes, zone defenses and pick-and-rolls are executed by players throughout the game. For 60 minutes, spectators are treated to two teams giving their all on the field in what some call "the fastest game on two feet."
But there's no pigskin involved in this sport, or free throws for fouling a shooter. No-hitters don't exist and round balls are much better suited for this game than pucks. Although still a relatively unknown sport locally, lacrosse is starting to burst onto the scene in the capital city.
Originated in the northeastern United States by Native American tribes, lacrosse is the oldest sport in North America. The objective of the game is to outscore the other team by launching a rubber ball, slightly bigger than a tennis ball, into a net, past the other team's goalie.
One aspect that attracts new fans is that lacrosse is similar to many more readily known sports.
A men's lacrosse field is 110 yards long and 60 yards wide — 10 yards shorter in length than a football field (when you count the endzones) but almost 7 yards wider. Six-foot by 6-foot goals are positioned at both ends of the field. Ten yards are left behind each goal, allowing players to move behind the goal during play — much like hockey.
Also like hockey, the game begins with a face-off where two players battle to scoop the ball into their own stick or a teammate's in order to gain possession.
Lacrosse is similar to football in the sense that they're both full-contact sports. Yet, at the same time, lacrosse is also a game of finesse when it comes to maneuvering through defenders or throwing touch passes to a teammate.
"I would compare it to hockey and basketball," says Dorsey Hairston, who gives private youth lacrosse lessons in Tallahassee. "It's mainly like basketball, but you have a stick and you're scoring on a goalie — that's where it's like hockey."
Hairston, who played at Boston College, says because of its lack of prominence in Florida, most kids in Tallahassee don't know about it and tend to gravitate toward the major sports.
"Lacrosse is the kind of sport we can teach anyone how to play, they just have to be into it," he says. "When you're a kid and you see that everyone is into something, that's what you want to be a part of."
Hairston believes lacrosse has yet to catch on outside of the Northeast because there are no big names associated with the game.
"When it gets to the point in Florida where you have a premiere football player who's willing to give lacrosse a shot, at that point Florida will quickly take over the national scene," he says. "When you play football, you watch the games and … you say, 'I want to be like Randy Moss' or 'I'm going to catch this ball just like Chad Johnson.' If I say Gary Gait or Casey Powell or Ryan Boyle to anybody they're not going to know them — even the kids I coach don't know who they are."
Over the last few years, however, lacrosse has started to gain some traction in Tallahassee. Charles Minter, head coach of the Maclay School varsity lacrosse team, says he's seen interest in the sport increase over the last few years.
"My camp grows every year," he says. "Florida has come a long way and is on the verge of being one of the best states in lacrosse."
Minter is also director of the Tallahassee Lacrosse Club, as well as a coach and assistant director for the Tallahassee Possums, which is part of a statewide youth program (Florida Fightin' Possums). In addition to these community programs, several local schools offer lacrosse, including Holy Comforter's middle school and Chiles, Lincoln, Maclay and Leon high schools.
"The younger kids are starting to get involved and start playing at a much younger age," says Steve Lundeen, a senior captain of Florida State University's lacrosse club team. "More people are getting interested in it and it's really catching on."
Lundeen, who's been playing lacrosse for 10 years, was first introduced to the sport at his high school in Miami.
"It's more of a freestyle sport and you have more room to do whatever you want," he says. "You're not really assigned to a certain player or gap as in football. You still experience the same contact, just on a bigger field."
Besides the experience of trying a different sport, Hairston says many benefits come from playing the game. He says there are also great opportunities to play and go to college.
"You're never going to get paid a million dollars to play lacrosse, but you will develop great relationships," he says. "Those types of opportunities are … why lacrosse is a good thing to be involved with."
---
LAX: KNOW THE RULES
» Lacrosse, or LAX for short, is played with two 10-player teams. A team's on-field lineup consists of one goalkeeper, three defensemen who assist the goalie in defending the goal, three attackmen who attempt to score and three midfielders, who are free to travel the full length of the field playing both offense and defense.
» Each player carries a stick with a netted pocket on the head to cradle, pass, shoot and intercept the ball —or to jar the ball out from the pocket of an opposing player's stick. Referred to as "checking," this technique involves making contact with the opposing player with either the body or stick.
» The length of a player's stick differs depending on what position they play. Attackmen carry the shortest sticks, which are easier to handle and better suited for shooting. Defensemen carry long sticks with shafts about twice the length of short sticks. Long sticks make it easier for defensemen to intercept passes and check ball carriers. The goalie's stick has a shorter shaft than the other sticks but a much wider head, which is used to catch the shots of opposing players and prevent goals. Midfielders may use either a short or long stick. However, only one of the three middies may use a long one.
» Lacrosse uniforms consist of a helmet, shoulder pads, a jersey, shorts, padded gloves and cleats.
---