Kuntry Roads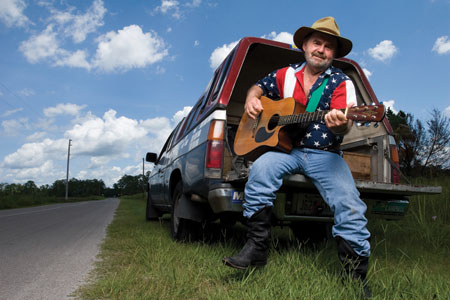 Musician H.J. Kuntry tours the U.S. one county at a time Kuntry RoadsHerbert "H.J. Kuntry" Carter Travels Back Roads
and Byways to Sell Albums and Promote His Signature
"Dixie Phonics" Sound
By Mackenzie Turberville
This is the all-time, No. 1 travel story that has ever happened," Herbert Carter said.
Carter, better known by his stage name H.J. Kuntry, is sitting in a diner in St. Marks, wearing boots; faded denim jeans; a red, white and blue, long-sleeve shirt emblazoned with stars; and a cowboy hat.
"I started my 10-year odyssey here and I've come back full circle."
The odyssey Carter is speaking of is his cross-country journey along America's highways and back roads, before interstate highways took the personality out of travel. Along the way, Carter traveled through small communities with general stores, played for crowds and sold records – just like legions of other traveling musicians. But where others may have lived this life on their way to fame in Nashville, Tenn., Carter's nomadic journey continued for a decade, after he walked out of a meeting with an RCA talent scout and turned his back on the managers, promoters and middlemen known as rack jobbers that dominate the industry.
Along the way he has visited nearly every county in the United States excluding Hawaii, and never has forgotten the people who kept his dream alive. Carter has a catalog of more than 30,000 names on index cards – the names of people who bought his records over the years. The cards sit in filing cabinets in his storage unit in St. Marks.
Carter spent his childhood on a 68-acre farm on U.S. Highway 319 along the Florida-Georgia line. He graduated in 1958 from Leon High School, where he and a friend won the talent contest his senior year by playing a country music song. Carter said he owes a lot to that public affirmation of his ability. But it would be some time before that translated into a musical career.
"When I graduated high school, I went into the Marines as a six-month reservist and fulfilled an eight-year obligation," Carter said. "I went to work in 1960 … as a Tallahassee city fireman. I started going to Nashville in 1964, pitching songs."
He met a gospel promoter named Martha Carson, who set him up with a meeting at RCA Records. The big time, it seemed, was just around the corner.
"I was 24 at the time," Carter said. "It was my first trip to Nashville, and I was kind of intimidated."
Carter never did make it to the meeting – a choice that set him on the path to being one of the hardest-working men in country music. In about 1967, he built a small recording studio.
"A little two-track system, professional stuff, and we started producing gospel music," he said.
He wrote a song about Marine Corps boot camp that he pressed into a single.
"It went international – went out all over the world through the Armed Forces Network," Carter said. "I spent about 10 grand on that song, from my salary back in the 1960s – everything I had. But it was a good lesson; it was a good experience. I spent 16 months promoting that record. Then technology came along and started getting multiple tracks and I couldn't compete. I couldn't keep up with them."
Carter said he almost gave up at that point as professional and personal obstacles mounted in his life. While he had his studio, he had invested quite a bit of money into a singer who ended up quitting.
"I said next time I got to be sure, because I can't afford it," Carter said.
In the face of adversity, he decided to bet on someone he could be sure of: himself. The self-taught guitarist took the plunge and became an independent country music act.
Along with his first album, Carter sent out comment cards. One came back with the comment, "We're 100 percent kuntry."
"Bingo – I'd never seen country spelled that way," Carter said. Just like that, H.J. Kuntry was born.
Carter contacted a friend named Cliff Parker who was living in Nashville and performing with a group called the Nashville Cats. Parker enlisted the band to help out, and Carter cut a full-length album titled "They Call Me H.J. Kuntry."
On Aug. 20, 1975, he set out from St. Marks on a 10-year journey to promote the album.
"The way I routed myself across the country, I got a list from the Country Music Association that showed me where every … station was that programmed country music, and I updated my list every year for 10 years. My focus was rural America."
His mantra on the road was "Five to survive, 10 to win, 20's plenty."
"If I sold 20 (albums), I made a hundred bucks," he explained. "Albums cost me 60 cents to press in Nashville; I sold them for five bucks. Eight-tracks cost me two dollars: I sold them for six dollars. So my margin of profit was enough to buy me a tank of gas, two meals and to replenish my inventory."
His life on the road was no-frills.
"I learned to read those atlases – where there would be state forests or recreational areas that would allow you to park overnight," Carter said. "I knew I would need to stop there that night, I would get up the next morning at 6, and I'd visit bait and tackle shops, grocery stores, cafés, and I had a little single album I would give them for their jukebox. Sometimes they would tell me, 'Go out and get your guitar and play,' and I would play for five or six hours and I would sign the album for them, get their name and address for my files," Carter said.
"And then during the severe cold weather, I learned to key on these truck stops. I would get in there early and get a good meal. My mom had made me a sleeping bag out of insulated material and my old buddy Cliff gave me an overcoat, and I would sleep in my clothes and wrap up in that coat and tuck in that sleeping bag. Sometimes I would have frost on my mustache.
"Then I learned to get out of the mountains about November and come back home," Carter said. "When it started warming back up, I'd head back to the Northern states. I'd come home for the holidays every year."
In this manner, Carter sold more than 30,000 albums, and he has the names to prove it – each painstakingly recorded along with the city, state and date of his visit on 3-by-5 cards.
Some of the people listed on the cards didn't even buy his album – they were just folks he met on the back roads of America who took the time to listen to him sing.
In 1987, when Carter was planning a route to Alaska, he realized he had been on the majority of the roads on his faded atlas. When he counted up the counties, he realized he needed to visit fewer than 100 to have performed in every county in the United States.
Carter currently is seeking sponsorship to complete his tour and continue promoting his "Dixie Phonics" brand of music – with a slowed-down tempo and a "coastal" sound – that he hopes will be identified with this part of the country much as bluegrass is with Kentucky or hillbilly music with the Ozarks. He said he encourages others to see some of the country and hopes his story will inspire people to expand their horizons beyond the county line. But he also hasn't forgotten where he came from.
"Don't forget the roots of your raising," he says. "I won't ever leave Leon County."
To read more about H.J. Kuntry and hear his music, visit myspace.com/hjkuntry.