Krewesing into Springtime Tallahassee
Krewes united in their fondness for good times and playing dress-up know how to throw a party.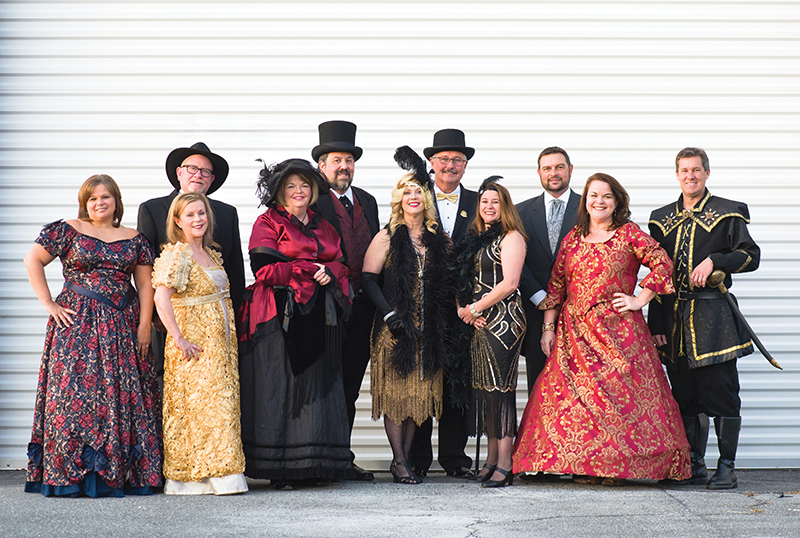 Polo Lacayo was a 19-year-old newlywed Florida State University student when he attended the inaugural Springtime Tallahassee parade in 1968.
"The first parade, I thought it was just a novelty. They had a parade of governors," he recalled. The original event, as the story has been told over ensuing decades, was hastily planned to showcase Tallahassee's spring to ward off efforts to move Florida's capital to a more central downstate locale.
"But it took hold," Lacayo continued. The capital has been safely ensconced in Tallahassee in the ensuing five decades — and the annual weekend-long homage to the area's seasonal beauty is still going strong.
"It's morphed over the years to be a little bit more formal in the way we do things, but we're still adults playing dress up — and we're having a good time doing it."
The parade, jubilee and other festivities are part of a truly community event, planned and executed annually by the nonprofit Springtime Tallahassee organization.
And, borrowing a tradition from the Mardi Gras of New Orleans and Mobile, it's the volunteer members of five "krewes" who pull together the party — while enjoying several parties of their own throughout the year.
Each krewe represents a time period in Florida's history — Spanish (1528-1821) American Territorial (1821-1845), Antebellum Statehood (1845-1861), War and Reconstruction (1861-1900) and Twentieth Century (1900-1999).
Two other Springtime groups operate similarly, the Andrew Jackson Staff, which includes leaders from each krewe, and the Belles and Gents, open to middle and high school aged young people.
In the past, each krewe did tend to attract different types of people — one had a lot of members in construction, recalled Jennifer Naff, the executive director of Springtime and one of only two paid staff members.
"The krewes were kind of divided like that," she said. "It's not like that anymore. You'll have an attorney working beside a general contractor working beside a DEP employee."
Almost to a person, those involved with the organization say one of the most enjoyable aspects of Springtime is the opportunity to meet and become friends with people they wouldn't have known otherwise.
"A lot of the fun of Springtime is getting together with all these people who are so different," said Lacayo. "I have no reason to go to lunch with attorneys, but I go out and work on floats with them all the time. It's fun."
Lisa Revell, a 10-year Springtime member and former chief of the American Territorial Krewe, concurs. "It's a group of people from all walks of life that wouldn't have crossed paths otherwise and they get together, they have a good time," she said.
"The community involvement is amazing. And it's not just the jubilee and the festival. It's throughout the whole year."
Springtime Tallahassee has its own subculture, with groups within the groups, color-coded jackets and T-shirts, inside jargon and even military-style ranking, indicating status within the upper levels of leadership.
Krewe Members revel in wearing authentic reproductions of dress from their period – be it hoop skirts, flapper dresses or military regalia – and crazy costumer during parades. And then there's the tradition of swapping "bling" between themselves and visiting members from other festivals across Florida. Both men and women wear the rhinestone-encrusted pins on vests to show off their collection. "The more sparkle it has, the better it is," said Revell.
But while it is steeped in tradition and hierarchy, the organization is definitely a meritocracy. Forget family connections or even longevity for getting ahead in Springtime; it's hard work that lands members in leadership positions.
"The more you get involved, the more you get asked to do things," said Revell. "Ours is a relatively smaller krewe, so when you join, you're usually on a committee. You're going to be in there helping, one way or another."
There are some vestiges of old-school thinking. Over the years, only one woman has served as president of Springtime Tallahassee, while the position of general chairman has always been filled by women.
In another example, the Andrew Jackson Staff has a companion organization called Rachel's Staff, comprised of the wives of the AJ group who chose to wear pink to represent their group.
With women joining the AJ staff, their husbands are now in the Rachel group. "We put them in the pink and they're good sports about it," Revell said.
But times are changing. When Susie Mozolic and her husband, Frank, joined the 20th Century Krewe 24 years ago, men usually held the leadership positions. She served as Springtime's female-centric general chairman in 2008-09, but a year earlier was the first of the three-in-a-row run of female 20th Century krewe chiefs. "(It) was sort of an oddity, but it's not an oddity now," she said.
When outsiders converse about Springtime Tallahassee members, the words "elite" and "party" tend to pop up. Revell lived in Tallahassee for 20 years before joining Springtime, and she cops to having similar thoughts.
"I was one of those that was a little skeptical," she said. "We'd go to the parades and sit on the sideline and I did, I thought 'It's a bunch of rich people and socially all they do is party.' Totally wrong. Totally wrong."
For starters, the dental office receptionist and her sheriff's deputy husband aren't exactly one percenters.
Springtime Tallahassee family membership dues for a couple are $500 a year, with discounts for those 35 and younger ($400) and singles ($350). Krewes, which can have up to 50 memberships, set their own dues, which run between $50 and $150.
And although they were introduced to Springtime by attending a grand ball, Revell and her peers would rather focus on the year-round charitable work the krewes provide.
Each krewe selects a charity to support every year. Some stick with the same one every year — 20th Century continues to build wheelchair ramps through Ability 1st — while others let the chief pick the recipients of their krewe's largesse.
The Spanish Krewe rotates charities, supporting the Children's Home Society this year. Recently, members were asked to bring a gift or gift card to the krewe's Christmas party, which were gathered up and delivered to CHS.
"A lot of people don't know things like that that even happen," said Brian Hobbs, owner of Twin Action Realty and a Spanish Krewe member. "We don't ask for recognition for things like that. It's just something we do. We've done practically every charity that we can think of in Tallahassee because everyone has personal connections."
But the krewes do know how to get together and have a good time.
The Springtime Tallahassee organization sponsors gala-style events throughout the year, and each krewe has 10 or 12 meetings a year, most including libations and food after the business is done.
"I don't want to say we don't party because we do," said Mozolic. "If anybody in Springtime ever tells (they don't), they ain't telling you the truth." She considers the social events a reward for what she calls the "give back" members provide to the Tallahassee community, both by sponsoring a festival attended by upwards of 150,000 people every year and giving a boost to the local economy.
The all-play, no-work rap "is probably the biggest misconception," said Hobbs. "I think that all the monies and the work that goes in isn't seen. That's how it supposed to work. It's not supposed to look like work, it's supposed to look like fun. And if you're working and it looks like fun, then are you really working?"
All agree one of the most enjoyable, yet valuable, experiences for Springtime members is float building, which usually occurs in the three months leading up to the festival weekend.
Each krewe is responsible for designing and building a float — no paid professionals allowed — that are usually the highlight of Saturday's Grand Parade. It's a competition, and krewes can earn points for creativity, incorporating the year's Springtime theme and historical references relating to their time period.
Some start from scratch each year, while others work off of the same basic design every year — a galleon for the Spanish Krewe, a riverboat for War and Reconstruction and a train for American Territorial.
"It's hard in our case," grouses Lacayo, a member of the War and Reconstruction Krewe. "Our historical time period, after we became a state and before the Civil War, is only 16 years long."
But he relents, saying, "I guess it's not necessarily easy for any of the Krewes, except maybe 20th Century, which has 100 years of things to pick from. A lot happened … from learning how to drive to learning how to go to the moon."
Designs are a close-held secret, with plans revealed to other Springtime members only as the floats come together during nightly sessions at the float barn.
"All the floats are wonderful, and they've all stepped up their game," said Steve Lastowski, who has served as float chairman and chief of the War and Reconstruction Krewe and is the current president of Springtime Tallahassee. "The competition for bragging rights is fierce. We've definitely won our fair share. We do have some contractors in our krewe and it certainly helps."
Parties are good for mixing and mingling, but relationships are built along with the floats.
"Building the float is a fun time and it really is the best time to really get to know other krewe members … and for new members to get to know us," Lastowski said. "You get down there and you sweat and you build and you have a good time. It's a lot of camaraderie and a great bonding experience."
Asked whether being a contractor makes him a popular guy, Lacayo replied, "I wouldn't call it popular, but I enjoy more friendships during float-building time. I get asked a lot of questions." It's what he calls "the fun part"of Springtime: "When you get down there and we're all five krewes and the Andrew Jackson staff and the Belles and Gents are in this one cramped-up space building to compete with each other for the winning prize."
The Springtime "weekend" actually begins with a Thursday night "Float Gloat," when out-of-town guests, krewe members and VIPs are invited to the barn to ooh and aah over the finished products before they're hauled down Monroe Street on parade day.
The float gloat, Friday night's Music Festival on Kleman Plaza, parade and jubilee are all planned and executed by the tiny staff and a 300-strong force of Springtime Tallahassee volunteers.
When all is over, members look forward to the "Crash Party" (this year preempted by a special black-tie gala to celebrate Springtime Tallahassee's 50th anniversary) where the winning float is announced and the krewes can kick back, relax and pat themselves on the back for a job well done … until it's time to start planning for Springtime
Tallahassee 2019.
Springtime Tallahassee's krewe members come from a wide variety of occupations.
Here's the Top 10:
Business Owner/Self Employed
Real Estate/Broker
Attorney
Contractor
Teacher
Registered Nurse
Insurance
Sales
Financial Professional
Physical Therapist