'King' of the Capital
Loic the cat scratches past Roxy the dog in a Tally Top Pet battle for our magazine cover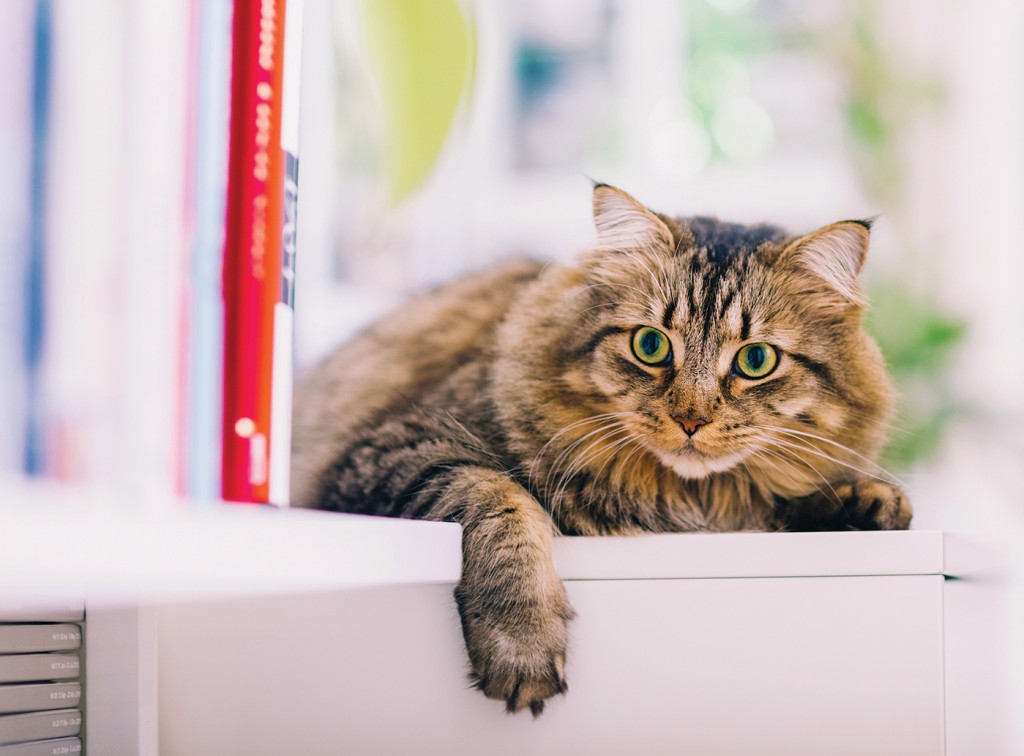 When they met him, fell in love with him and rescued him about two years ago, his shelter-given name was Wasabi.
"We immediately changed it," Kelly Honhart said.
They changed it to Loic, a French boy's name.
They also lovingly call him royalty, or royauté, perhaps especially now that Loic graces our cover as the winner of Tallahassee Magazine's 2020 Tally Top Pet contest. In doing so, he follows his owners. Honhart and her husband, Bryan, made our magazine's January/February 2015 cover, which featured Valentine's Day and explored how the couple met — long before they owned a celebrity cat.
"That cat is the king of the castle," said Kelly Honhart, referring to Loic's standing in a house of four cats. "He's the king."
You bet he is.
Loic, a 2-year-old pixie-bob with a furry nub tail, clawed his way to the top of a dog-heavy contest that benefitted Be The Solution, a nonprofit organization that provides vouchers for reduced-cost spaying and neutering in an effort to decrease homeless pet populations and animal suffering.
Online voters determined the results of a bracket-style contest that we conducted in the spirit of the NCAA men's and women's basketball tournaments. North Florida Animal Hospital served as contest sponsor, and it remains Be The Solution's top partner as a provider of low-cost spaying and neutering services.
Loic was among three cats that prevented our Final 16 from being purely Mutt Madness, and he was the only feline in our Final Fur.
In a final head-to-head battle in March, online voters chose Loic over Roxy, a bulldog mix who sports an underbite and unruly ears and, as of early April, remained remained in the Wakulla County Animal Shelter. So our ultimate matchup spotlighted one rescue pet and one pet who awaited rescue.
Ivanhoe Carroll, Wakulla County's director of animal services, said she entered Roxy in the contest in an attempt to draw attention to the dog's plight and to get her adopted.
A family found Roxy, previously known as Roxie, in the Apalachicola National Forest in late 2018 and brought her to the Crawfordville shelter, Carroll said. After about four months, a woman adopted Roxy but returned her last July, meaning that the dog has spent at least a quarter of her estimated life of four years in a shelter.
Carroll said she aimed to make Roxy "the ambassador for all the pets like her who are sitting in shelters all over the world."
Kelly and Bryan Honhart said Loic — or Wasabi — had been left at the Tallahassee Animal Shelter as a kitten about a half hour before their visit. They said they immediately fell in love with him.
To his human parents, who own Black & Hue Photography, Loic literally would become a model cat. And picture this: He carries around a Chinese jump rope in his mouth, performs an animated ritual of sorts to get a treat, lets 8-year-old Saylor hold him like a doll and follows the three family members all over the house. He even plays fetch with a hair tie.
"We never had a cat that played fetch before, and now he does all of that," Kelly Honhart said. "He's crazy."
He's king of the house because he's bigger and tends to play rough with the other cats. When a visitor comes inside, though, he doesn't rule. He runs, at least at first.
Yet while Kelly held him, Loic allowed a stranger/reporter to rub his belly and to experience his fluffiness. Loic calmly but cautiously looked at the reporter as if to say, "Dude, you're killing me here."
"Since his affection has to be earned, it means more to me," Bryan said. "That's part of what makes me love him so much."
He certainly gets special attention.
"I give him what I call 'butt cuts,'" Kelly said. "Sometimes his nub gets a little weird-looking, so I reshape it."
Kelly said in March, during the Final Two voting, that she sometimes found herself hesitating as she helped lead the cheers for Loic. Given the potential home-giving power of a magazine cover, which Tallahassee Magazine pledged to the winner, the couple said they simultaneously held a place in their hearts for Roxy.
The Wakulla County Animal Shelter has news for them — and all of us.
If Roxy doesn't soon get adopted, Carroll said, she now has a lifeline. A Central Florida facility plans to take her as part of a life-skills program that pairs at-risk dogs and institutionalized men.
"So she's going to be OK," Carroll said.