Kim Barnhill Looks Out for the Health of All Floridians
A Passion For Helping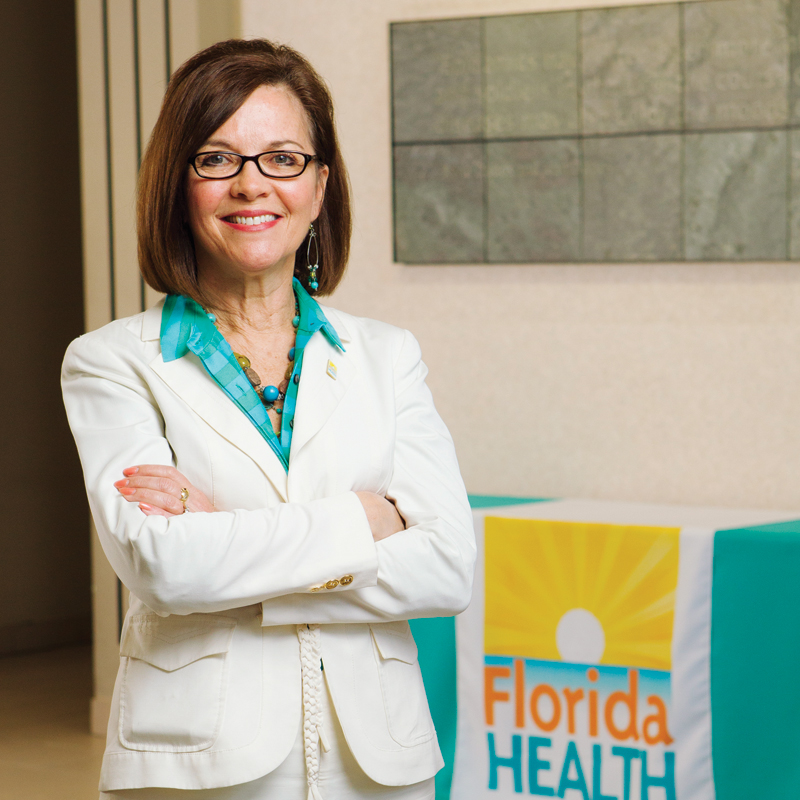 Rarely does someone go from high school straight into a public health career, muses Kim Barnhill, chief of staff for Dr. John Armstrong, state surgeon general and secretary of the Florida Department of Health (FDOH). More typically, she says, what happens is one falls into the job and it becomes a lifelong passion.
Barnhill speaks from experience. A veteran public health official who started as a dental hygienist, Barnhill's commitment to public health remains undiminished after 20 years. Indeed, she is a veritable human dynamo, always on the go and in pursuit of ways to improve the scope and delivery of public health services. Words colleagues commonly use to describe Barnhill are resourceful, effective, dynamic, action oriented and passion driven.
Which explains the University of South Florida (USF) College of Public Health naming Barnhill as Florida Outstanding Woman in Public Health for 2012, an honor reserved for those who perform exceptionally in the field of public health.
In presenting the award, the college cited Barnhill's many notable achievements. These included raising the level and quality of health services provided to rural residents of Jefferson and Madison counties; participating in emergency relief efforts in hurricane and oil-devastated areas of the state; playing key roles in state and national public health boards — including one dealing with a White House initiative to curb the spread of swine flu pandemic; and helping formulate a volunteer healthcare-provider program in the 1990s that today offers more than $1 billion in donated healthcare services to Floridians who otherwise would go without treatment.
More recently, Kids Incorporated of the Big Bend honored Barnhill as a Champion for Children at its 40th anniversary celebration. In announcing the award, Executive Director Pam Davis praised Barnhill for bold leadership and significant contributions to Florida families and children.
"Kim sees a need and finds a solution," Davis said. "That's the test of a true champion."
Barnhill exhibits that same champion's attitude as FDOH's chief of staff, a position she assumed in July 2012 after serving 10 years as public health officer for Jefferson and Madison counties. Her responsibility is oversight of the Office of Performance Improvement, Legislative Affairs and Communications.
"These three programs cover the entire agency, in terms of how we're communicating our messages and getting the word out," says Barnhill, a cum laude Florida State University graduate with a bachelor's degree in health education and dual masters' degrees in adult education and public health.
She notes that the department's integrated structure — consisting of 67 county health departments under a central state office — allows for uniform and coordinated responses. Thus, in the event of a public health crisis, the department is able to draw resources from across the state and concentrate its efforts on the affected area. That's an advantage over most other states' health departments, which are largely decentralized, Barnhill says.
"There was a threat in the 2011 Florida Legislature to decentralize our county health departments so that they would report to the different county commissions," she says. "But we were fortunate to ward that off."
She cites among the FDOH's recent challenges a fungal meningitis outbreak caused by contaminated steroid injections, a suspected cancer cluster in South Florida and a tuberculosis outbreak in Duval County. The department's responses ranged accordingly, from counseling and monitoring the 1,055 Floridians who received tainted injections, to testing the water quality of the river suspected of causing the cancers, to finding hospital beds for the tuberculosis patients.
Another recent major challenge involved the reorganization of the department, which included closing one of only four hospitals in the country that specialized in the treatment of difficult tuberculosis cases.
"We were directed by the Legislature to close the AG Holly State Hospital," Barnhill says. "We had to design a new system of care for tuberculosis patients, and after 62 years of relying on that hospital for quality care for those especially drug-resistant and multidrug-resistant TB patients, it was a big change."
Have budget cuts and other state-imposed austerity measures hampered the department's ability to provide services?
Absolutely not, Barnhill says.
"As public health professionals, we're going to protect the health and safety of Floridians at all costs," she says. "We've got public health professionals who are going to make the health and safety of Floridians their priority no matter how many hours it takes to get the job done. But I think that in terms of health care nationwide, there's a new level of accountability. And I think because we're being held more accountable, we're looking to be as efficient as we can possibly be."
Lamentably, what happens on the front lines of public health oftentimes goes unnoticed, Barnhill says.
"I often use the analogy of housework, in that it goes unrecognized until it's not done," she says. "It's like me spending a day cleaning house. My kids don't come home and say, 'Hey, Mom made the beds, cleaned the toilets and vacuumed the floor'. They wait until I'm out of town on business and the situation starts to deteriorate. Then they say, 'Dad, when's Mom coming home?' Just like people don't wake up every day with clean air, food and water and say, 'Gee, those public health people are doing a great job.' They wait until there's an outbreak or hurricane and say, 'Where are those public health people?'"
"… in terms of health care nationwide, there's a new level of accountability. And I think because we're being held more accountable, we're looking to be as efficient as we can possibly be." — Kim Barnhill
For her, it was a difficult decision leaving her former job as county health officer, Barnhill says.
"You ask any of my colleagues in the county health offices, and they will tell you it's the greatest job in the world," Barnhill says.
The reason, she explains, is that at the county level, one is able to implement programs and projects that improve people's lives and to see the results.
"Sometimes, when you're in the state health office, it's hard to make that connection," she says.
Even so, she believes she made the right decision.
"I like to think I had an impact at the county level," Barnhill says. "And I like to think that my time here is also going to make a difference, because in public health, that's what you want to do — help people."
She also is learning to appreciate the department's greater role and reach.
"We've got a wide array of programs that don't relate to county health departments, which were the focus of my first 20 years in public health," Barnhill says. "So I'm learning a lot, and it's been an interesting ride."
What's more, with 17,000 employees in the department, something's always happening.
"It keeps me on my toes," Barnhill says. "I work a lot of hours, but I love what I do."
Does she see herself slowing down in the future?
Barnhill smiles. She relates how a few years back, her husband sat her down one day and told her she needed to slow down and go easier on herself and their three kids.
"Your motor never stops," Barnhill says John told her.
"But I can't stop," she says. "I like trying to determine what the needs are and then trying to meet them. That's what I live for."