Kids with Limitations Enjoy Limitless Summertime Fun at Rotary Youth Camp
Happy Campers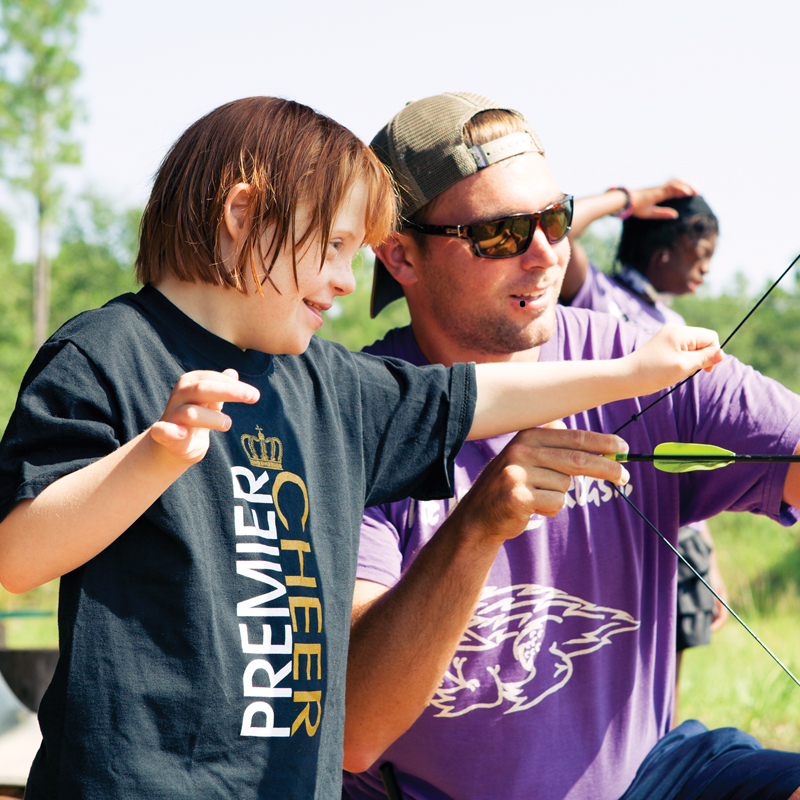 Being confined to a wheelchair doesn't mean you have to give up scuba diving, or boating, or fishing or horseback riding. With the right helping hands and the right facility, kids and young adults with physical or developmental limitations can leave their cares behind and enjoy summer camp.
Every year in July, the Rotary Youth Camp, a nonprofit organization based in Tallahassee, hosts a set of three week-long summer camps at Wallwood Boy Scout Reservation, a 600-acre facility located in Quincy on the shores of Lake Talquin. The camp accepts young people from ages 7 to 21 with limitations that would preclude them from attending a summer camp, and each camper has his or her own counselor to watch over them.
It's a big challenge, but one that coordinator Joyce Dove relishes. And after 20 years of running the summer camp, her volunteers and staff have it down to a science.
"The kids go to camp for seven days and six nights. Their parents or guardians leave them with us for the whole period," Dove said. "They have a one-to-one counselor relationship and are never left by themselves. In addition, we have a full-time nurse, a supervisor, and then we have specialists in areas like arts and crafts and at the pool, where we have lifeguards."
Camp Wallwood is the perfect place for the camp, Dove said. It's a major expense to rent the facility, but it's well worth the money because the site is ADA-compliant and certified by the Camper's Association. Even so, some extra things have been added to the infrastructure, such as additional wheelchair ramps.
"We're able to give the full camping experience," she said. "They swim, they fish, they go out on boats, they have arts and crafts, horseback riding, rifle and archery range, and even scuba lessons."
Diving under the water may not be a normal activity for many of these kids, but it can actually be quite a liberating experience for someone who spends most of his or her time in a wheelchair, Dove said. A scuba mask and air supply alleviates any fears they might have. A feeding tube would be about the only limiting factor here, but generally speaking, the camp features a lot of devices and extraordinary helpers who will figure out how each kid can enjoy every activity.
"For example, they love fishing and riding around a lake in a boat. It's not something their parents would probably attempt with them," Dove said. "For most parents with a child who is disabled, it's too much. But for us, since we're dealing with disabled children all the time, it's a matter of course. If they want to go, they'll go. I think there's a feeling with most of these activities of freedom for the kids. They're being treated like everybody else."
Activities aren't limited to outdoor fun. In the evening, there are song contests and a dance. And for the young adult campers, a special program allows them to become "counselors in training."
"So rather than just be purely campers, they become part of our infrastructure, and Rotary funded us for a couple of years and now we're hoping to get a grant this year where this could be a formal program," Dove said.
Dove said she is ever thankful for the contributions Rotary Club has made over the years to keep the camp going. It's an expensive undertaking; it costs $1,500 per camper to come. (It's free for the parents.)
"We shoot for 120 campers but not all at one time," Dove said. "In the last few years, we've been able to fund three weeks of approximately 40 each week. We raise the rest of the money through donations and we write grants. Rotary International has a grant program that has been very generous to us over the past few years."
The North Florida Rotary district runs from Pensacola east to Lake City down to Levy County and has 57 member organizations. Twenty-four have made generous donations to the youth camp program. Of these, the Rotary Club of Quincy and the Rotary Club of Tallahassee Northside are two of the biggest contributors. Even the clubs that aren't able to contribute as much in terms of money can still help out a great deal. Every night, a different Rotary club puts on the camp dinner, and it's a way for them to see the good works being done and motivates them to raise the bar for next year.
---
For more information, or to register your child for the summer camp, go to nfryc.org or call (850) 328-0302.