Kettlebell Workout
Kettlebells don't ring, but they can help swing your way to fitness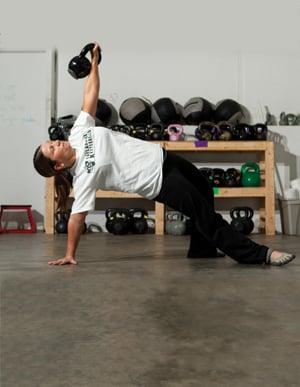 The name sounds funny, and these workout tools' appearance — think of a cannonball with handles — is definitely not run of the mill. But workouts with the traditional Russian cast-iron weights known as kettlebells can offer serious health and fitness benefits.
Kettlebells, which come in a variety of weights, can be swung, held, lifted, tossed and curled in numerous ways. Enthusiasts claim they provide strength, cardio and balance benefits that can replace a gym's worth of equipment.
For a quick introduction, check out the kettleball tutorials on YouTube. Instructors such as Rasul Davis demonstrate how they can be used much like a traditional dumbbell or barbell, as well as for odder exercises such as passing them through one's legs in a figure-eight pattern. While most men and women are encouraged to start with kettlebells of between 10 and 25 pounds, they can weigh as little as 3 pounds and top out at supersizes of more than 200 pounds.
Fitness instructor Laurel Blackburn (shown in this picture) introduced the kettlebell phenomenon to Tallahassee as part of her Boot Camps To Go exercise classes and now offers classes specifically
dedicated to workouts with the weights (tallahasseekettlebells.com). She suggests that those considering starting kettlebell workouts get proper training to use them from a certified instructor to maximize results and minimize injury.
Meghan Lisson of Tallahassee says she has gotten "phenomenal" results using kettlebells during workouts with Blackburn and at home.
"Since I have been working with kettlebells, my lower back pain caused by a car accident several years ago is completely gone," Lisson says.