Kenny Maguire Harnesses The Power of Public Art
Muralist provides new twist to Alice in Wonderland imagery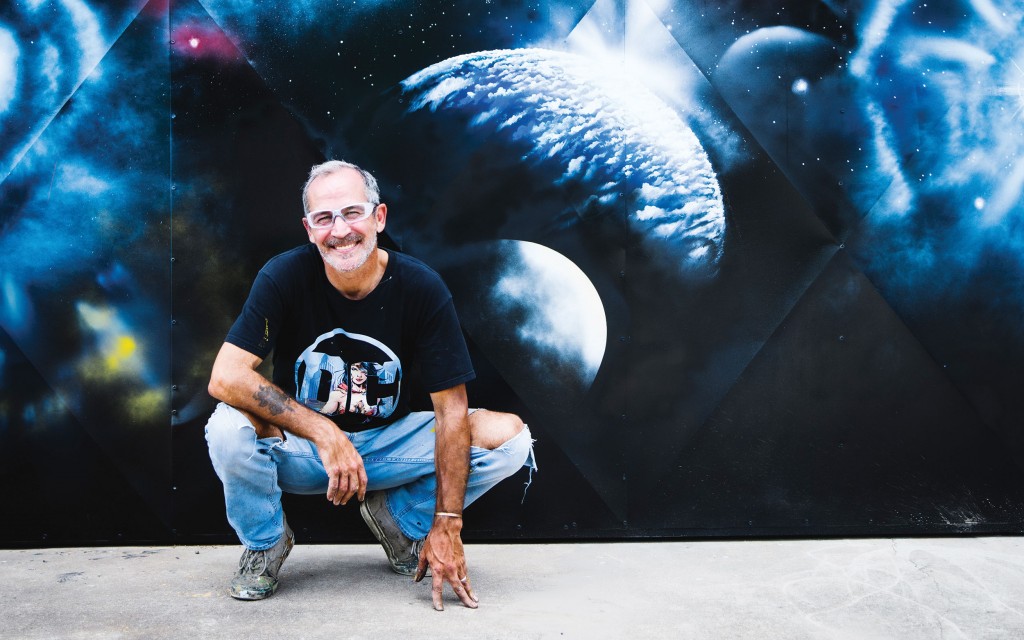 It doesn't matter if a wall is bumpy, cluttered with electrical boxes and conduit or located under a bridge. To Kenny Maguire, even a humble structure can be a grand setting for a work of art.
Since he painted his first mural at age 9, Maguire has spent much of his artistic career transforming ordinary spaces into extraordinary scenes. He's brightened communities with murals of manatees, moonscapes, lush landscapes and even whimsical retro robots.
While Maguire has also created lovely charcoal portraits on canvas, carved a veteran's monument and drew a comic strip at age 13, he has a fondness for murals and the value they bring to a store or neighborhood.
"It's showing people 'Here's where we are and look how fun it is,' " said Maguire, who sees social media as a factor behind the explosive popularity of the art form. "It's an identifier for a city."
There are challenges, of course.
"When you paint on canvas, the viewer is drawn into that world. The outside world doesn't matter," Maguire said. "A mural is different. You have to consider the environment the mural is in. If you can break the fourth wall and tie in the elements of the world around it, all the better."
The fourth wall, Maguire said, is the reality outside the mural.
Some artists might be hesitant to create a work of art on a space with wires or air conditioners marring the surface, but not this 51-year-old muralist.
"If there are trees next to the wall, I can paint a branch to make it look like the tree is part of my work. You can make electrical wires and boxes part of the piece."
"With a mural, you have to consider the environment and surface," added Maguire, standing by one of his most recent works in the Railroad Square Art District. "This one is on a corrugated wall. But that's part of the fun."
"This one" happens to be his tribute to Lewis Carroll's beloved and fantastical tale, Alice in Wonderland. The mural is painted on the wall — about 18 feet high and 150 feet long — outside the Breezeway Market in Railroad Square, near the intersection of McDonnell and Industrial drives.
"It started with her," said Maguire, pointing to the portrayal of Alice, modeled after an African American friend. "I just drew this image of her blowing a kiss. I wanted to put it on a wall somewhere. I looked for three years for a wall to put this on. It wasn't really even Alice. It was just her."
The greater context came when Adam Boynton Kaye, chief financial officer and co-owner of the Railroad Square Arts District, approached him with the idea of doing a mural in the complex.
"He was showing his work at one of the galleries at Railroad Square," said Kaye. "I was looking for an artist to collaborate with, and my girlfriend, who has a really keen design eye, said his work would be well suited to create a cool arts, mural vibe."
And it is.
"His 'Alice and Wonderland' has moved so many people," said Kaye. "I love the social impact and the aesthetics, his imagination and creativity."
When Maguire started working on the wall, he returned to the image of his friend.
"I painted her with an urban background and some buildings and a cityscape background, and then I said, 'You know what, that's not doing it,' " said Maguire. "I went back and erased it, and then I thought: 'Alice in Wonderland.' And the fact she is African American made it even better.
"I thought I would take the opportunity to put something about black history in there. I put some Easter eggs that all pertain to black history. I want people to discover them for themselves."
One example: A piece of paper poking out of the Mad Hatter's chapeau states 16/19. If you haven't guessed, the date marks the arrival of captive African people in Virginia, considered the event that set the course for U.S. slavery.
"I thought what an opportunity it would be to do a mural about inclusivity, too," said Maguire, who painted the mural in February, during Black History Month. An article he remembered about the 150th anniversary of Alice in Wonderland sparked his idea for that theme.
Maguire's life as a muralist started when he a boy living in Youngstown, Ohio.
"My grandfather knew a restaurant owner down the street who needed something on the side of his building. He told him 'my grandson can paint.' "
Maguire was paid $150 in 1977 and stood on a tall ladder to tackle the 15-foot-high space to enhance a building called The Lodge, "an Americana restaurant."
For the young artist, it was just an extension of his love for painting and drawing.
"It wasn't like 'what do you want to be when you're grown up,' " said Maguire. "This is what I am. This is what I've always been. My mom tells stories about putting me in front of the television with my sketch pad."
He'd stay there all day, drawing "everything," but he especially liked birds. "I still do. I have six chickens."
His family moved a lot early in his youth before settling in Youngstown, Ohio. "My dad was a mill worker in Youngstown, and then all the mills closed," he said. "It hit the city hard."
Maguire's family then moved to North Dakota for five years. While there, at age 13, he drew a single panel comic strip for the Hebron Herald newspaper and also painted a mural in the town.
Though he was self-taught, Maguire did gain more formal artistic education by attending Kent State University, majoring in fine arts with an art history minor.
He wound up moving to Florida in 2008 and painted in Key West, Miami and Hobe Sound, as well as other parts of the country. He met his wife, Kelly, an attorney, in Fort Pierce in 2012. In 2019, the couple moved to Tallahassee after Kelly got a job here.
"To be honest, I was reluctant," said Maguire. "I didn't really want to move to Tallahassee. I knew nothing about Tallahassee. But I love it here. I couldn't be happier."
Not long after Maguire and his wife arrived in the capital city, the pandemic hit.
"It was hard financially," Maguire said. "I couldn't travel, and traveling to paint murals is what I do."
One thing he did was create portraits of first-line employees. "Covid workers in New York City would send me selfies, and I'd send them back a portrait."
His work is included as part of an online gallery called "Hall of Heroes."
"Artists, musicians, entertainers — the role in society of those people is to make others happy," Maguire said. "That's what the role of art and entertainment is at the end of the day. It's our escape, it's our happiness. It's our sense of wonder, and that's our job to contribute to that. I think that's very important — more so than anything else."
One of Maguire's latest murals was for another cause he embraces: the welfare of manatees. He painted the graceful giants on the seawall at the Manatee Observation & Education Center in Fort Pierce, a project that was funded through a community effort.
"We love it," said Rachel Tennant, manager of the observation center. "This mural is bringing people to the Manatee Center just to see the mural — and we're not even open yet (the center was temporarily closed when the pandemic hit). It's beautiful."
In Tallahassee, Maguire painted a mural of a kraken, a mythical sea monster, inside the Railroad Square Craft House and also showcased paintings inside the restaurant and bar.
He painted a mural on the exterior of a child care center on Call Street, a wall at Orion Motorsports on South Monroe and a scene on Franklin Boulevard in Cascades Grove. He's working on a colorful painting on the outside fence framing the patio at RedEye Coffee on Capital Circle.
Another mural is located in the Railroad Village property, which is owned by Adam Kaye.
Maguire painted a mural in the Village that combines "cute robots fumbling around the logo" with Easter eggs that refer to the history of the property, like the 1957 blaze that destroyed a turpentine still that Kaye's family had owned since the 1920s.
Maguire said what he loves most about art is the process, the act of creation. "When I'm done with a painting, I get depressed. I have to move on to something else."
He's already moving on to at least one more mural in Railroad Square, this one an interactive creation on the exterior of The Other Side Vintage shop.
Maguire likes to add depth to his creations, which has made his "Alice in Wonderland" mural even more provocative.
"The message is it's time for things to be different," said Maguire. "It adds a little more gravity to the piece. Should one choose to look deeper, there's more to see."