Keeping The Memory of Earl Paul Baum Alive
Family honors the life and service of a sailor killed at Pearl Harbor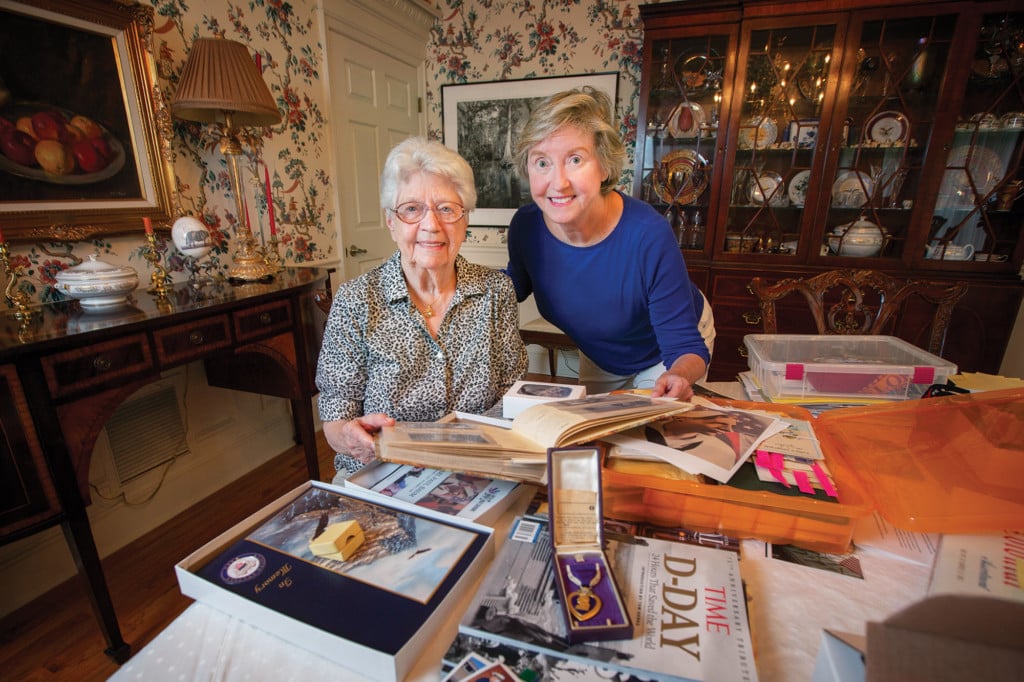 His family members, including those in Tallahassee, can tell you every detail, regaling listeners with colorful stories of the short life of Earl Paul Baum.
As the oldest of five, he grew up with three sisters and a brother in a close-knit Chicago neighborhood near Wrigley Field.
At 17, he joined the Navy and shipped off halfway around the world to serve on the USS Oklahoma, based in Pearl Harbor. His family would never see him again.
Baum died as a seaman first class among 429 crewmembers on Dec. 7, 1941, when Japan's attack drew the U.S. into World War II.
In March, almost 78 years later, Baum found a final resting place in Tallahassee, the culmination of an extraordinary story in which his remains were identified only last year.
That happened through DNA tests involving his three sisters, including his youngest, Tallahassee resident Emily Golz, 92. The two other sisters are May Gresh, a Pinellas County resident, and the late Gloria Yauch. His brother, Alver, died years ago in a car accident.
"A part of the family died when he died," niece April Bruckmann, 60, daughter of Gresh, said of Earl Baum.
Baum's family continues to do all it can to keep his memory alive. That might not seem difficult, since families of servicemen killed in Pearl Harbor tell you that the day became seared in their memories for generations.
Yet Baum's family has continuously and proactively found ways to remember and honor him.
Niece Sandy DeLopez, a Tallahassee resident and the daughter of Emily Golz, remembers visiting aunts, uncles and cousins during the summers of her childhood. Those recollections and memories included family and war stories from the men.
"It was an ongoing litany always including stories of Earl," DeLopez said.
One story involved her father and uncle Alver, who landed in jail after some boys had picked a fight. The two didn't call their parents. They called Earl, a teenager at the time, whom they knew would be able to soothe the adults enough to get the two boys out of jail.
A niece, Audrey Nicpon, Alver's oldest daughter, who still lives in the Chicago area, repeats such stories about the young Earl. She picked up the tales at family gatherings, she said, because her father could never talk about the older brother he idolized.
"Earl was always playing jokes," she said. "He was active, funny, the family prankster leading everyone on wild adventures.
"That is where every Earl story would start. If anyone did something that was a 'bonehead' move but it still turned out OK, they would say, 'You must be related to Earl.' "
As Baum's family grew through the generations, family members found ways to jointly and uniquely honor him as a sailor and to cherish his memory as an uncle, cousin or brother.
On Memorial Day or Pearl Harbor Day, the families would plant flags at local cemeteries. During the Tallahassee funeral service in March, David and Laura Golz dressed their 3-year-old daughter and 1-year-old son in sailor suits with white-trimmed anchors — a salute to their great-great uncle's naval service.
Allen Baum, Alver's son, named his children after his uncle Earl Paul Baum. Now, Earl Brian Baum and James Paul Baum carry on the family name.
Family members even have honored him with defiance. Nephew Aaron Baum, 53, a machinist mate first class petty officer at the time, recalls a moment in the mid-1980s when he was aboard the USS Kansas City.
As Baum explains it, he was manning the rails and rendering honors as his ship passed the memorial of the USS Arizona in Pearl Harbor.
"I was caught facing the wrong direction," he recalled. "A chief started correcting me, telling me that 'the Arizona's over there!' I replied by pointing to Oklahoma's mooring block, saying, 'Yeah Chief, but my uncle died over there.' I then straightened out, and no further corrective action was required … and nothing else was said."
Three years after the attack on Pearl Harbor, the USS Oklahoma was raised from its watery grave. Skeletal remains of the crew could not be identified at the time, so they were buried in a common grave at the National Memorial Cemetery of the Pacific, informally known as Punchbowl cemetery.
Many of the families visited the site over the years. Niece Sandy DeLopez did so with her husband, Dr. Tom DeLopez, in 1987. Tom still remembers the words on one of the plaques, which struck a powerful and personal chord with the family.
In these gardens are recorded
The names of Americans
Who gave their lives
In the service of their country
And whose earthly resting place
Is known only to God
Sandy's mom, Emily Golz, was just 12 years old when her older brother left home. Decades later, she would take charge in getting his remains identified and would spearhead efforts to bring him home.
As part of a "Keeping the Promise" mission, the Defense Department in 2012 reached out to families of unidentified service members to gather DNA, and three years later, officials once again exhumed the remains of Baum and his shipmates.
Using DNA from Baum's sisters, scientists used mitochondrial DNA analysis to identify his remains — ending 77 years of searching and wondering for the family.
The family chose Tallahassee as a final resting place for Baum because Golz, his youngest sister, lives here, as does DeLopez, his niece.
In March, with full military respect and honors, Baum's remains were placed at Tallahassee National Cemetery.
Almost 30 members of his extended family came from various states to honor him during the service.
"He was so family oriented, the family clown," Golz remembered during a family dinner the night before the burial service. "He would want to be sitting at the family table gathered for his funeral."
With a wink and knowing eye of someone in her ninth decade, she said, "maybe he is."
Nephew Raymond Yauch expressed gratefulness that his aunt fought for closure.
With two sons now serving in the military, Yauch says he finds special motivation in keeping his uncle's story alive.
"I never knew him, but I felt I did," he said. "These brave souls deserve all the recognition we can give them. Don't forget their stories."