KCCI: The Catalysts of Cascades Park
Reinventing One of Tallahassee's Historic Landmarks Was No Walk in the Park. But Then, Maybe It Was.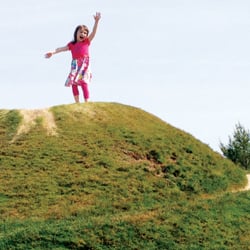 Photo Courtesy Knight Creative Communities Institute
A play station similar to what will appear when construction is complete, shown: the Grass Dune.
Out of the public eye for more than 20 years, Cascades Park has left a colorful mark since the earliest days of Tallahassee's history. Back in 1821, the new territorial government was looking to pick a spot for a capital city between the two largest cities on the east and west, Pensacola and St. Augustine. Upon seeing a beautiful waterfall in the middle of the two locations — at what is now Cascades Park — Territorial Governor William Duval's commissioners from each city chose a hill nearby as the location of the capital. Since that time families have enjoyed the park, catching baseball games for half a century at the location's once-vibrant Centennial Field. Yet the fairytale came to an end when decades of coal-tar contamination closed the historic site.
After years of neglect, Blueprint 2000 resumed efforts in November 2009 with a $40 million project to remediate the site. The project was partially funded by a one-cent sales tax extended by Leon County voters in the fall of 2000. The purpose of the tax was to take on critical community projects such as storm water and flood control, green space acquisition and parks and recreation improvements. It's no surprise then that Cascades serves a dual function — a park, yes, but one that also is cleverly used as a stormwater facility. The park will be able to hold 32 million gallons of water.
Funding for the more user-friendly features of the 24-acre park has been donated by local entities. Capital Health Plan donated $660,000 to create walking and biking trails, Mainline Information Systems pledged $200,000 for an elaborate fountain to reinterpret the once-magnificent waterfall and Pittman Law Group offered $100,000 for the construction of the Smokey Hollow, a plaza honoring a black community that existed in the area until the 1950s. Other notable features are an amphitheatre and garden.
With so many projects aimed at enlivening Tallahassee's historic downtown, plans for the environmental remediation and rejuvenation of the area begged for the community's input.
Enter Cultivate Cascades
Each year, community members are invited to apply for positions in the Knight Creative Community Institute (KCCI), founded in 2009 with a five-year grant from the John S. and James L. Knight Foundation. The volunteer organization pioneers service projects to improve the quality of life in Tallahassee. In the past, KCCI groups have launched projects such as the Tallahassee Film Festival, Midtown improvements and Get Gaines Going.
With 16 volunteer members, Cultivate Cascades is one of three service groups comprising the 30-member KCCI group for 2011–12. The other two are Gateway Tallahassee, responsible for transforming North Monroe Street into a welcoming corridor to the city, and Tallahassee on Two Wheels, tasked with making Tallahassee a more bike-friendly city.
The local leaders in Cultivate Cascades, called "community catalysts," are the fuel of the projects — the makers behind the madness. The name, they say, is particularly suited to their role.
"We want our work to become a catalyst — to start the movement for creative solutions to further the quality of life and bring new jobs to Tallahassee," says Betsy Couch, co-chair of Cultivate Cascades.
So, the group made it a yearlong passion to make Cascades Park user-friendly. A survey asked people in the community what they thought the amphitheatre — one of the major features of the park — should be used for. Among the 1,605 completed surveys, the No. 1 request was for a concert venue followed by art festival, cultural festival and theater performance.
"Because of the survey, we're confident the park will reach the entire community in a way both young and old will enjoy," says Couch, whose group examined world-renowned parks for ideas.
Plans for proactive programming will ensure constant activity in what is hoped will become a downtown hotspot. The amphitheatre, for example, won't just be used for concerts — park-goers can expect multiple community uses and a renaissance of Shakespeare in the Park.
"Our goals for this project were four things: to help communicate to people the best utilization of the park resources, marketing, programming and advocating," Couch says.
Besides offering a dynamic attraction to Tallahassee, KCCI is hoping a side benefit will be to draw more business to the area by attracting young people to stay in Tallahassee for jobs.
"One of our main goals is to attract and retain young professionals and develop a more adaptable workforce in Tallahassee," says Berneice Cox, co-chair of the Cultivate Cascades group.
For the past months of the park's remediation, Tallahassee Director of Parks and Recreation Dee Crumpler met with Cultivate Cascades and Blueprint 2000 to work through proposals and issues.
"Anytime we can have a public-private partnership is a win-win for the community, who will hopefully use the park for the next 100 years," Crumpler says. "The park was initially a stormwater facility disguised as a park, so it was going to be a passive park, but then not only the city but also KCCI realized its potential. We worked on proposals and came to a consensus on what is going to be a center of the community of Tallahassee and our premier park."
While working on the project, Cultivate Cascades also found a hole in the original plan — there was nothing planned in the park for children. Group members began planning a kid-friendly play area — and raised more than $100,000 to do it. The resulting "Discovery and Adventure Garden" is a nontraditional play area that will encourage children's healthy development and imaginative play in natural surroundings.
"This is not a playground — instead of monkey bars, for example, there are logs. A child will have to actively think about their surroundings during interaction," Couch says. "They will be encouraged to investigate and interact with their natural surroundings."
Catalyst Julz Graham said working to bring the people to the park planning process was rewarding, especially when the KCCI group was met with support from the government and community.
"Working with a community service group, you're surprised how much people actually listen to you," Graham says. "This group has shown me that you really can make a difference, no matter who you are."
Cultivate Cascades' involvement with Cascades Park won't necessarily stop after the park opens in the spring of 2013, however. The group has expressed hopes of continuing on as an advisory board after its tenure as catalyst is complete.
"The time frame for the KCCI project was allotted for one year — from October to October — but we've come to find the passion doesn't stop after one year," Couch says.