Kat's Out of the Bag
Hall's reggae sound is positively charged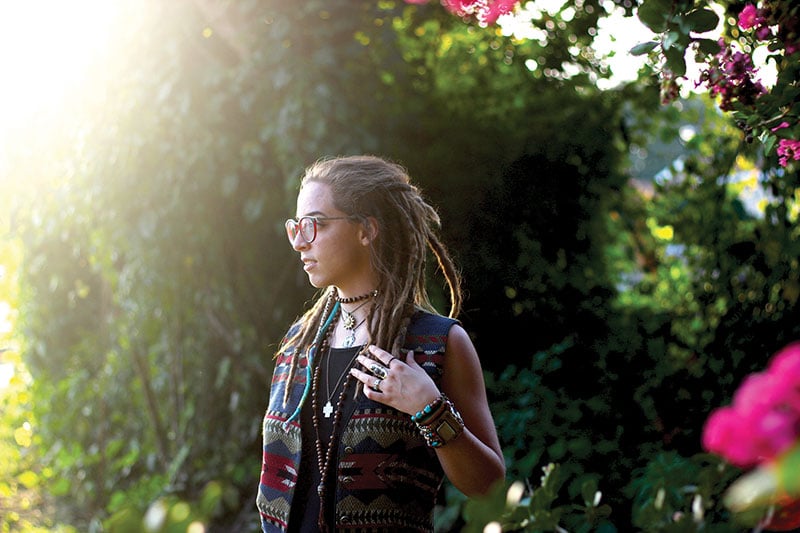 When Hall isn't studying for her business degree at Florida State University, she is passionately pursuing music. She embodies all that her music is, from her dreadlocked hair to her bright, bold wardrobe. She's cool.
Hall hails from Fleming Island, a suburb of Jacksonville, where her interest in music was nurtured by her older brother and sister, who introduced her to the music they listened to: reggae.
She took a chorus class, which introduced her to vocal technique, joined an after-school jazz group and sang in an a cappella group called Desperate Measures. Her love for performing surged in high school, when she joined her sister's reggae band singing back-up vocals.
Niche found, Hall sought out funk in Tallahassee. In September of 2016, Just Chameleons was formed. Hall sang with a guitarist, bassist and keyboardist and later also with a saxophonist, trombonist and drummer. Three of the members are jazz students at FSU. They have performed locally at Proof Brewing Co., The Side Bar, Gordo's, The Junction at Monroe, Backwoods Bistro and other music sites, gaining a local following that contributed to their winning of a contest that landed them a spot at Okeechobee Music & Arts Festival.
To date, Hall credits Okeechobee Fest as the performance where her voice and personal message were most clearly heard.
"My mission is to spread a message of positivity and love," Hall said. "I want my music to change the world and inspire people to cause change in their own community. When people hear my music, I want their body to physically move and dance. I want people to leave my concerts feeling uplifted and ready to make a difference."
Hall frequents much of Florida, with Jacksonville and St. Augustine being favorites, sharing her message and talent.  She has a devoted fan base and enjoys success both as a member of Just Chameleons and as a solo artist.
Currently, she is working with three producers recording solo music. Her first single, "Up Down," was recently released and is available on Spotify, with a music video soon to come. It's a song to sway to, one that showcases the range of her voice and is a nod to the styles of some of her influences: Amy Winehouse and Lauryn Hill.
"At Florida State, our friends always spread the word about our shows and bring new people with them that become fans," Hall said. "There have been so many nice business owners that have allowed us to become connected in the music scene here. Also, the musicians here truly help each other out in finding new gigs and spreading the word about talent."
Over the next two years, Kat Hall will obtain a degree in entrepreneurship while infusing Tallahassee's music scene with her unique sound and songwriting skills. Her hope is to go on tour and to share her positive message through music internationally.
---
Just Chameleons
The members are Kat Hall, Ian Gray, Nick Avalos, Steven Goralnick and Chris Milenkovic. The Tallahassee band performs reggae, jazz, funk and soul, driven by a desire to infuse audiences with positivity. Hall also is doing solo music. Her first single was "Up Down," soon to be followed by "Backpaack."