Kate Harrison's Grueling Iron Man Completion Raises Money and Awareness for Breast Cancer
Epic Struggles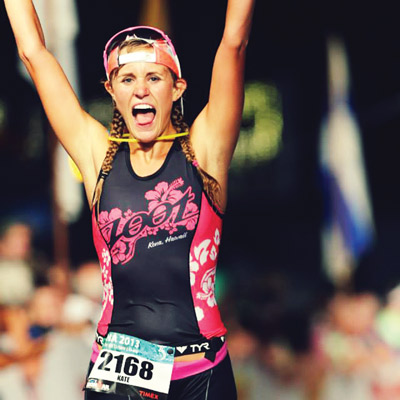 October, fittingly Breast Cancer Awareness Month, marks the anniversary of a life-changing event for Kate Harrison, that gave the 22-year-old a deeper empathy for those battling cancer.
It took her more than 12 hours, but Kate Harrison finished the Ironman World Championship — and raised more than $12,000 for the TMH Cancer Center.
After swimming 2.4 miles in the Pacific and enduring grueling headwinds for 112 miles, Harrison staggered from her bike to get her running gear for the third leg of the Ironman World Championship in Kona, Hawaii. She collapsed in a chair and nearly blacked out. "Everything felt heavy. I was hot and feeling sick. I wasn't sweating, and my body had begun to shut down. It was hard to imagine the 26 miles that lay ahead of me."
Harrison refused race-ending but much-needed IV fluids. She stumbled onto the course, practically crawling past her worried parents, knowing how hard it was for them to watch her struggle. She collapsed at mile five, got back up and kept going until she finally found a steady running pace that she could keep. She said she didn't know what it was doing to her body or how she would feel the next day, but she knew it was worth it.
As she struggled, she thought about her family and those at the Tallahassee Memorial Cancer Center, in whose honor she was running. As Harrison battled for her mind to win over a body refusing to cooperate, Harrison transformed from a young woman trying to do something good into a full-fledged hero … a hero for hope.
At that moment, she fully understood the more epic struggle cancer patients face daily as they battle for their health and lives against bodies that are not cooperating. After successfully finishing the race, she took that new insight home where she spent countless hours as a volunteer encouraging cancer patients to keep "putting one foot in front of the other" until they beat their disease. Harrison said she learned so much during the most difficult moments of the race. "You always have something left, no matter how hard it is."
Despite missing her 11-hour goal for completing the Ironman by more than an hour, she absolutely feels her struggle helped her empathize more with those fighting cancer. "For that reason I wouldn't trade that experience for any time goal," she said. When patients tell her they feel overwhelmed or that it's too much, she'll tell her story, saying, "If you keep going, you can get through anything."
Those fighting cancer held a special place in Harrison's heart long before Kona. Harrison's aunt, Sharon Ewing, died of breast cancer, and Harrison's grandmother, Maye Walker, is a breast cancer survivor.
After the physical and mental challenges of the Kona triathlon, Kate Harrison (second from left) celebrated with her family.
In May 2012 Harrison's mother, Claire Harrison, was diagnosed with breast cancer for the second time, underwent a double mastectomy and chemotherapy. When Kate learned Claire would undergo chemo for six months she decided if her mom could handle that, she could handle training for and competing in her first Ironman competition over the same amount of time.
With "This one's for you, Mom," Harrison competed in Ironman Florida in Panama City, won her age bracket and qualified for the world championships in Hawaii in October 2013. Leading up to Kona, Harrison raised $12,027.76 for the Cancer Center in her philanthropy, Kona for Cancer.
She received Tallahassee Memorial HealthCare (TMH) Foundation's 2014 Hero of Hope Award, an honor given to a person who exhibits exceptional compassion and hope to cancer patients, their family members and caregivers.
Asked if she considers herself a hero, the recent FSU graduate said, "I'm not sure yet. I still have a lot to do."