Karen Moore
Applying new tools to enduring concepts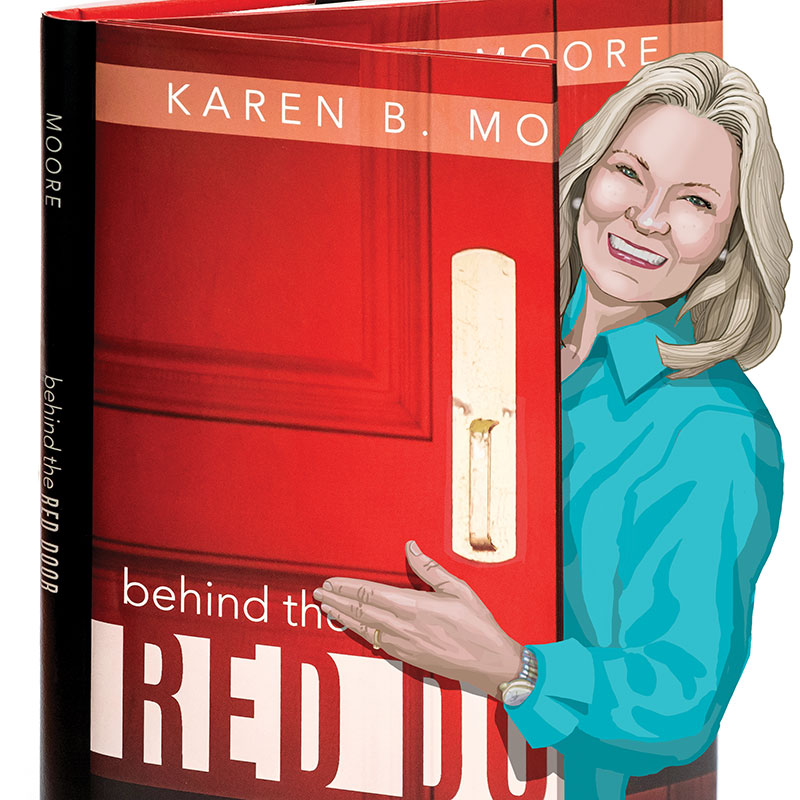 Karen Moore was newly returned from Indio, California, and the Desert Trip concert — she was impressed by Mick Jagger's indefatigable energy and Bob Dylan's undying reticence — when she sat down with Rowland Publishing's Steve Bornhoft to discuss the arc of her career and influences on her life. Moore, the founder and CEO of the Moore Communications Group, published a book last year: "Behind the Red Door: Unlock Your Advocacy, Influence and Success."
---
Steve Bornhoft: In your book, you emphasize differentiation — breaking through the clutter — as an important consideration for businesses. What sets your book apart?
Karen Moore: The "PR for Dummies" way of doing communication is worlds removed from the way people communicate and do campaigns and branding today. Not only do people want to feel good about the businesses they support, they also want to have an impact, however small, in the way they spend their dollars. This book is about building champions and advocates for your issue or business and leveraging them with messages to reach your stakeholders.
SB: What makes for a good champion?
KM: You don't have to have thousands of champions. You need a few very good ones who excel at communicating and who have credibility, influence and large constituencies.
SB: When, 25 years ago, you started your business — in one room in a cabin at Lake Ella, people should know — what tools did you use then versus what you use now?
KM: You still have to identify your target audience, have clear, concise messages and send them out through the right channels — that hasn't changed. You and I remember when you typed a news release and you mailed it or drove it to the media. Now, we see reporters picking up stories based on Twitter chats. They aren't sitting around waiting for the mailman to arrive.
SB: We used to try to saturate a target radius versus a target audience.
KM: You know, I have never said it that way, but I'm going to. And think about this: Today, we can test messages in minutes. You don't have to empanel a focus group, put the coffee on and round up a dozen doughnuts. I can A-B test a message on a hotlink button on an article in the newspaper that's online or I can geotarget to the most minute data you can imagine.
SB: Whateverthat means.
KM: Oh, you know what I mean.
SB: Maybe.
KM: We are much more sophisticated now in reaching our real stakeholders instead of the whole universe of people.
SB: We have replaced the shotgun with a rifle.
KM: A rifle with a very powerful scope. And we have more people equipped with that rifle than ever before.
SB: You mentor almost 50 employees. Who were your mentors?
KM: I worked almost 10 years for Mary Pankowski at Florida State University, and I will always be appreciative and grateful to her for the opportunity to work for her and to build relationships and friendships through her. When I started this business, I did not know one other female CEO, let alone one in the communications field. I had to rely on virtual mentors. Oprah Winfrey was one; she is an entrepreneur and a strategic thinker who had to overcome obstacles, and I relate to that. And Mother Teresa was another. If you say, "These are my values," you have to live them. I am very clear about how I treat people and how I want to be treated. There are clients I will not accept. I want to walk the walk like she did.
SB: People are fascinated by the habits of highly successful people. What are some of yours?
KM: I wake up every morning at 4. I have trained myself to get by on four-and-a-half hours of sleep a night. I get up, meditate, pray, read, respond to emails and list my priorities for the day. And I listen to a TED talk every morning.
SB: You're a lifelong learner.
KM: You have to be.
---