Just Train Crazy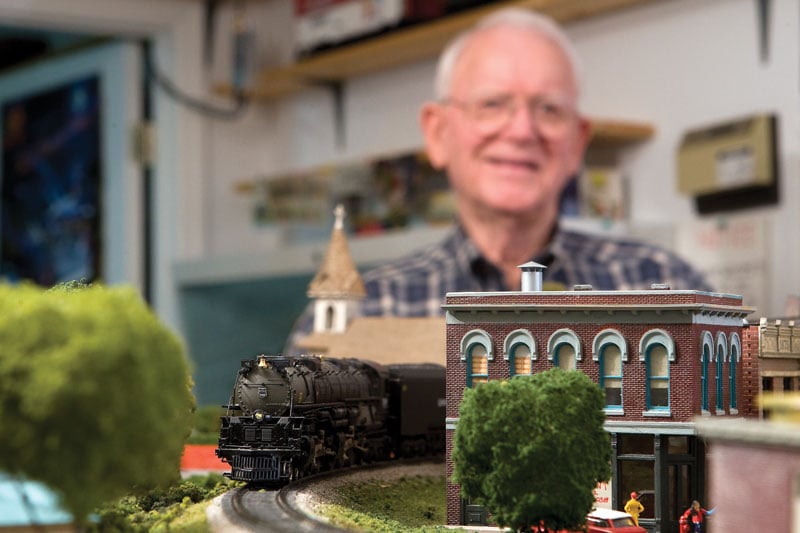 A fascinating look into the tiny, whimsical and extremely detailed worlds created by local model railroad enthusiastsMasters of their Miniature UniverseModel Railroad Enthusiasts Ride the Rails on History, Heritage and Imagination
By Jason Dehart
Puff. Chug. Puff. Chug.
Pulling a string of weathered boxcars behind it, an old steam locomotive makes its way past houses, farms and fields. Passing trains that have no name roll past the graveyards of rusty automobiles.
No, it's not the City of New Orleans. It's the Attic & Lofty, the pride of model railroad hobbyist Roy Mantooth.
Click for slideshow.
The "A&L" got its name because of its location – an upstairs loft above Mantooth's garage in the Betton Woods neighborhood. A third-generation railroad man (he spent four years as a machinist with the Louisville & Nashville Railroad), Mantooth, 80, has had model railroad fever since 1968, and has been a member of the Big Bend Model Railroad Association (BBMRA) for a number of years now.
"I just always liked trains. My background was in trains," he says.
Mantooth's HO-Scale layout (enthusiasts never call them "train sets") is pretty large; it's roughly 22 feet by 20 feet, and the mainline track is an impressive 133 feet long. There are working automatic signals, crossing flashers and two "roundabouts." He has a variety of locomotives; some haul freight, some haul passengers. The setting is a snapshot of pure Americana: There are wood frame churches and houses; rivers, ponds, creeks, fishermen, bridges, highways, farms, fields, gardens and even a cemetery. A city scene has a Main Street with tenement brownstones, streetlights, vintage autos, restaurants and a car dealership – named after fellow club member Sam Miller.
"You know you've 'arrived' when you have a building named after you on Roy's layout," says Miller, executive vice president of the Florida Insurance Council.
There are industrial areas, too, complete with trackside passenger stations, warehouses, repair shops, fences, signs, machine shops, freight yards and junkyards.
There's even an old-fashioned, open-top water tower alongside one section of track. Look inside and you'll see some HO-scale bathing beauties sunning themselves on a plank. On the far side of the layout, on top of a hill, sits a farmhouse that's modeled in a slightly smaller scale – to give a sense of distance, of perspective. It's taken years of attention to get it just right.
"All of this detail don't happen overnight," Mantooth says. Although he says his layout is mostly complete, he's still working on it, and maintenance is ongoing as well. "Three moves take a toll on things," he says, alluding to the times he's relocated over the years.
A fallen signal here, a street sign that's been knocked over, nothing escapes Mantooth's observation – and model railroaders are nothing but observant. They have to be, according to the BBMRA President Barrett Johnson, an attorney/lobbyist in his mid-60s who's been in and out of the hobby since his grandfather gave him his first train at the age of 5.
"If you are going to model something well, it takes a lot of intelligent observation and thought and an understanding of how human sensory systems work," he says. "That's what model railroading does. You really learn to look carefully. It will teach you to analyze everything in photos of scenes, a background or structure."
In studying railroads for the hobby, Johnson says one can also learn an important part of U.S. history and gain insight into how the modern world works the way it does.
"Railroads were the first organizations in the world that extended over long distances and also, after the telegraph, enjoyed means of nearly instantaneous communications," he says. "Railroads by necessity invented the organization necessary to plan, control and manage operations extended in both time and space. The current time zones were developed by the railroads and their utility was so obvious that after several decades Congress finally adopted them for the country. Prior to railroads, each locale kept its own solar time, which meant that noon in Baltimore was slightly ahead of noon in Washington, which lies a few miles further west."
It Takes Passion
Sam Miller says it's a "wonderful hobby," one that inspires as much passion as golf, jogging, hunting or fishing.
"If you really get the bug, you think about model railroading a lot of the time when you are out and about," he says. "That little toy car in the cookie aisle at my supermarket will work on my HO layout. Walking in the woods in middle Tennessee … around Christmas, I look for tree branches and bushes I can use to model trees. Unusual business cards and the refrigerator magnets some businesses distribute are the right scale for signs. It ends only when your imagination ends."
Also appealing is the feeling of control, of mastery over your environment, Miller says.
"You are the director, like in the movies," he says. "I make the decision where to put things. And one thing the hobby does for you – when I watch movies, I pay more attention to what happens in the background."
A little info about parlance: According to the National Model Railroad Association, "scale" is the ratio of the model to the real thing, known as the "prototype." "Gauge" is generally used to classify the distance between the rails.
"O" Gauge means one-quarter of an inch on a model equals 1 foot on the prototype. The classic Lionel setup, with its unique three-rail track, comes in this size. HO Scale is half of O Gauge; in which 1 foot on the model equals 87 feet on the prototype. "N" Scale is half of HO Scale; "Z" is the smallest, with a 1:220 ratio. The G Gauge trains are the largest conventional model train.
If it sounds technical, it is. Model railroading isn't simply a matter of placing a train on the tracks and plugging in a power pack. Hobbyists have to be part carpenter, part electrical engineer, part railroad lexicographer. However, newcomers not versed in the technical aspects look to the old timers for knowledge and guidance. But that's not all.
"You take care of each other … there's a real sense of community to this," Miller says. "Maybe the most important benefit of all from model railroading … is the wonderful friends you make. Most of my closest friends are in the hobby. My garage is a model train meeting place some Sundays, with several people stopping by."
"Life is all about learning and it is fun to learn how someone does something and why they do it that way," Johnson says.
Miller has two different layouts at his Betton Woods home not far from Mantooth's place. He has an O Gauge Lionel setup in his two-car garage and an HO Scale layout in a 10-by-12-foot bedroom sacrificed for the hobby. The bedroom layout runs along the walls with a space in the center for the operator. Similar in subject matter to Mantooth's, Miller has set up a portrait of small-town America, complete with a Main Street, tractor dealership, farm supply store, church, school and graveyard. The only difference is the lights that decorate the scene: Fiber-optic "fireworks" in one corner, Christmas lights along the main street, and a "full moon" over the horizon.
One of the challenges faced by model railroad hobbyists is space. It's really not possible to scale down a real-life train, even at HO size.
"One of the things you're always doing is finding ways to compress space," Johnson says. "A real life train of 8,700 feet would, in HO scale, be 100 feet in length. It poses a problem. To get around that, track curves are a lot tighter, the number of cars is smaller and the cars themselves are not as long as scale would require."
Oh, Give Me Room, Lots of Room
Finding enough space at home also poses its own problems. Just ask Millers's wife, Linda Medlin. Medlin says they planned to accommodate Sam's HO layout when they moved into their home a little over 16 years ago. But the larger O-27 gauge layout in the garage was something unexpected.
"The garage layout, he kind of 'snuckered' that one in without much discussion," she says. "His excitement over a new scale got the better of him."
Of course, Miller is very grateful for her support. "My wife is wonderful," he says. For her part, Medlin says she enjoys the hobby just as much as her husband does.
"I have thoroughly enjoyed watching Sam's creativity at work," she says. "One little road and one little building can lead to so much. Sam is very much like a boy when he gets something new – which is way too often – but he always wants to show me what he had and how it adds to the layout."
Medlin says she's not the only "train widow" in the group.
"We have made some wonderful friends through the train club, and I often catch a Sunday afternoon movie with the other train widows, so it all works out," she says.
Johnson says he, too, has a supportive spouse.
"My wife is into scenery and structures, and she brings real talent to the game as she also builds model and whimsical figures, and used to teach the professional practices course in interior design at FSU," he says.
Imagination At Work
"It's a hobby with proven staying power because so much is involved: Imagination. Building. Tinkering. Inventing. Self-expression," said author and enthusiast Sam Posey in his book, "A Passion Beyond Scale: Playing With Trains." Posey, a retired Grand Prix racecar driver, goes on to say, "It takes work to get good results, but in the end you will have mastery and control of a world of your own making."
Johnson says he agrees with that philosophy.
"Scale model railroading is actually infinitely expandable," he says. "For example, one can start with a layout such as Sam's HO, which is really just a large Christmas tree oval. But look at what Sam has done, by adding the Christmas scenes. Another possibility is to establish industries and other railroad customers along the tracks and then create train orders to serve them by dropping off loaded cars and picking up empties, called an operating session. Most model railroaders do not get to this level, but the number who do is increasing."
See The Trains Run at Tallahassee Automobile Museum Big Bend Model Railroad Association Finds a Home 
By Jason Dehart
DeVoe Moore and the members of the Big Bend Model Railroad Association have struck a partnership. In exchange for helping him identify the scale model trains in his possession, they get to run their model trains in the new train memorabilia wing at the Tallahassee Automobile Museum.
The wing opened in late August and BBMRA volunteers run their trains on a large table-top layout almost every weekend.
Barrett Johnson, president of the BBMRA, himself a fan of antique autos, said he's known Moore for many years and the two had talked about the possibility of having a scale model train display at the museum.
"Basically, he said that he felt he had his hands full with cars, tractors, motorcycles and the like, that he did not know much about trains, and would the BBMRA tell him what he had and how to display it, as we had the collective expertise to do," Johnson said. "In return, we could build layouts in the museum and operate them as we saw fit. That is our basic bargain, which is a win-win."
But it's not just model trains. Moore has assembled what amounts to the promised land of train memorabilia. He bought it about 10 years ago from a collector in North Carolina.
Moore claims his array the "largest collection of train memorabilia close by – probably in the U.S."
Only pieces of the entire collection were on display at Moore's other museum location. With the opening of the new museum, enough space finally was made available to display everything.
"There's a lot of railroad people out there. Probably more kids like to see trains than cars. But cars and trains seem to go together. The railroad club needs to identify all of it so people can read what's there," Moore says.
Club member Sam Miller says it's great having a permanent presence in the community.
"We've been trying for years to have a permanent space for club layouts so we can build them, leave them alone except to expand and improve them, and then run trains," he says. "Our layouts have been stored except for a couple times of year, for the most part over the last 10 years. Our goal with DeVoe Moore has always been to secure space for a permanent setup and the opportunity to serve the public 365 days a year."