Just Call Him Harry
FSU's Harold Kroto received the Nobel Prize in Chemistry for his work in the laboratory. Now he seeks to make an even bigger impact by getting children all over the world excited about science.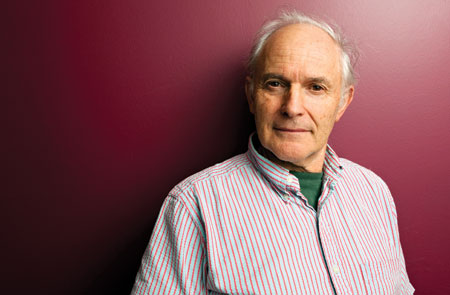 From a cramped office overlooking Florida State University's tennis courts, Nobel Prize-winning chemist Harry Kroto is lecturing to the world through his laptop.
Kroto, 70, is the driving force behind FSU's GEOSET (Global Educational Outreach for Science, Engineering and Technology) program, which uses the Internet to teach youngsters about science, engineering and technology. A small studio next to his office is where the slightly built, yet cracklingly energetic, Englishman prepares the online presentations that students and teachers from Woodville to Malaysia can access with a click of the mouse.
"The Encyclopedia Britannica was it for so long," Kroto said. "But it's nothing compared to what you can learn now by accessing the Internet, Wikipedia, Google — even YouTube.
"It's the biggest revolution of our time," he said. "It's created something new: I call it the GooYouWiki world."
In the later years of an illustrious career that has spanned classrooms and laboratories and that still takes him around the globe with great frequency, Kroto has found a new passion in GEOSET. Teaching over the Internet also allows him to incorporate his other longtime loves for art and graphic design.
Working out of the studio that's part of the university's Department of Chemistry and Biochemistry, Kroto encourages the student scientists he works with to make video presentations of their research and post them on the GEOSET site (geoset.fsu.edu).
Scientific analysis — which formerly would have mostly been shoved into a file cabinet — now can be accessed by students, teachers and fellow researchers worldwide. Original material from scientists around the world, including several of Kroto's former colleagues in England and some of his fellow Nobel laureates, also has been posted on the site.
After working for decades in classrooms, laboratories and now on the Internet, Kroto said teaching remains his real thrill.
"There's something about interacting with students," he said, slouched behind the desk in an office crowded with overflowing file boxes crammed with scientific papers, schedules and souvenirs from his travels.
"(Students) don't like everything I say. They sometimes say they wish that chemistry was easier than it was. All I can say is, 'I'm sorry it's so difficult. But it's worth it.'"
Kroto's career is testament to the power of endurance — and a degree of good fortune.
He won the Nobel Prize in Chemistry in 1996, about a decade after he and two colleagues discovered what they labeled buckminsterfullerene — a molecule composed of 60 carbon atoms shaped like a microscopic soccer ball. Because of their shape, the molecules were named after the architect credited with popularizing the geodesic dome — Buckminster Fuller.
In the chemistry world, the molecules, which are incredibly strong and harder than diamonds, are dubbed "buckyballs." Although their practical value is still largely unknown, numerous potential applications are being pursued worldwide, ranging from the development of solar cells with longer life spans to the creation of lightweight but virtually impenetrable body armor. Scientists even believe that buckyballs might one day be used within the human body as a means of targeting drug delivery to certain locations — tumors, for example.
Kroto's work pioneered what has since become known as fullerene science, which strives toward applying new techniques in materials science and electronics. But Kroto and two of his partners in research were the first to discover the class of compounds.
"Winning the Nobel was a beautiful achievement," said Kroto, an FSU faculty member since 2004. "But no scientist can ever really dream of being handed that card." Still, he adds, "I've never been a guy who had a great regard for my own ability. We found something that was really a backburner discovery that turned out to be something. It doesn't mean I'm the cleverest guy, though."
To all who know him, such modesty comes as no surprise. Kroto prefers that everyone — old friends and new acquaintances alike — call him Harry. This despite the fact that, having been knighted by Queen Elizabeth II in 1996, he now carries the weighty title of Sir Harold Kroto.
Kroto is the sixth Nobel Prize winner to serve on the faculty of Florida State over the years — but currently the only one on campus.
"I think there was a mutual attraction between Harry and FSU," said former FSU President Talbot "Sandy" D'Alemberte, who began the academic courtship that brought Kroto to a campus known more for athletics than chemical applications.
As home of the National High Magnetic Field Laboratory, the largest and highest-powered magnetic laboratory in the world, FSU had some science credentials, D'Alemberte said. And FSU courted Kroto at a time when Great Britain's mandatory retirement age of 65 was creeping up on the professor and threatening to cut short a career he loved.
Kroto toyed with the idea of abandoning chemistry completely and turning to graphic design, a field that has fascinated him since boyhood. But he couldn't kick the drive to teach and was ready to try a transatlantic challenge.
"His real passion is introducing young people to science," D'Alemberte said. "And if there's anything this country needs, it's a generation that is interested in science and with the ability to apply it."
Kroto's presence also adds a little luster to a university struggling with budget cuts, employee layoffs and program trims. But his energy also puts a little spring in the step of those who work with him.
"He's an amazing person to work with," said Steve Acquah, 29, a postdoctoral researcher who manages the GEOSET program.
The pair first met at England's University of Sussex, where Kroto taught for 37 years before coming to Florida State.
"Harry is always enthusiastic, about whatever the project," Acquah said. "And for all that he's done, he's able to see the importance of bringing complicated scientific theories and research to a level that others can understand it."
Acquah, who comes from a tough, working-class neighborhood in London, said Kroto's support also proved vital to helping him advance academically.
"Where I'm from, there's not a lot of chemistry professors," he said. "But he made me believe in myself. And he made me realize that I could give something back. If you're hearing that from someone who's won a Nobel Prize … well, that really means something."
But for Kroto, the Nobel is clearly in the rearview mirror. The professor's brave new world pivots around GEOSET, the program he established at FSU.
With a mouse click, viewers can learn about "Architecture in Nanospace." They can watch a Kroto lecture on "Science, Society and Sustainability." Or learn about algebra in a presentation with Chinese subtitles for middle-schoolers. There's even a "buckyball" workshop for children ages 7 to 10.
They're among the dozens of topics on the GEOSET site, whose production value ranges from YouTube-like, "talking head in front of a camera" quality to some whose sophistication and scope are reminiscent of a public television documentary.
When the genial Kroto makes a video presentation, he has a bit of the energetic, absentminded professor quality Hollywood's Central Casting used to love. But he also can make such lectures as "Introduction to Atomic and Molecular Spectroscopy" a little less daunting.
Kroto has developed partnerships with universities in Japan, India, Malaysia, Australia, New Zealand and his native England — the latter of which he still uses as his home base during summer months filled with global travel focused on fostering the marriage of the Internet and science. Kroto sees GEOSET as eventually revamping the way schoolchildren study science, technology, engineering and math — the so-called "STEM" disciplines seen as critical to the world's 21st-century economy.
Most of the GEOSET presentations are in English or Spanish, although efforts to translate the productions into other languages are under way.
Susana Lopez, who recently earned a master's degree in chemistry at FSU, has programs on GEOSET that include demonstrations she gave for a "Sci-Girls" camp at the university. Sci-Girls brings high school girls interested in the sciences to FSU for hands-on experiments and lectures, helping break down some barriers in a still male-dominated field.
"We gave a demonstration where we passed around a blank piece of paper and everyone held it and gave it to the next person," Lopez recalled. "Then we sprayed the paper with a chemical, a ninhyrin, and you could see everyone's fingerprints on it.
"The girls loved it. It was like a real-life CSI show," she said.
Lopez hopes to become a college professor and has a portion of her master's thesis available on GEOSET. Students have had personal success posting their work on the site — with some getting job offers from other university science departments after seeing their expertise on GEOSET.
"Harry has really developed this idea of the importance of teaching teachers," said Alan Marshall, a fellow chemistry professor at FSU and a program director at the magnet lab. "He's really moved us into the Web age. He's also a whiz at combining complex science with practical, down-to-earth applications that people can understand."
Marshall also said Kroto brings "oomph" to the department with his credentials.
"Everybody in the scientific community knows who he is," Marshall said. "When he says something, people know it's serious."
Kroto lives quietly in Tallahassee with his wife in a modest home overlooking a Killearn Estates lake. The couple's two grown sons live in England. Kroto acknowledges that he occasionally gets a taste of fame — but only when he ventures far from his adopted hometown.
"I gave a lecture in China a few months ago," he said. "The room held 200 — but there were 500 people there. They were standing five deep in the aisles, with some kids waiting since before dawn for a 10 a.m. lecture."
Kroto laughed at his own rock star popularity — however fleeting and far away.
"That's what a Nobel Prize can do for you in Asia. But over here, nobody gives a damn," he said with a smile.
Kroto is accustomed to such ironies. After all, he's a 70-year-old using the Internet to teach instructors and students about such topics as anthropology, physics and environmental science. He's thriving in an American college football town, not an English academic setting, because his home country's retirement regulations would have cast him aside, Nobel or not.
And he's enjoying his work at a university struggling with belt-tightening — even though Kroto has been known to butt heads with bean counters. He has received 30 honorary degrees, but years later sent two back when schools closed down their chemistry departments to save money.
"The only real use for an honorary degree is when you can make a statement by sending it back," Kroto said.
All told, it's a long way from the Bunsen burner and chalkboard environment in England where he began his scientific career.
Kroto was born in Wisbech in the county of Cambridgeshire — whose major city is Cambridge, home of one of the world's oldest universities. Although his father was of Polish descent — the family's name was originally Krotoschiner — his parents were born in Berlin but fled the Nazi government in 1937.
"My father was Jewish, my mother wasn't," Kroto said. "But the family story was that when police arrested my father, an officer who knew us said he was going to look the other way. But he told my father to 'get the hell out of here.' And we did."
Although it forced them to uproot, religion never played a central role in Kroto's life — and still doesn't. He was brought up going to synagogue, Kroto acknowledged, "but I never believed all that stuff. I used to think as a teenager, 'If I'm the chosen people, then why are my friends all down at some coffee bar having fun while I'm sitting here in synagogue?'"
For years, Kroto said he has practiced four "religions": humanism, atheism, amnesty-internationalism and humorism.
But it doesn't take long for it to become clear that Kroto's skepticism is also tied to his science.
"Religion is very important for some individuals, and that's fine," he said. "But I'm an evidence-based guy. If there's no evidence, there's no bedrock to tie you down. But it's nature that's our taskmaster. It hits us on the nose time and time again. Science is based on evidence. And I can't live any other way."
Kroto's four "religions" have brought him before the Florida Legislature.
He testified before a Senate committee last year when Sen. Ronda Storms, a Tampa-area lawmaker and former teacher, sponsored legislation dubbed the "Academic Freedom" bill, which was designed to shield teachers and professors from being disciplined for advancing ideas contrary to the theory of evolution.
The legislation grew out of frustration among social conservatives who lost a close vote by state education officials to change Florida's science-teaching standards to allow more religious-influenced theories to be presented to students.
Storms said conservative teachers needed protection because administrators can "give you bathroom duty, they give you bus duty, you don't get a planning period — so that their unhappiness is expressed."
Kroto was among a roster of academics successfully arguing against the measure. But he was the only Nobel Prize winner in the bunch.
"I'm afraid sometimes I think this country is going a bit crazy," Kroto said. "I think people don't even realize it."
Conservatives, though, push back equally hard against Kroto and his views.
"Those who rely completely on science, well, there's a logical foolishness to their view," said John Stemberger, president of the Orlando-based Florida Family Policy Council, a conservative organization that led the ballot initiative last year resulting in a same-sex marriage ban in the state's constitution.
"I mean, was there ever a time when the universe was nothing?" Stemberger asked. "People like Kroto are caught in a logical conundrum. Their philosophy is flawed."
Kroto shrugs off such criticism.
"Look, I'm a big fan of Thomas Jefferson," Kroto said. "He believed that religious beliefs and non-beliefs were so important to individuals that there had to be a separation between church and state. Now that's something I can believe in. That and chemistry."