July/August 2012 Agenda
The latest on Tallahassee's movers and shakers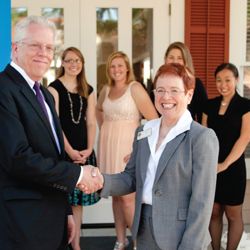 Heading for Un-Retirement
▪ Professor Phillip Downs, Ph.D., has retired from Florida State University after 34 years of teaching and research. But that doesn't mean he's going to slow down. Far from it, he said.
"There will be no cushy retirement in the near future," Downs said. "I will still operate as the Senior Partner at Kerr & Downs Research, and I will continue conducting surveys on local issues through TallahasseeVoices, a pro bono Internet survey panel I founded 10 years ago."
Downs earned his doctoral degree from the University of North Carolina at Chapel Hill and served on the faculty at the College of William and Mary for three years. He joined FSU's marketing department in 1978 at the urging of John Kerr, Ph.D., then chair of the department.
A lot has changed since he first came to FSU, and a lot of growth has happened.
"When I arrived in 1978, I was assigned the largest class at the time, which was 106 students. When I left, I was still teaching the largest class, yet it had grown 500 students," he quipped.
Downs won teaching awards from the College of Business, FSU and various student societies, and was twice nominated for a teaching award for the Southern Marketing Association.
Heard on the Street
▪ Governor Rick Scott signed Florida's budget in April, and it includes approval of a $4.5 million investment for construction of Tallahassee Community College's Wakulla Environmental Institute. The Institute will highlight Wakulla's natural heritage and biodiversity, offering unique science and technology education opportunities, and serve as an economic driver for the region — fulfilling a mission similar to TCC's Florida Public Safety Institute in Gadsden County. Coastal tourism and recreation are two of Florida's top ocean industries, and TCC's Institute can help provide a strong framework to best manage resources to ensure long-term health and economic return. $20 billion and 250,000 jobs result directly from fish and wildlife in Florida each year, with wildlife viewing accounting for $5.5 billion and more than 51,000 jobs. The state's investment in the Wakulla Environmental Institute will help produce graduates to work and innovate in these vital industries statewide.
▪ Former Speaker of the Florida House of Representatives and former FSU President T.K. Wetherell will be honored by Leadership Tallahassee with a Lifetime Leadership Award at the 18th Annual Distinguished Leadership Awards on Thursday, Sept. 20, at the University Center Club. This event celebrates those who have made contributions to the Tallahassee community through substantive achievements in the career and community arenas.
▪ Bill Gunter, former Florida Insurance Commissioner and State Treasurer, has been elected president of the Economic Club of Florida. Headquartered in Tallahassee, the Economic Club, with a membership of more than 400, is recognized as one of the South's most important forums for distinguished speakers on economic issues of the day.
▪ Cynthia Barber, director of the city of Tallahassee's Department of Environmental Policy and Energy Resources, was recently honored in Washington, D.C., for her leadership in sustainability and environmental policy efforts. The "Champions of Change" program was created as part of President Barack Obama's "Winning the Future" initiative. A different sector is highlighted weekly, and groups of Champions are recognized for their efforts in serving and strengthening their communities.
▪ Michael Parker has been appointed the new director of the City of Tallahassee's Economic & Community Development (ECD) Department. He replaces Thomas Lewis, who retired as ECD director earlier this year.
▪ John Lucas is the new press secretary in Attorney General Pam Bondi's office. Lucas previously worked in television, heading up the Associated Press TV operation in Tallahassee from 2002 to 2009.
▪ New hires in the office of Agriculture Commissioner Adam Putnam are: Michael "MJ" Johnston as the agency's new chief information officer; Susan Nardizzi as director of the Division of Marketing and Development; Dr. Tiffiani Onifade as director of Food Safety; and Travis Tucker as director of the Division of Fruit and Vegetables.
▪ Laurie and Kelly Dozier, owners of Mad Dog Construction in Tallahassee, were awarded Gold Leadership in Energy and Environmental Design (LEED) certification for their Urbangreen Building.
▪ Terry Cole, an environmental and land use attorney in Gunster's Tallahassee office, has been designated one of the 21 "Leaders in their Field" by Chambers USA.
▪ Christy Crump, president of Crump & Associates, was installed as the state president-elect of the Florida Federation of Business and Professional Women at the group's conference in June. Tallahassee Fire Chief Cindy Dick, a 2009 recipient of the BPW/Florida Glass Ceiling Award, was a keynote speaker at
the conference, and talked about pay equity and women breaking the glass ceiling.
▪ Longstanding business and community leader Mark D. Baldino has been appointed president/CEO of Elder Care Services. He comes to the position with 35 years of experience at IBM in senior management, marketing and sales on worldwide, national and regional levels and three years as an IT and computer services consultant.
▪ Greg Ungru has joined Enterprise Florida as vice president of development for the agency's Sports Development division. He will develop and implement Florida Sports' corporate partnership program by pinpointing prospective partners, raising revenue and identifying potential signature events for Florida Sports to own and manage.
▪ Steven Lohbeck has joined Cadence Bank, N.A. (formerly Superior Bank) in Tallahassee as the new vice president, business banker/commercial lender. Cadence Bank has nine offices in Northwest Florida.
▪ Florida's Long-Term Care Ombudsman Program has chosen Alan Tudor as the Panhandle Council's "Ombudsman of the Year," for his exceptional efforts in advocating for long-term care facility residents living in nursing homes, adult family-care homes and assisted living facilities.
▪ George Banks and Brenda Francis have joined the commercial team of Structure Commercial Real Estate. Banks is a former corporate merchandiser and private sector operations manager who also served 17 years as Florida's director of state purchasing. Francis has specialized in commercial sales and land development for the past 25 years.
▪ The FSU College of Medicine, known as a leading educator in geriatric medicine, now has the nation's top geriatrician for 2012. Dr. Niharika Suchak, an associate professor in the Department of Geriatrics, has been named Clinician of the Year by the American Geriatrics Society (AGS). She received the award in May at the group's annual scientific meeting. She is certified by the American Board of Internal Medicine in internal medicine, geriatric medicine, and hospice and palliative medicine.
▪ Rogers, Gunter, Vaughn Insurance, Inc. was crowned Business of the Year recently by the Greater Tallahassee Chamber of Commerce and its members. The announcement was made May 8 during the annual Chamber Awards, which recognizes businesses for their outstanding achievements and contributions to the community.
▪ Budweiser Tri-Eagle Sales will donate a portion of all Budweiser sales from May 20–July 7 in an effort to raise as much as $2.5 million for the Folds of Honor Foundation (FHF), which provides post-secondary educational scholarships for families of U.S. military personnel killed or disabled while serving their country. They have pledged a $5,000 scholarship to be awarded locally through the Folds of Honor Foundation.
▪ The City of Tallahassee's electric utility was recognized by the Florida Municipal Electric Association (FMEA) at its annual Safety Awards and Florida Lineman Competition. For the second year in a row, the City's electric service was awarded a first place Safety Award in Category D for its continued commitment to safe work practices during the past year.
▪ The Tallahassee-Leon Community Animal Service Center reached an important milestone when it performed its 10,000th surgery in May. Berry, a two-month-old calico kitten, was spayed and then set up for adoption. The ASC's team has performed a host of other surgeries in just five years of existence, from spay and neuter procedures to eye surgeries, limb amputations, and fluid and oxygen therapies.
▪ Dr. Gina Hope joined the staff of Patients First in Tallahassee in June. She specializes in family medicine.
▪ Genivia Inc., a Tallahassee-based software company, has pledged $50,000 a year for three years to benefit undergraduate and graduate students who participate in entrepreneurial activities at the Jim Moran Institute for Global Entrepreneurship or the InNOLEvation Accelerator in the Florida State University College of Business.
▪ Ramos & Sparks Group of Tallahassee and Atchity Entertainment International of Los Angeles have secured the rights and optioned the New York Times bestselling book, "The Kennedy Detail," written by former Secret Service agent Gerald Blaine and award-winning journalist Lisa McCubbin.