Josh Butler, Chef to Gov. Charlie Crist, Passes Along Some of His Favorite Dishes
Capital Holiday with a Florida Flair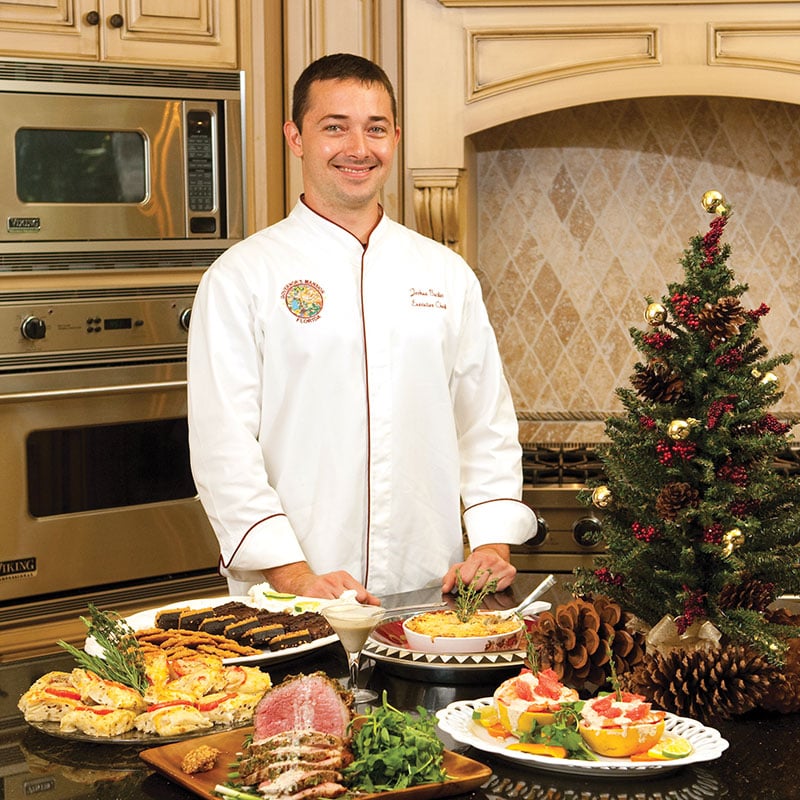 A fter cooking 15 turkeys for Thanksgiving, you'd think Josh Butler would need a break. But there's no time for that. Christmas is coming, along with a nearly endless stream of holiday parties.
"December is always one of the busiest months," says Butler, executive chef at the Florida Governor's Mansion. By the time the entertaining is done, he laughingly admits he has recurring dreams of cookies throwing chocolate chips at his head.
With its fresh evergreen wreaths and garlands, the inviting aroma of baked cookies and brightly decorated Christmas trees, the Governor's Mansion is a holiday season delight for all the senses.
"There's a lot of twinkle and shine, lots of cherub faces and a lot of hustle and bustle," Butler says. "We like to make sure that when everyone leaves they're happy, full and smiling. The mansion creates an aura of 'Christmasness.'"
>
Governor's Mansion Chef Josh Butler
scott holstein
About 1,500 guests — from friends and family of Gov. Charlie Crist to political supporters, staff, media and legislators — are expected to visit the mansion during this holiday season. Each one will be treated to a host of culinary delights that the 32-year-old Butler will whip up each day. The offerings are all hors d'oeuvres served buffet style in the formal dining room because it's difficult to handle up to 300 guests at one time for a sit-down dinner.
Butler does all the shopping himself.
"I call myself the hunter and gatherer," he jokes, adding that he buys as many items as he can at local farmers markets. "I try to spend the money with local and Florida-based companies, especially the little businesses."
The menu is planned so that he can purchase items in bulk and use them for parties over several days. Then, when it comes time to cook, he calls on friends who come in part time to help prepare the goodies.
Menus include the standard cheese and vegetable trays as well as fruits, antipasto platters and homemade focaccia bread that he tops with whatever he finds of interest in one of the three refrigerators or the herb garden. There are cookies galore, plenty of Florida's bounty from the sea — especially Gulf shrimp — and everyone saves room for Butler's renowned miniature pecan pies.»
Butler has been the mansion's executive chef since October 1998, when, at the age of 21, he was hired by then-first lady Rhea Chiles. He served Jeb and Columba Bush and remained when Crist became governor. Butler has served such notables as presidents George H.W. Bush and George W. Bush (the latter when he was still Texas governor), University of Florida quarterback Tim Tebow, baseball greats Ken Griffey Jr. and Willie Mays, and former Vice President Dick Cheney.
Crist's focus is on eating healthy, and Butler caters to his taste by finding local organically grown fresh vegetables, as well as roasting chicken, grilling shrimp and baking fish. But at times, the governor enjoys a steak thrown on the grill — tenderloin or T-bone, cooked medium to medium well and seared on the outside.
When Butler isn't in the kitchen, where he works Monday through Friday, you might find him working on a project tied to the Governor's Council on Physical Fitness.
"Our job is to come up with recommendations on how Floridians can live a healthier life," he says of the council's work. "It's never too late to exercise and eat well."
Butler himself will get a good workout over the next several weeks, between the Thanksgiving feast he coordinates and cooks for the governor and his staff and then planning and cooking for the hundreds of guests expected to share the holidays with Florida's chief executive.
Butler doesn't like to use recipes. "Most of the things I do are done by instinct," he says. But he has agreed to share some of his favorite holiday dishes — perfect for the buffet table — with Tallahassee Magazine readers. So fire up that oven, enjoy the season and bon appetit!