Jon Bellamy & the Rebels Have Got Attitude
The local band is giving Southern rock a country and blues twist.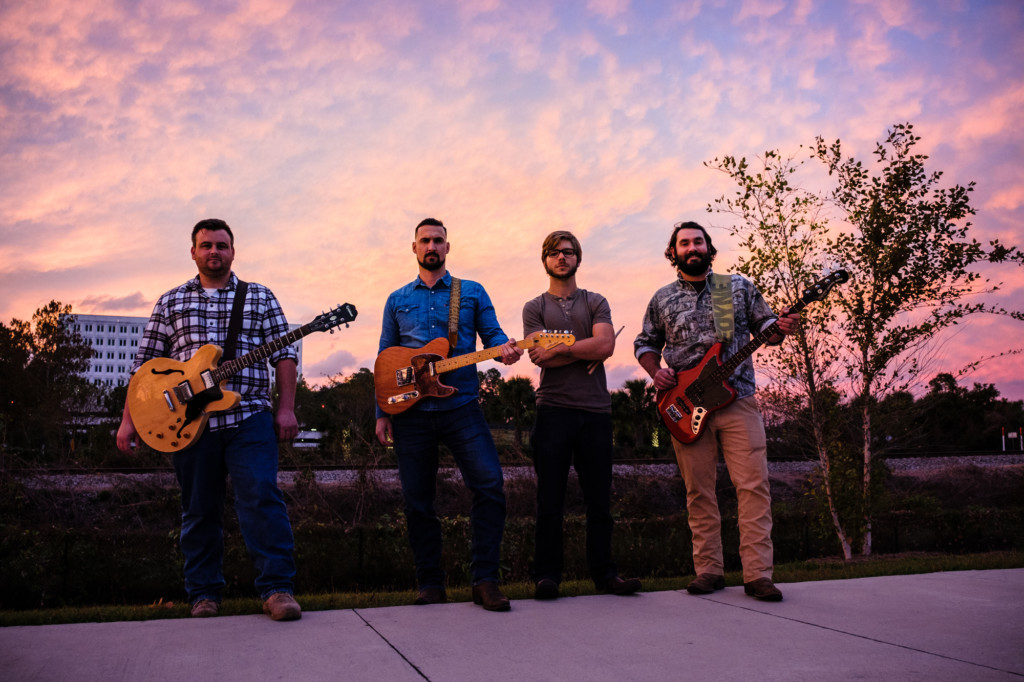 To learn the genesis of Tallahassee's new and rebellious Southern rock band, turn your assumptions away from the garage.
Think bigger building, with lots of speakers.
"I work in the Capitol, in the senate," said Jon Bellamy, who referred to the Florida Senate's Sergeant at Arms. "One of the guys who works in the sergeant's office, I'd seen a guitar in his office, and I was like, 'Hey, you play a little bit?' "
Boom. One question launched a band that holds out hope that it one day could, in terms of commercial or touring success, make a statement.
Since their formation in summer of 2016, Jon Bellamy & the Rebels have been writing songs, establishing their sound and moving up the charts in terms of where they fit into Tallahassee's music scene.
They remain regulars at venues such as Hurricane Grill & Wings, Fifth and Thomas and Thomasville's Plaza Restaurant and Oyster Bar, where they keep feet tapping and proprietors clapping.
They also have established a place on YouTube, with original songs such as "Bait Shack," "American River" and "White Trash Dad," which underscore that Southern dash of blues and country in their rock.
As they consider what songs to write next, they've got rock, country and, of course, Southern rock covered. They put their own spin, often with a little extra voltage, on tunes from Muddy Waters, Creedence Clearwater Revival and Southern-rock influence Lynyrd Skynyrd, to mention a few.
On a September night in Thomasville, patrons in a packed bar at the Plaza Restaurant bobbed their heads to an energetic version of Johnny Cash's "Folsom Prison Blues," and they crowded the dance floor for The Band's "The Weight."
When it came time for the latter song's chorus and signature harmonization, they put the load right on themselves and delivered.
"It's not like we're in Rolling Stone," said Bellamy, the band's rhythm guitarist, lead singer and songwriter. "But it's been an awesome little journey so far."
A Florida State University political science major who minored in English, Bellamy would write poetry, short stories and a song here and there, but he'd never share his work. "You kind of forget about it, and it gets lost," he said.
He said he never sang in front of anybody until 2016, when he took the open mic at Salty Dawg Pub & Deli on North Monroe Street. It went well enough to dream.
His greatest inspiration came during a trip to California, he said. He did some rafting on the American River, which starts at Folsom Lake near the prison that Johnny Cash turned into an icon. "That's when I decided I wanted to start the band," he said.
In "American River," he would write and sing:
"I went on down that American River,
"I let that water reach my mind."
"Life's kind of like … it's like a funnel, and the older you get, your opportunities start to fade away," said Bellamy, 30. "It was kind of late in life, but I was like, 'I'll hate myself if I don't do it.' "
Bellamy and Adam Reichert, the lead guitarist whom he approached in the Florida Senate, went looking for a drummer. They found one in Julian Brown, a friend of a friend who introduced them to a fellow Georgian, Thad LeGette, who would be their bass player.
Other than Brown, who made music with his brothers before college, none had significant experience playing in a band.
You'd likely find all four exceedingly polite, thrilled to be playing music together and delighted that you'd ask them about it.
"It's always been a dream of mine to quit my job and go on tour with a band," said LeGette, 28, who works with family members at Graco Fertilizer Co. in Cairo, Georgia. "As of right now, I just enjoy hanging out and playing music with the guys whenever we have time to."
Their earliest influences span all of popular music since the dawn of rock and roll, from A (Allman Brothers) to Z (Led Zeppelin).
Blend those influences, and you get Jon Bellamy & the Rebels — a name that emphasizes attitude, not division. "It's saying we like doing what we do, and if you don't like it, you don't have to listen," said Reichert, 28.
They don't always have time to play, not with a new baby for the lead singer and his wife, Amber. And with a new legislative session coming in March, half of the band expects to be focused more on bills than in where they're billed.
Yet they said they'll find a way to play on as friends who met and bonded in music.
"If that's all it ever became, I'd be happy with that," said drummer Brown, 27, executive director of the Joint Development Authority in Grady County, Georgia. "That being said, I don't want it to stop. I think a band's success has to do with longevity and not giving up."
As for banking on a big break, Bellamy said: "There's a part of you that's got to be a little realistic, and there's the part of you that's always got to dream."