John Gandy Turns Moments Into Magic
Sought-after event planner combines innate style with attention to detail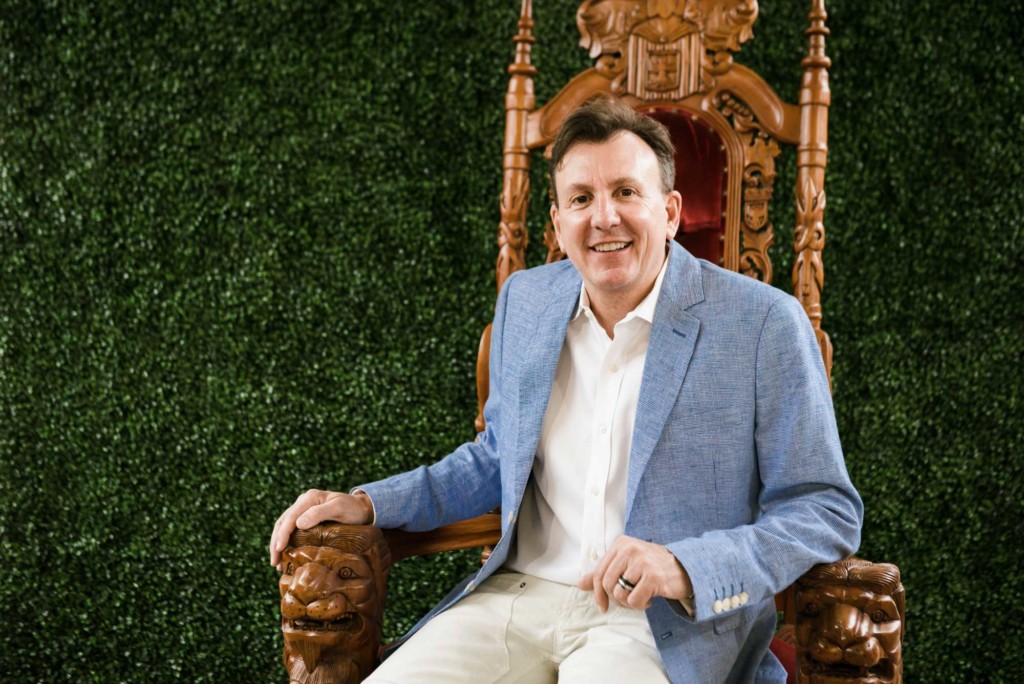 John Gandy has just returned from Louisville on a site visit for a wedding. Next year, he and his team will be off to plan a couple's nuptials in Switzerland.
For now, Gandy walks through the 13,000- square-foot warehouse in Tallahassee that his event company has called home for the last five years, pointing out the banquettes, tabletops and vases that form the backdrops in his business.
John Gandy Events may be best known for helping to plan Tallahassee Memorial HealthCare's Golden Gala. Other well-known events on Gandy's resume include the Sandestin Wine and Food Festival and Tallahassee Community College Foundation's Cleaver and Cork, a new event. The company is also venue design sponsor for Best of Tallahassee and Tallahassee Top Singles.
All told, Gandy produces more than 100 events a year; he said 85-90 percent of those are weddings, with price tags ranging from $25,000 to $2 million.
It really is an experience
John Gandy Events has been building an inventory for the past 15 years. Originally from Tallahassee, Gandy ran a small gift shop and then began working in public relations for Tallahassee Memorial HealthCare in 1992. Business began to boom in 2000, as he moved from decorating to full production and took on higher profile clients.
He stored event supplies in his laundry room, then his garage. "We would buy vases for a client, and the client would keep the vases. Soon I realized I was buying the same vases over and over."
John Gandy Events moved to its current location on Garber Drive in 2013 — a move, he says, that helped him expand his business. "Here, we can show people our inventory. They can walk through all of 'Gandyland' and see the whole process and meet the team."
Darin Jones, Gandy's partner in life, also can frequently be found in the building, as John Gandy Events shares warehouse space with Designs by Darin, Jones' floral design company.
"It really is an experience at Gandyland," Gandy continued. "Usually the bride and the mother of the bride are already on board, but the father may ask, 'What's an event planner?' When they come here and see our inventory, look at the awards we have on our wall, it gives us a sense of legitimacy."
Those awards include a coveted place in The Knot's Hall of Fame — earned by achieving "Best of Weddings" status, based on excellent customer reviews, several years in a row.
At Gandyland, the event team catalogues materials by category, such as holiday, decor, lighting or furniture selections. The back of the warehouse comprises a workshop where staff can custom-build furniture or shelving, according to a client's wishes
Passing several mounted deer heads, Gandy explained that they were for a rehearsal dinner at a private plantation with a groom who liked to hunt.
A visitor might believe that anything needed to throw a good party can be found here. "We think we have everything. And then someone will want a 'leprechaun rainbow' wedding, and we'll buy what we need."
Behind the scenes
John Gandy Events is not one person but eight people. Additional support staff work events, and interns from FSU's Dedman School of Hospitality also help out. According to the John Gandy Events website, clients can purchase two Levels of Service — for Level I, John Gandy himself serves as point of contact.
Troy Rentz and Janice Powell hold senior positions as event managers. "They're my go-to team, the legacy members; they've been here forever," Gandy said. "Troy is young and has a fresh take, and Janice has that great traditional feel for events and knows customer service inside and out. Our philosophy as a team is say 'yes' and figure out a way to make it happen."
As anyone who has attended a wedding and reception knows, long days and long hours are prerequisites in the event planning business — making it critical to hire the right team.
"You're with these people in stressful situations, so you've got to get along," Gandy said. Maybe the band won't play unless they're paid in advance, and the client doesn't have cash on him. The bar service may not have the right alcohol. The cake shows up late."
Gandy remembered how one of his biggest events, a $2 million wedding at The Cloister in Sea Island, Georgia, hit a temporary snag. The day before the wedding, one of the three trucks Gandy hired for the event blew its transmission on the interstate. "We had to unload into a rental truck, get that truck to Sea Island, get the other truck towed into Brunswick. But no one at the wedding knew that."
If event planning is the art of limiting the unpredictable, Gandy's plans are based on years of experience. "We have detailed timelines, and we know what to look for," he continued.
"We have years of knowing what could happen. The thing is, if something doesn't go as planned, nobody will really know about it but our team."
Asked what makes a good event, Gandy responded that a good event has organization, meaning all creative partners are working together; a seamless flow, with attendees moving from one experience to the next; and attention to detail, such as greeting people at the door with a drink and easy transitions from one area of the venue to another.
In other words, everyone — including the clients throwing the party — should feel free to have fun.
Perception is reality
"I think if you have to think about style, you don't have it. You can make good choices, but style is something you're born with. There's a Jackie O quote in there somewhere," Gandy said.
When he plans an event, that style should appear effortless, as well. Gandy tells a story about a client who recently came in wanting every fabric at the wedding in the same pattern. "We fine-tuned the idea," he said. "We toned it down just a little, so not everything matched."
Asked who taught him about event planning, he continued: "I don't think you can really learn this. You've got to have an innate style or vision."
Gandy continued: "I'm really grateful for where I'm at and what I have. When I was growing up, there was no event planner or wedding coordinator training program. I fell into this, and I love it. It is my life."
Holiday celebrations, and his mother's work putting them together, gave Gandy an early idea of what attention to style could accomplish. "Growing up, we had the best Christmas and the best Easter. She had a beautiful table set, beautiful food, and she always encouraged us to experience the event as a family and to enjoy it," he remembered. "We may not have had a ton of money, but we certainly had nice rooms and nice holidays. Perception is reality."
Doing the very best with the means available has influenced his work in event planning, too. "I take inspiration from the design community and national planners; it pushes me to go a little further. I think, 'What can we do here in Tallahassee with what we have access to?'
"When we first started doing events, we did a lot with little. We wanted it to look amazing no matter what. Even if the money wasn't there, we'd make [an event] look like a million bucks. I'm not hung up on money, but I am hung up on the experience and on design. I want people to walk in and go, 'Wow.'"
Upon reading review websites, it becomes clear that for Gandy's event, there are many synonyms for "Wow"— words such as "amazing" and "gold standard" and "perfect."
"He was able to translate our vision into reality with stunning accuracy and delivered a wedding beyond our expectations," wrote one groom on The Knot.com.
On WeddingWire.com, a bride gushed: "I loved being surprised and impressed at my own event!"
That feeling of joy is one shared by their event planner: "To see the design on paper is one thing. I love getting together with people and brainstorming and having that vision come to life."
A Few Questions for John Gandy
What trends do you love for weddings right now?
The use of greenery, neutral tones and extended seating areas like lounges.
What event would you love to be hired to do?
In Tallahassee, we're really lucky, because we get to do the events we want to do. But a wish list? I'd love to do the Grammys or the Oscars. Shoot, I'd take the daytime Emmys!
What's the most unusual thing you've been asked to do?
We did a wedding a few years back for a client who got married on the anniversary of the day her mother died. The wedding was at 3:33 in the afternoon on a Wednesday.
Do you ever get to throw your own party?
We'll have dinner, we'll have people over to the house, but I don't like hosting my own parties. People ask Darin and I when we're getting married, because there's so much anticipation around what that will look like. We say we'll wait and see!
What comment or feedback do you typically receive after an event?
"That was the best day ever."
SEE MORE OF JOHN GANDY'S WORK BELOW AND AT JOHNGANDYEVENTS.COM