John Birch Creates New Life for Old Wood
Artist perpetuates nature's handiwork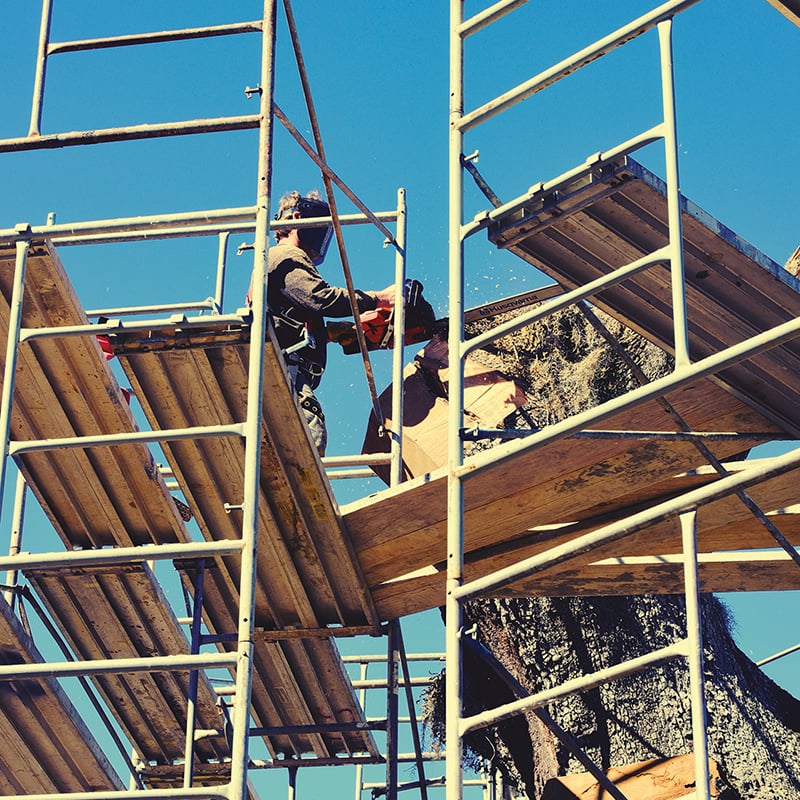 Elegant, graceful, poised … words that might be used to describe a genteel Southern woman. Add, "draped in lacy Spanish moss," however, and the description fits the live oaks that dot Florida's capital city. These magnificent trees, many of which date back to a time not even Scarlett O'Hara's grandmother could recall, are the original Southern Belles. So when it becomes necessary to remove one of these landmarks, its departure doesn't go unnoticed.
On Jan. 18, a live oak that had stood since the 1850s on the grounds that now house the Leroy Collins Public Library was cut down. The tree was in poor health, making it a safety hazard. Once measuring approximately 5 feet in diameter, the tree's life has been extended. That is, what Nature once sculpted has been transformed by Tallahassee chainsaw artist John Birch. 
A stump has become a tree fort and two children engrossed in books. 
Birch had to work around a portion of the stump to carve the sculpture, but he welcomes this part of the creative process. "A sculpture changes as I'm going," he says. "I do what I can."
Birch's go-with-the-flow attitude also reveals itself in the forms taken by most of his finished products. Whether he carves a leaping fish, a galloping mustang or laughing child, Birch captures movement. "People connect with art when they see something happening in it," he explains. "To put action into a piece, you have to have motion. In the Sistine Chapel, God's hand and Adam's are about to touch."
Birch doesn't aspire to recreate Michelangelo's works, but several of his sculptures are religious in nature and most of these end up gracing church-owned sites. "It's a talent the good Lord gave me," Birch says, "so this is how I pay it back."
Birch's carvings, without exception, are symbolic. Fourteen schools in and around Tallahassee boast his sculptures of mascots and, perhaps, something more: "With the elementary school pieces, I try to put a book into it," he says. Recently, he created a sculpture of several books, an owl and a wheelchair for the Gretchen Everhart School, whose student body comprises children with special needs. After presenting the sculpture, Birch, who has epilepsy, was invited to speak to the students about what it's like to be an artist with a disability.
A few hours spent in Birch's company shows that he doesn't let anything, be it epilepsy, bad weather or changed plans, hold him back. He's resilient, just like the wood he works with.