Jo Ostrov's Five Acres of Paradise
Gifts from the Garden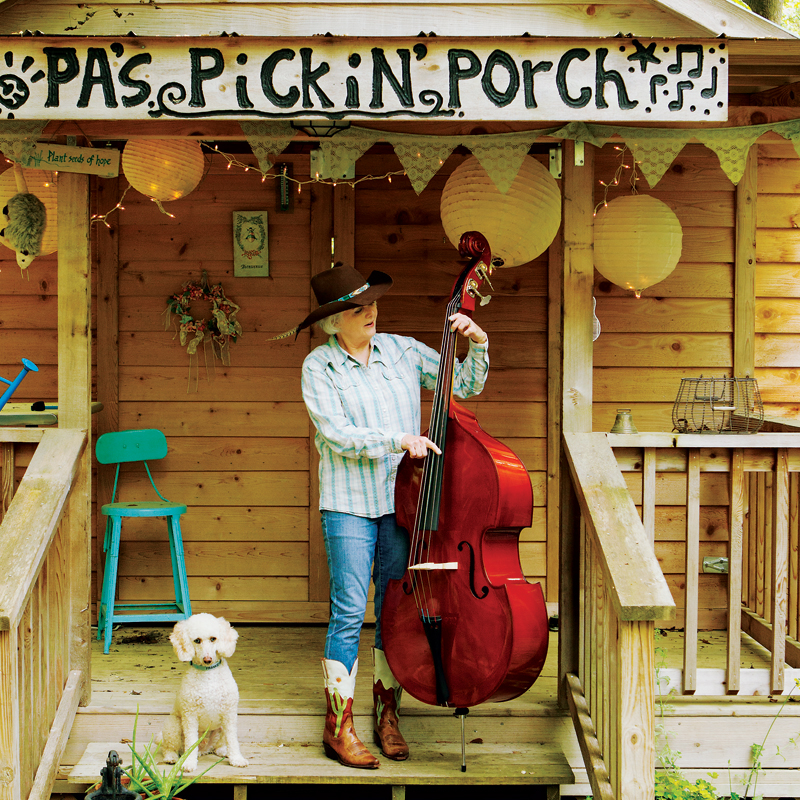 A Japanese garden. A source of healthy food. A haven for wildlife. A place to make music. A quiet spot with Savannah style. A perfect place for a wedding.
The five acres comprising Jo Ostrov's yard in Bobbin Brook are all of these things — and so much more. She's been working on it — planting, moving, creating, nurturing, changing and observing — ever since she and her family moved into their new home 23 years ago.
It started with a little garden outside the window of their breakfast room, designed to attract birds with a mister and feeders. "My husband (radiologist Steve Ostrov) loves sitting here in the morning before he goes to work and watching birds," she says. Inspired by the Birdsong Nature Center's bird viewing area, they swapped out the original "busy" window with a grid pattern to large panes of glass.
Pass through an arbor covered in fragrant Confederate Jasmine, and prepare to be amazed by the labor of love that reflects her personality and her interesting gardening philosophies.
Ostrov's backyard is bisected by the brook that gives the subdivision its name and the vista includes a gentle upward slope. There are heavily treed areas and a wide-open sunny meadow.
Near the house are camellia bushes galore — nine varieties, Yuletides and Peppermints and a showy baseball-sized variegated bloom called a Frank Houser. She's not much for calling plants by their Latin names … or participating in flower shows. "I'm not about entering shows and winning and being competitive," Ostrov says. "I'm more just about creating beauty and sharing it and being happy."
Despite the huge variety of plants, you won't find any roses in her garden.
"I don't plant anything with thorns," she declares. "I lived in Miami and on our honeymoon I saw bougainvillea, and I loved it and planted it all along my back fence. I would have to trim it, and I would just be cut up. Right now I'm cut up because I've been pulling up green briar, a thorny vine."
Another of her guiding principals is to "plant natives and try to get rid of invasives."
"It took us 10 years to clear out all the invasives. We had to do it all by hand," she says. The job continues because the wildlife attracted to her yard eats invasive plants elsewhere and then … "they poop, and I get seeds."
But it isn't a thankless task. While she was yanking the bad plants, she discovered two black walnut trees. "So I have black walnuts," another of what she calls "gifts from the garden." Harvesting those nuts is labor intensive and includes hammering them through progressively smaller holes to remove the husks and then running them through a machine — all while trying to keep from being stained by the nuts' tannin coating. "This is why black walnuts are $18 a pound," she says.
As large as her yard is, there are very few grassy areas. And what appears to be lawn from a distance is usually either mini-mondo grass or an expanse of crimson and white clover.
"I'm very anti grass (and) very pro dandelions," she avows. The only time she'll pull them out of the ground is for the couple or their little tortoise, Gruska, to eat. "Dandelions are good because they bring up selenium and other minerals that are deeper in the earth. Then they get the flowers, and the bees like them. They're pretty; I just don't understand. I see those commercials on TV where they're spraying dandelions … I understand (spraying) poison ivy. That, I get. Dandelions? I just don't get it."
Ostrov's yard features an outdoor experience for just about any mood. There's a hot tub situated under a sea-themed gazebo.
And a "secret" garden inspired by ones she saw during garden tours in Savannah. In the center is a massive grinding stone (actually one recreated by a monument maker) surrounded by brick pavers and a bench. The area is enclosed by a hodgepodge of iron fencing covered with lavender trumpet vines and a vine she first saw in Savannah called Yesterday, Today and Tomorrow. "The first day (the flowers are) purple, the same bloom then fades to lavender and the third day it's white. So after three days you have three different colors of flowers on the same plant," she says. "It's absolutely beautiful."
Another area is dedicated to a Japanese garden. The focal point is a bamboo shelter that has been used as a venue for her daughter's harp recitals — and a favored spot for a nap in a hammock. She consulted books and visited gardens in an attempt to make it as authentic as possible. There are lots of mosses and only white flowers. "We're in the same growing zone as Japan so we can have a lot of the same plants," Ostrov says.
A substantial portion of the acreage is dedicated to a relatively recent enthusiasm for the dedicated gardener —growing food. She has planted lettuces, carrots, potatoes, mushrooms and other vegetables as well as citrus fruits and blueberries.
"The food has been really extremely rewarding for me. It takes long-range planning and attention and nurturing, but when you put your effort into your food and (then) you put it on your plate and you eat it, it's so much more of a connection. I'm really trying to get people on board with that."
Going up to the house and garage for tools and supplies got onerous, so she built a toolshed that's disguised as a cabin in the woods. A sign out front declares it as "Pa's Pickin' Porch." The name's not just an alliterative device. The Ostrovs really do use it (and their campfire pit) when they indulge in another pastime, playing bluegrass music — Jo on the bass, her husband on the mandolin. In fact, much of their entertaining is done outside.
"It's totally different than having people sit in the formal dining room," she says. "People are much more lighthearted and engaged and observing things and they're more alive."
In April 2011, the garden was the site of perhaps the ultimate entertaining experience for the Ostrovs — their daughter, Laura's, wedding. She called her parents in January and asked to have a garden wedding at home, in October, perhaps. Jo Ostrov lobbied her daughter to consider having the ceremony in April, when the weather is fair and the garden is at its most beautiful.
After a couple days consideration, Laura called to say yes. "I hung up and said to my husband, 'What did I just do?'."
Laura was married in the meadow, the shelter in the Japanese garden served as a photo booth and most of the table decorations were flowers she had planted especially for the event. The salad served to their 120 guests was another gift from the garden.
The ceremony was attended by curious birds drawn by the harp music during the "perfect day in April, as I predicted … the ceremony (began) in the afternoon and it went on until 2 in the morning," she recalls. "It was fabulous. Everybody had such a good time."
Ostrov is happy to share her idyll with others; visitors are always sent home with something to enjoy, and her garden has twice been part of the Tallahassee Symphony's fundraising tour. She relates: "People will say to me, 'Doesn't it bother you that people might come through and steal your ideas?' and I say 'No, I take that as a compliment.' If somebody takes a piece and brings it home and (recreates) it, that's fine with me. I don't have a problem with sharing at all."