Jesse O'Shea Seeks to Recruit College Students Worldwide to Help Haiti
This Litter Brother Has a Big Idea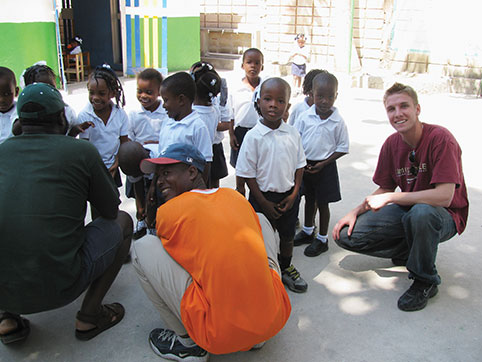 Some of my best ideas come to me while I'm in the shower.
An unlikely forum, but Jesse O'Shea isn't kidding when he says his best leadership initiatives have popped into his head in random places. A Florida State University junior, O'Shea is no stranger to leadership programs. But his grandest idea, and the one with the most national success, is the Global Haiti Initiative. Most 20-year-olds don't have life-changing revelations, but O'Shea has been passionately pursuing his goal to change the way Americans view and aid Haiti since the day a year and a half ago when the idea came to him.
After an initial trip to Haiti, O'Shea wrote about what he found there in a blog (jesseoshea.blogspot.com). Calling his trip "a crash course in poverty," he eloquently writes of the fetid smells and ubiquitous trash he found there — as well as children playing soccer and "dancing and running around as if the world is fine." He continues: "Although through all of the political turmoil, through all of the corruption, the killings, the murders, the starvation, they still hold their head up and manage to smile. Despite it all, they still have hope."
Bill Moeller, the educator O'Shea calls his mentor, is the founder of the FSU Center for Leadership and Civic Engagement, which oversees the Global Haiti Initiative and provides the program with student support as well as a network of staff. Moeller heaps praise on O'Shea, calling him "energetic, charismatic and ambitious," and points to the potential longevity of the Haiti initiative.
"Many successful nonprofit organizations — Teach for America and Break Away come to mind — were started by college students with a passion for a cause and a drive to make a difference," he says. "The Global Haiti Initiative, with sustained leadership and a little bit of luck, has the potential to be one of those."
O'Shea has been involved in several intercollegiate groups, including the Student United Way and Protect Our Professors, but the Global Haiti Initiative is his biggest project to date and the one that promises the most national engagement. As stated on its official Web site (haiti-initiative.com), this is the "first intercollegiate clearinghouse for developmental programs in Haiti."
The beauty of the program is the freedom that it allows. Each participating university founds its own chapter and then decides what type of work to accomplish in Haiti.
"For example, MIT could have more of an engineering and agricultural focus, while FSU might have more about education and small health care pushes," O'Shea says.
The program is currently in universities across the nation, ranging from the University of Florida to Skidmore College in New York. O'Shea is hoping to have it on 60 campuses nationwide by the end of the year.
Though this might seem like an ambitious undertaking, O'Shea's vision for the program is crystal-clear — and he is taking his time putting it together to do it right. The Global Haiti Initiative's Web site is simply yet effectively organized, even featuring a direct link to PayPal where visitors can make a donation.
The initiative, which officially launched in the fall of 2009 at Florida State, already is gaining significant support from students. With an understanding that technology is the best way to reach out to college-age students, O'Shea began a Facebook page (http://tr.im/BBfK). When he posted on Facebook that he needed members for his board of directors, he got 60 responses for a handful of positions. The same kind of outpouring occurred when he asked for donations of toys, clothes, sports equipment and other items.
"I believe in humanity — whenever I need something, I am not afraid to just ask people, and it ends up working successfully," he says.
Although he has taken several individual trips to Haiti over the past year, O'Shea put his research to the test and brought two other students with him on a trip in mid-August 2009.
"This was a preliminary trip to see how we would be received in Haiti before we bring a huge group of 40 students," he says.
So with suitcases packed with donations, Lucas Parsons and Matthew Chapman, both juniors at FSU, joined O'Shea on his trip. The three young men helped a nongovernmental organization organize a sports tournament. This was especially well received because of the lack of recreational activities in the impoverished country.
Since it was an exploratory mission, the students' days were filled with organizing a town festival, volunteering in local clinics, working with children in schools and even assisting in surgeries. O'Shea speaks some Creole, and between hand signals and a translation dictionary, the resourceful students were able to make themselves useful.
It's impossible to describe the joy of the trip without mentioning the state of destitute poverty that people are born into, the students say. Ninety-five-degree heat, minimal electricity and no Internet are hard for Americans to adjust to, but not shocking. Instead, it was the little things that surprised Parsons: "I've never been out of the country, let alone to a Third World country, so I noticed that I take for granted our transportation system in America, like smooth roads and stop signs."
To O'Shea, the trip was successful because of the human contact he had and the friendships he forged. An example is the 18-year-old whom O'Shea calls his Haitian brother. Makendy (pronounced McKenzie) is from a village called Destra, which O'Shea describes as "a National Geographic picture of a clan that hasn't been touched by technology." Makendy is like an American teen at heart; he loves hip-hop music. After losing his father at a young age, Makendy was adopted by the nonprofit organization O'Shea has been working with. And with the Haitian trait of perseverance, Makendy still seems to be the happiest person in the world despite his situation.
The trip had lighthearted moments too. Both O'Shea and Parsons laugh and agree that their minor vehicular accident was adventurous.
"We got around on these precarious motorcycle taxis and one day, someone came swerving toward Lucas and just hit him head on," O'Shea says. "Fortunately, everyone was OK."
O'Shea is the youngest member of a clan with values deeply rooted in civil service and volunteerism. All four children are pursuing careers in those fields: Eldest brother Rob is a recent graduate of FSU's law school and sister Mykal is at Duke University studying nurse practitioning. Joe, a former FSU student body president, is completing his Rhodes scholarship in Oxford, England.
The O'Shea children have been struck by tragedy, with the untimely deaths of their father in 2007 and their mother in 2008. Without their parents, the siblings use each other for their main support system.
"Though we are very independent, Joe and I push each other to help other people," Jesse O'Shea says. "Whenever I have a solution to an idea about helping society, the first person I talk to to bounce ideas off of is Joe."
The youngest of the family, Jesse O'Shea admits that it's hard to live in the shadow of such accomplished siblings, though he is certainly blazing his own trail.
After returning from the trip, O'Shea has even clearer goals. He hopes to unite various nongovernmental organizations in Haiti; get college students to come down during every school break; make the Haitian cause "sexy," similar to what Hollywood has done with Darfur; and document the whole process on film.
"I used to say that people in America were dying simply because they could not afford life; but in Haiti, people are dying simply because they have no other choice," O'Shea says.
The Global Haiti Initiative and Jesse O'Shea have dreams to change that.