Jazz is Making a Capital Comeback
Real- Time Music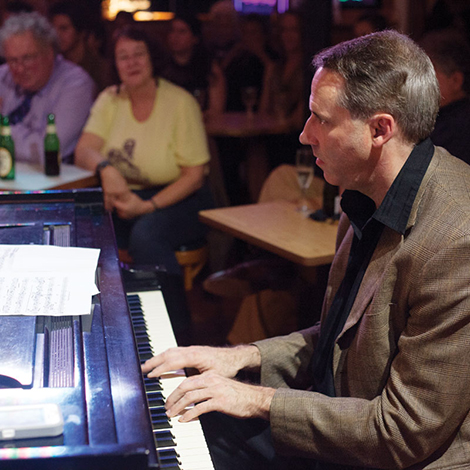 Gerri and Clarence Seay — owners of B Sharp's, a traditional jazz listening room — see stars aligning for a Capital City jazz renaissance. Tallahassee, rich in jazz talent and history as well as an assortment of jazz-centered events, is in the midst of a cultural resurgence spurred by revitalized Midtown and Frenchtown areas as well as Gaines Street's transition from thoroughfare to shopping and entertainment district.
The Seays hope to capitalize on the cultural shift to weave jazz more prominently into Tallahassee's cultural fabric.
To those unfamiliar with it, jazz may seem enigmatic. Among this group, the question of why, as Tallahassee's cultural scene thrives, jazz has not made greater organic gains underscores a foundational belief among those who are familiar with the music: listening to jazz is an art form in and of itself.
From a conventional perspective, jazz is young, according to Florida State University Jazz Professor Scotty Barnhart, trumpeter and Grammy Award-winning director of the Count Basie Orchestra. Barnhart says mainstream Americans have more widely recognized jazz as art in the last 20 or 30 years largely because of Wynton Marsalis' dual success as a classical and jazz musician.
Seay, who has traveled extensively with her husband Clarence, himself an accomplished jazz musician, says jazz culture is more widely understood overseas. "Traditional jazz clubs are listening rooms where the music is focal and not a background element." This concept — music, sans props, special effects or screaming crowd — can seem foreign, especially to younger generations for whom entertainment and performer/audience interaction are one and the same. In a jazz listening room, the interaction is between the artists, who produce music through spontaneous improvisation.
The improvisational nature of jazz is why Barnhart and Seay underscore the importance of a listening room to budding artists. "You can't study or memorize your way to being a jazz musician," said Barnhart, who likens jazz to giving an impromptu speech with four other people giving the same speech in their own words at the same time, but together delivering a coherent message. "You have to learn to create — not just play — music with other human beings in real time."
Cultivating a Jazz Audience
Seay — who by day teaches English at Florida A&M University and is a former business writing instructor for the university's School of Business and Industry — founded B Sharp's in 2008 because she couldn't find a place to listen to jazz in Tallahassee. After a long search, Seay chose B Sharp's current location because it was small and intimate — fewer than 100 people can fit inside, even with some standing — and had favorable acoustics and a rich history, which includes serving as a black veterans' post and a hospital.
In five years, B Sharp's has grown a core audience and a group of internationally known performers who live in Tallahassee. "Tallahassee's jazz musicians and community have been so supportive," said Seay, who credits Barnhart along with celebrated jazz pianist Marcus Roberts — an FSU alumnus who in August 2013 recorded a concert in Tallahassee that was featured as part of a segment for the television show "60 Minutes" — as well as other local artists with helping the club survive. Barnhart says the feeling is mutual.
"Clarence and Gerri will never have to worry about musicians wanting to play at B Sharp's as long as they keep doing what they're doing," Barnhart said. Seay envisions starting a nonprofit to increase jazz awareness and enthusiasm in Tallahassee, modeled after the Richmond Jazz Society (RJS), which works to support the education, preservation and advancement of jazz as an American art form.
"Through initial surveys, we found out that much of our community did not understand jazz, its historical significance or how to listen to it," said B.J. Brown, RJS executive director. In response, the Society established education and community outreach programs and a scholarship fund for students pursuing jazz studies in a Virginia college or university. Brown says the Society's efforts have helped Richmond establish itself as a hub for jazz enthusiasts seeking quality jazz and musicians searching for more appreciative audiences. Seay believes a similar approach could reap comparable results down the road in Tallahassee.
In the meantime, Seay says a great starting point would be to give entertainment-seekers a convenient option to try out a listening room. Star Metro's Rhythm Route, which runs Friday and Saturday nights from 5 p.m. to 3 a.m., comes in close enough proximity to add a stop at B Sharp's.
"After Wynton Marsalis performed at 7 Days of Opening Nights in February, he came over here for an impromptu performance," Seay said. "What better way is there to show that jazz is culturally and economically valuable to Tallahassee?"
Watch live jazz at B Sharp's and a duet with Scotty Barnhart and Ben Hylton playing "When the Saints Go Marching In":
---
Tallahassee Jazz Spots
B Sharp's Jazz Club
648 W. Brevard Court
Tallahassee
(850) 577-0748
b-sharps.com
Hi Fi Jazz Café
1617 S. Adams St.
Tallahassee
(850) 391-2222
facebook.com/hifi.jazz.cafe
Collegiate Jazz Ensembles
Both FAMU's jazz ensemble — ranked among top collegiate jazz ensembles nationwide — and FSU's jazz ensemble typically hold or participate in a series of concerts and recitals each semester. Learn more about event information, dates and times using the following contact information.
FAMU: (850) 599-3024 or famu.edu
FSU: (850) 644-1048 or music.fsu.edu