January/February 2014 Agenda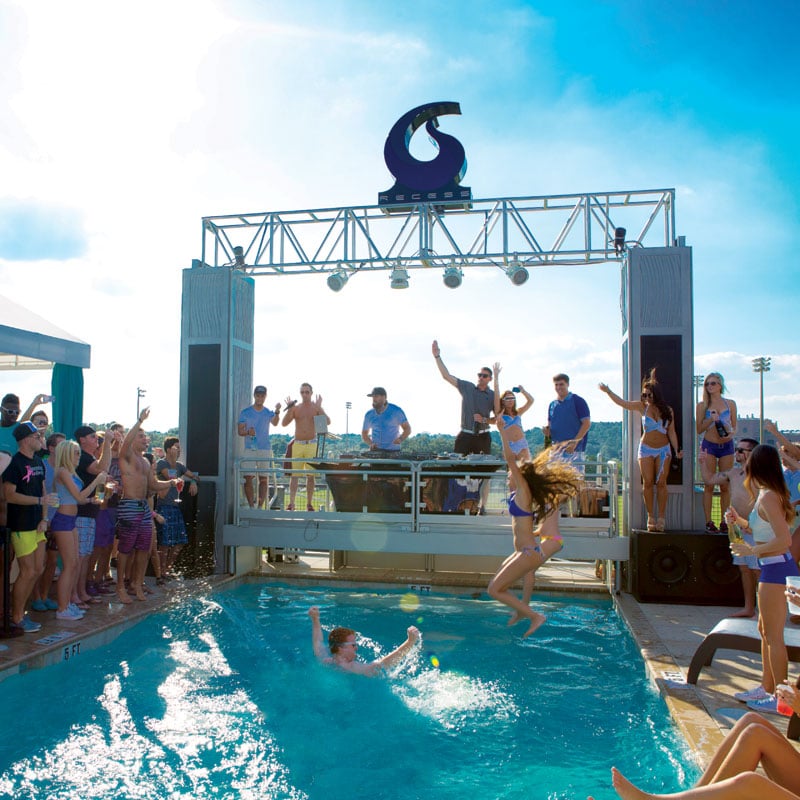 Awards and Recognition
▪ Carrie Englert Zimmerman recently received the Lifetime Achievement Award from the World Acrobatic Society as an inductee into the "Gallery of Legends" during its 2013 Congress in Las Vegas. Zimmerman is a national champion in floor exercise and balance beam, a 1976 USA Olympic gymnast and the first American woman to score a perfect 10. Zimmerman's award recognizes her excellence, contributions and stellar reputation in both athletics and as an entrepreneur.
▪ Sen. Bill Montford, Rep. Marti Coley and Rep. Alan Williams recently received the Apalachee Center's Community Hero Award. The Apalachee Center developed the award to promote awareness for behavioral health needs and honors individuals in the community who have engaged in notable efforts to improve behavioral health care. For more than 50 years, Apalachee Center has served individuals and families across the eight counties of the Big Bend region, dealing with emotional, psychiatric and substance abuse crises.
▪ Tallahassee's Flag Credit Union was one of 20 financial institutions nationwide to be recently recognized for its significant community service in education. Flag CU helps local education efforts through partnerships with local schools, donations and drives. It delivered donated school supplies to W.T. Moore Elementary just before school started last fall.
▪ Tully Park at the Plantation on St. George Island is the newest Bay County Conservancy preserve. In October, the Tully sisters presented the parcel to the Conservancy to maintain open space and natural shorelines, and to recognize their father, Jimmy Tully, past president of the Florida Association of Realtors and developer of Tallavana and Capital Regional Medical Center.
▪ For the third year in a row, Moore Communications Group has made Inc. magazine's annual list of the fastest-growing private companies in the United States. This prestigious national ranking is based on both revenue and employee growth. MCG ranked 4,680 in the nation on the 5,000-company list that covers every industry, from health care and government services to software and retail. "To be included on the Inc. 5,000 list three times in a row demonstrates the passion our team has for our clients and our work," says Karen Moore, founder and CEO of Moore Communications Group.
▪ The Florida business law firm Berger Singerman has announced three lawyers from its Tallahassee office were recently selected by their peers for inclusion in the 2014 edition of "The Best Lawyers in America." They are Melanie Ann Hines, Brian G. Rich and Daniel H. Thompson.
▪ Richard A. Greenberg of Rumberger, Kirk & Caldwell in Tallahassee has been selected for inclusion in the 2014 Edition of "The Best Lawyers in America" in the field of Criminal Defense. This is the ninth consecutive year he has been chosen.
Transitions
▪ Florida Cancer Specialists & Research Institute (FCS) is pleased to announce the addition of Sarah Cevallos and Christina Sievert to the Executive Leadership team. Cevallos is the new vice president/revenue cycle. Sievert directed the overall performance of the managed care and patient collections departments.
▪ David Orozco, J.D., is the new director of Florida State University's Master of Business Administration program. Orozco will work with faculty, students, alumni and recruiters to advance the strategic vision of the multifaceted MBA program and promote its continued excellence at FSU's College of Business. He earned his law degree at Northwestern University School of Law.
▪ Tallahassee lawyer and lobbyist Reggie Garcia was recently elected to the Economic Club of Florida's Board of Directors, and appointed chairman of the membership committee. The E.C.F. is a leading forum for distinguished speakers on issues of the day. To date, there have been at least 456 distinguished speaker programs in Tallahassee.
▪ Hunter+Harp Hospitality has brought in Randy Esponda to be the operating partner of Recess, the only rooftop pool lounge in Northwest Florida, located in CollegeTown, a new entertainment and residential district near the Florida State University campus. Esponda previously served as general manger of Level 8 Lounge at Hotel Duval.
▪ The Cake Shop is proud to welcome Mandy Schnittker as its director of special events and community relations. Schnittker will facilitate The Cake Shop's community projects and charity events, as well as monthly culinary classes, children's events, birthday parties and corporate meetings.
▪ Accounting and tax firm Thomas Howell Ferguson P.A. announces the addition of Becca Gilbert as its new senior manager of marketing and business development. The firm also announced recently that Allison Harrell has been appointed by the American Institute of CPAs (AICPA) to the Governmental Audit Quality Center Executive Committee for the 2013–2014 year. Harrell has more than 11 years of experience auditing governmental, not-for-profit and for-profit entities.
▪ Attorney Mutaqee Akbar has been appointed vice chair of The Florida Bar's Advertising Grievance Committee, a collection of lawyers and non-lawyers appointed by the Bar to review possible advertising misconduct on the part of Florida lawyers. Akbar practices in the areas of criminal law, personal injury law and criminal appeals.
▪ Andrew J. Power of Smith, Thompson, Shaw, Minacci & Colón P.A. in Tallahassee recently presented "Closing the Loan" at The Tallahassee Lenders' Consortium Homebuyer Workshop at the Tallahassee Board of Realtors office. Homebuyer education is part of a TLC program that provides down payment assistance from the City of Tallahassee to first-time homebuyers.
▪ Computer Repair Doctor hosted a grand opening in downtown Tallahassee in September. Located at 523 E. Tennessee St., the firm is a newly established business in downtown Tallahassee specializing in laptop and iPhone repairs.